Super Smash Bros. Ultimate - Joker: all standard, Special and Final Smash moves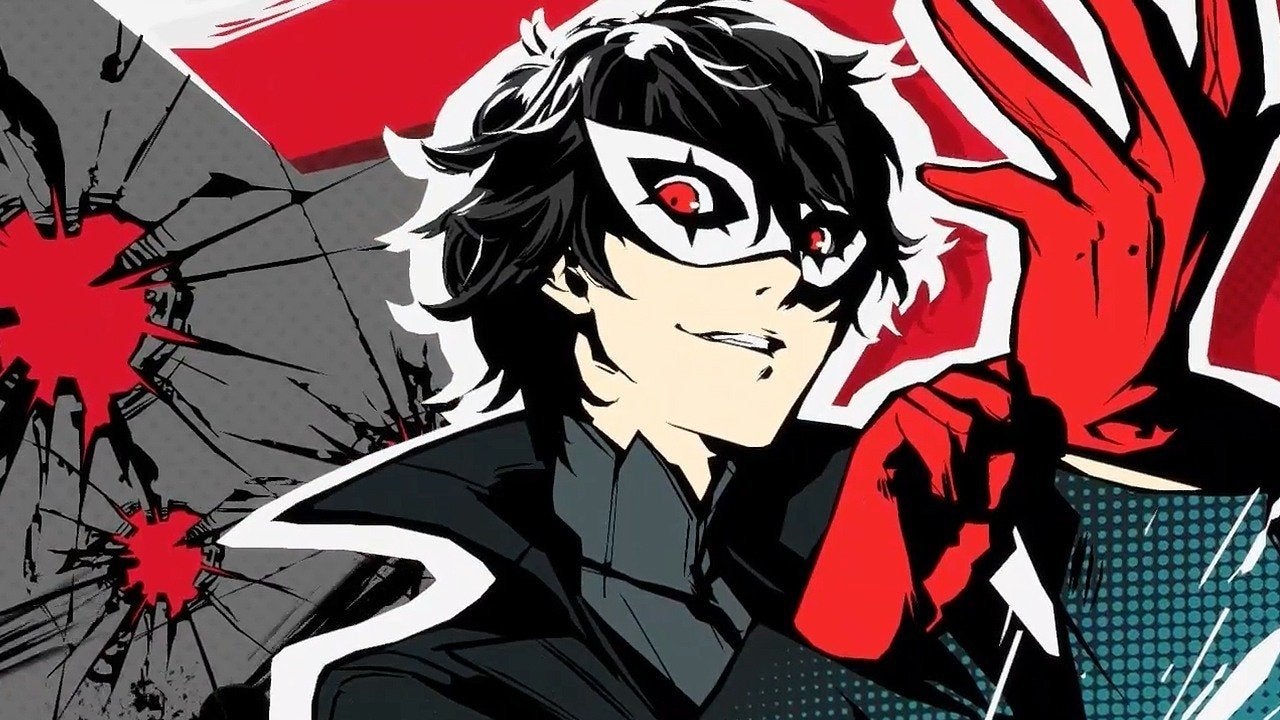 Joker has joined the Super Smash Bros. Ultimate roster and he's brought some interesting moves and taunts to the table.
The Persona star was added to Super Smash Bros. Ultimate yesterday as DLC, and we've created a quick guide providing an overview of his standard, Special, and Final Smash moves. We also have a video showing of his taunts, poses, and outfits.
Joker has two forms in Super Smash Bros. Ultimate: his regular form and his Persona form, Arsene. Below you will find his standard Special move set along with how each action changes when Arsene is activated. If you've played the Persona games previously, you'll will find most of this familiar.
There are also various combos you can pull off, but we won't delve into those here. All of Joker's move sets are below. Alternatively, you can watch the video from Arekkz instead should the wall of text hurt your eyes.
Super Smash Bros. Ultimate - Joker - move set
Regular Form - standard attacks
Joker's regular attacks are self-explanatory, but we've listed each move for quick reference.
Neutral Attack: Quick, three-hit jab with the blade. Final hit pushes opponent out of your way.
Dash Attack: A double hit which starts as a near attack before performing a kick.
Forward Tilt: Two hits starting with a blade stab that will also push an opponent away.
Up Tilt: Throws the blade in the air and its spinning action can hit the opponent if above you. Can be used when the other character is downed and launch them into the air, and is basically a five-hit combo.
Down Tilt: A sliding attack which launches the opponent.
Forward Smash: Holds the blade above Joker and slams it down.
Down Smash: Sweeps the blade in front of and behind you.
Up Smash: A jumping, vertical slice which can catch opponents behind or in front of you.
Neutral Air: Circular attack which also catches opponents from different directions.
Forward Air: Behaves similarly to Dash but with a double kick. While slightly weaker in damage than Dash, it's faster and provides room for quick follow-up options.
Back Air: Simple jump and slash.
Up Air: Corkscrew kick which can be used to catch opponents just above you.
Down Air: A jump which flips Joke upside down to perform a downward swipe. If the move is performed while facing, it will push the opponent away. When performed with the opponent behind you, it will bring them to your front.
Down Throw: Typical combo starter.
Up Throw: Positions foe above you.
Forward Throw: Self-explanatory.
Backward Throw: Self-explanatory.
Regular Form Specials
Neutral Special - Gun: Joker uses a blade with his standard attack, but he swaps it out for a pistol when Neutral Special is activated. Holding down B, you can use the left stick to move in various directions, fire while jumping, dodge, and just stay on the move in general.
Up Special - Grappling Hook: A rather handy recovery move, the Grappling Hook can be used to pull you back into the ring should Joker be pushed off the ledge in certain stages. The Up Special is also handy when you want to bring your opponent closer.
Side Special - Eiha: This is a two-part move. While the initial curse hit doesn't do much damage, hitting your opponent with it will apply a dot (damage over time). It's not a powerful, single hit move, but a good choice when wanting to maintain damage on your opponent.
Down Special - Rebel's Guard: This is probably one of the most interesting of Joker's Special moves and serves two purposes. You can use it to absorb a hit to only take half damage, similar to a counter. It also fills up your Special meter faster and when maxed out, auto-summons Joker's persona Arsene.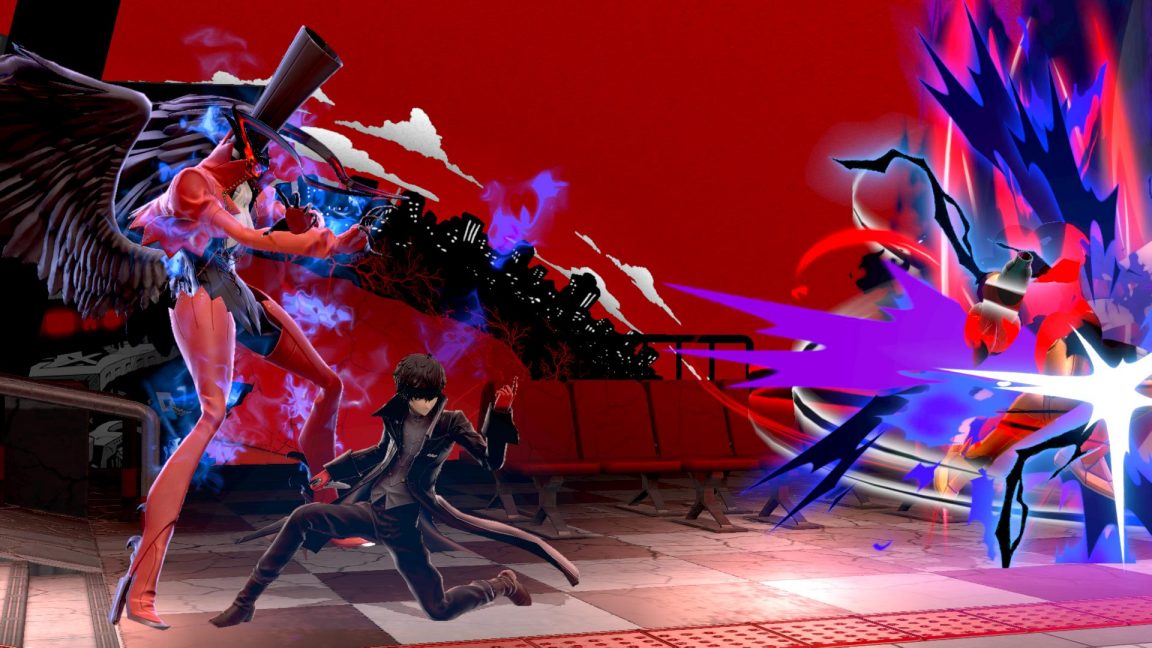 Arsene Persona Form
In order to summon Joker's Persona in Super Smash Bros. Ultimate, you will need to fill the Rebellion Gauge. Once filled, Arsene will auto-summon and remain until the Rebellion Gauge depletes. While active, all of Joker's regular attacks dole out extra damage and his Specials are more powerful with Arsene.
Neutral Special - Gun Special: The pistol will now fire three shots dealing more damage.
Up Special - Wings of Rebellion: When using the Grappling Hook, Joker becomes invincible for a short period of time. Will come in super handy when recovering, and jumps are much higher than normal.
Side Special - Eigaon: Applies heavier curse damage to a foe. Damage over time has a longer duration and can hit opponents multiple times.
Down Special - Tetrakarn or Makarakarn: Turns the Special into a counterattack. It's behavior will depend upon the type of attack an opponent uses on Joker.

If a melee attack is used, Tetrakarn is activated and reflects the physical attack becoming a guaranteed counter.
When a projectile attack is used, Makarakarn is activated and sends the projectile back at the opponent.
Joker - Final Smash - All Out Attack
All Out Attack's behavior stays the same, even if Arsene has been summoned; however, how it acts will depend upon the team member called in, according to Arekkz.
This Final Smash features Joker slicing and dicing his opponent before launching an attack with the Phantom Thieves. Should you miss your opponent with the initial attack, you will get a second chance at it by tilting your control stick in the opposite direction.
Joker is available as part of the Super Smash Bros. Ultimate Fighters Pass and the Challenger Pack 1.
If you are interested in his taunts, costumes and victory poses, Arekkz has you covered below.
For those just starting, here's how to unlock every fighter in Super Smash Bros. Ultimate and here's a look at the various stages.