Square Enix announces Obsidian-developed Dungeon Siege III [Update]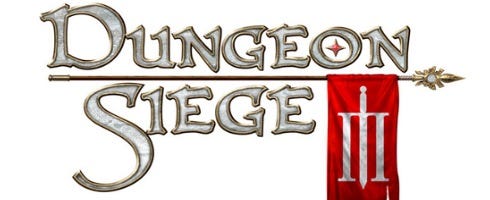 Update: Shots added below.
Original: Square Enix has announced Dungeon Siege III for PC, PS3 and 360, bring the RPG series to consoles for the first time.
The game will be developed by Obsidian Entertainment "under the supervision" of original developer Gas Powered Games and boss Chris Taylor.
The game will feature four-player co-op, with it being made with a "totally multiplayer experience" by letting you play "with friends or online".
According to the French press release, the game's environment will evolve over time, depending on what choices have been made by the player.
That's basically it. If you speak French, read the PR below.
Thanks, AGB.
There's no date yet.
Square Enix annonce collaboration avec Obsidian Entertainment pour Dungeon Siege 3

Le flambeau a été passé pour cette nouvelle incarnation du RPG d'action classique

Square Enix a dévoilé aujourd'hui son partenariat avec Obsidian Entertainment sur DUNGEON SIEGE 3. Sous la supervision de Gas Powered Games, créateur des premiers opus de la série, Obsidian Entertainment va développer le nouvel épisode de la franchise DUNGEON SIEGE, Square Enix tenant le rôle d'éditeur. Disponible pour la première fois sur une console de salon HD, DUNGEON SIEGE 3 sortira sur le système PlayStation®3, la console Xbox 360® de Microsoft et sur PC (Windows).

DUNGEON SIEGE 3 est représentatif de la stratégie de partenariat mise en place récemment par Square Enix auprès des développeurs occidentaux et de ses efforts pour augmenter sa présence sur le marché nord-américain. Le jeu associera les meilleurs caractéristiques de la franchise DUNGEON SIEGE à l'expertise d'Obsidian Entertainment, afin de faire évoluer l'expérience de ce RPG d'action. Outre sa première apparition sur les consoles HD, le jeu proposera également un tout nouveau mode coopération permettant à quatre joueurs de rejoindre la partie.

"C'est un honneur et un plaisir de faire partie de la légende de DUNGEON SIEGE, a déclaré Feargus Urquhart, PDG et co-fondateur d'Obsidian Entertainment. Ce partenariat avec Square Enix est une étape importante pour Obsidian et la franchise, et les qualités des deux sociétés en matière de scénario seront visibles tout au long du jeu."

Créé à l'origine par Chris Taylor et son studio acclamé par la critique Gas Powered Games®, le jeu sera développé sous la supervision de Taylor. Alliant un gameplay intuitif de jeu d'action à un système de jeu de rôle qui a fait ses preuves, DUNGEON SIEGE 3 se déroulera dans un monde immersif où chaque décision du joueur aura des conséquences.

"Nous sommes honorés de travailler avec des développeurs aussi talentueux qu'Obsidian Entertainment, qui peuvent compter à leur actif des jeux parmi les plus exaltants et accrocheurs de ces dernières années, affirme John Yamamoto, président et PDG de Square Enix, Inc. Square Enix s'est engagé à étoffer son catalogue de jeux en proposant une large gamme de genres et nous sommes certains de pouvoir fournir l'expérience ultime de DUNGEON SIEGE que les fans attendent."

Histoire

L'équilibre fragile entre les puissantes factions du royaume d'Ehb a été rompu avec l'éclatement de ces dernières. Vous incarnez l'un des derniers membres des protecteurs du royaume tombés en disgrâce, la Dixième Légion, et vous êtes le seul à pouvoir unifier les terres et empêcher Ehb de plonger dans les ténèbres. Rejoint par un groupe de compagnons uniques, vous voyagerez à travers les terres magnifiques d'Ehb pour combattre toutes sortes de monstres et de malfrats en combinant votre maîtrise des armes, votre magie et votre ruse.
DUNGEON SIEGE 3 allie un gameplay intuitif de jeu d'action, un système de jeu de rôle bien rôdé offrant un large choix de compétences, un mode multijoueur approfondi et un scénario intense digne des plus grands titres Square Enix et Obsidian Entertainment.

Caractéristiques

• Pour la première fois, jouez à DUNGEON SIEGE sur une console HD

• Les joueurs pourront partir à l'aventure sans quitter leur canapé, avec des amis ou en ligne pour une expérience totalement multijoueur.

• Découvrez un scénario intense digne des plus grandes productions Square Enix et Obsidian Entertainment

• Choisissez un personnage original et personnalisable disposant d'une gamme variée de capacités parmi plusieurs classes disponibles

• Recrutez des compagnons à la personnalité unique qui réagissent aux alliances et aux inimitiés

• Les joueurs verront leur environnement évoluer en fonction des choix qu'ils feront