Silent Hill 2 remake listing mentions the return of Pyramid Head alongside a "special origin story"
Though the story is likely about a different classic character.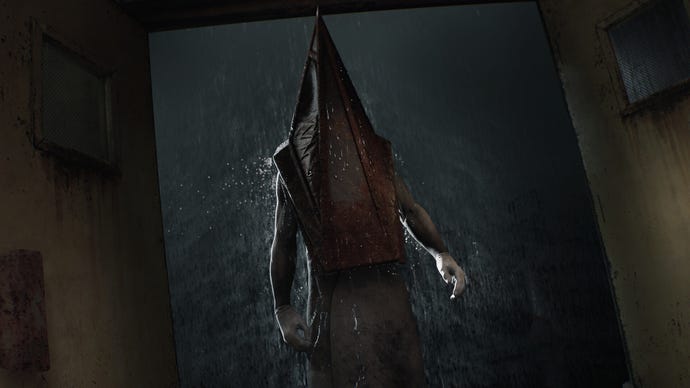 A recent listing of Silent Hill 2 remake on Best Buy has highlighted a "special origin story," and everyone thinks it's about Pyramid Head.
As spotted over on Resetera, the listing in question (which is specifically on Best Buy Canada) provides some basic descriptions of the game, as is par for the course with any item on an online storefront. However, many have quickly drawn their attention to one line in particular: "Fan favourite character, Pyramid Head, makes a return along with a special origin story for fans to play through." Based on some of the responses to this line, a number of users on the Resetera thread seem to think that the "special origin story" is about Pyramid Head specifically, with some feeling apprehensive about such a choice.
Watch on YouTube
Now, I'm not someone that's particularly excited for the remake; really, the whole series just needs to be left alone. I'm plenty ready to be critical of the remake, whenever it comes out, but to be fair to it, it's pretty unlikely that this "special origin story" is actually about Pyramid Head. It's probably more the case that this is just a bit of messy copy, as what I imagine the line is referring to is a part of the game many Silent Hill 2 fans will have likely missed: Born From a Wish.
For those that haven't heard of it, Born From a Wish is a side story focused on Maria, the mysterious character that looks just like protagonist James Sunderland's wife Mary. Born From a Wish was originally released on the Xbox version of the game, which came out after the initial PS2 release, but was later available on PS2 through the Director's Cut version of the game. This version was just labelled as a "Greatest Hits" release in the US, though, so it's unlikely many of those who played it way back in the day would have experienced Born From a Wish.
The side story somewhat explains how Maria came to be, so it would make sense that this is the origin story the remake's listing was talking about. Of course, I could be completely wrong, so I'll just eat my hat if that's the case when the game comes out.
Silent Hill 2 remake still doesn't have a release date, and it will release on PS5 and PC.