PUBG publisher offers an in-depth look at its slightly uncanny take on The Sims
With a weird cameo from the Joker.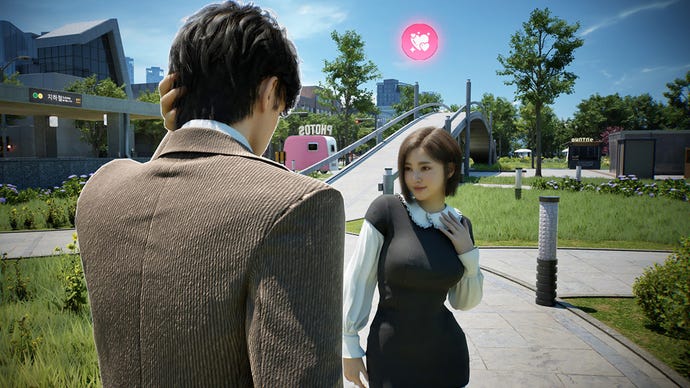 It seems like everyone wants a piece of The Sims these days, as PUBG publisher Krafton has shown off its take on the classic series, inZOI.
Whichever way you look at the moment, you seem to be able to find someone making a game that is clearly riffing on The Sims. Life By You is an example that literally has a former lead Sims dev working on it, and Paralives looks to be offering a slightly smaller scale take. Now, we have Korean publisher and video game company Krafton entering the fray, having shown off a gameplay demo for inZOI earlier this week. The demo was shown off at G-STAR 2023, a gaming event held in Busan Korea, and gave a good overview of the different gameplay elements available.
An immediate thing you'll notice about it is just how… realistic it looks. The trailer does note the footage is early, and "is not indicative of the final product," but there is something a bit uncanny about it. I think it feels less weird to be inspecting the lives of random citizens when they look more like cartoon characters? But when they look so real, my fight or flight is getting set off a bit.
It looks like an appropriately involved game, with lots of different activities for your characters (inZOIans?) to take part in. You can of course customise buildings to look however you want, and there's a pretty in-depth looking character creator too. Though, at one point they show off someone made to resemble Joaquin Phoenix's Joker which is certainly a choice.
An official blurb of the game (translations via IGN) reads, "Do you have a life you've always dreamed of? Do you need a unique experience that blurs the line between reality and imagination? In InZoi you can freely control the world like a god and make your ideal life a reality. Also, rather than simply living the life given to you, you can become the protagonist who leads the life you want. It's time to create your own story at InZoi, where infinite possibilities await!"
No platforms appear to have been confirmed for inZOI yet, but it is due out in 2024.