PS4 owner finds PS Plus loophole, subscribes until 2035 without paying a penny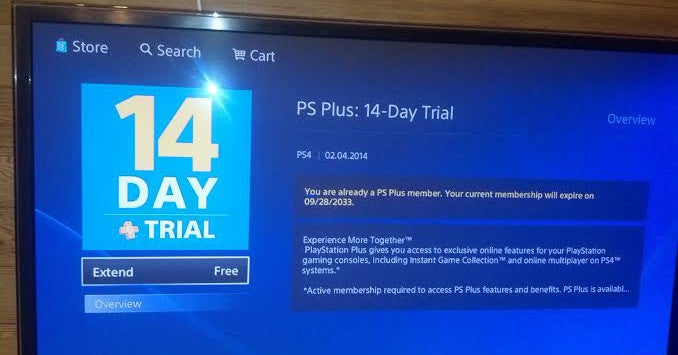 PlayStation 4 users can currently claim a free 14-day PS Plus trial subscription for free via the PSN store, and one gamer has found a loophole on the marketplace that allows repeat spamming of the offer. He's now a free PS Plus member until the year 2035 without paying a penny.
The tipster - who we will not name here - contacted VG247 this morning to say that he stumbled upon the error, which saw him entering the PlayStation Plus tab of the PS Store, and then clicking on an Outlast-branded 14-day free trial banner. The offer is good to anyone who is signing up to PS Plus for the first time, and does not apply to existing subscribers.
He then added his credit card information for renewal purposes, at which point the interface asked if he wanted to extend his membership. The options allowed him to do so in 14-day intervals. He successfully extended his free membership to the year 2033.
It's clear that this is an error. The tipster told us over email, "I never had PS+ so I decided to give it a try on my shiny new PS4. A new ad in the PS Store advertises 14 days free of PS+ if you have never had the service before.
A day later, our tipster returned to see if the glitch was still active. He added two more years to his subscription and is now a PS Plus member until 2035:
"Once you accept the deal, you are allowed to keep extending the 14 free days for free once prompted after confirmation of the free purchase. All you have to do is keep pressing X and you keep getting 14 free days added to your free subscription. The hundreds of email confirmations from Sony all say $0.00"
We've contacted Sony to shed official light on the matter, and so far we've been told there's no comment. We'll update you once we know more.