Payday 3 may get offline mode for solo play, as dev explains server issues
Payday 3's rocky launch has prompted a few changes at developer Starbreeze.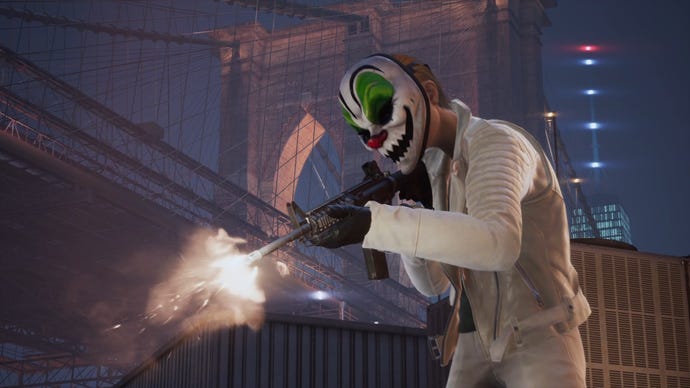 It is no secret at this point that Payday 3 has had one of the most turbulent launches for a live game in recent memory. The game suffered from constant connectivity issues, matchmaking problems, and various other stability issues that rendered it unplayable for most players over the weekend.
Developer Starbreeze has been battling those problems, but it hasn't stopped the sentiment around the game from turning sour, which is especially clear in Payday 3's Steam user reviews.
Payday 3 servers went offline yesterday for their first maintenance, and will be going offline again for three hours on Friday morning. Starbreeze said yesterday's maintenance already produced "positive trends," but warned that matchmaking issues continue.
As for what's been causing all that, it's apparently the third-party matchmaking service Payday 3 relies on. In a press release, the developer said the service "encountered an unforeseen error", which caused "an unrecoverable situation" for said third-party service.
Since then, an updated version of the matchmaking software was deployed, but it ended up causing more instability to the matchmaking infrastructure. "The partner continues to work to improve and stabilize Payday 3's online systems," according to Starbreeze.
The developer said that as a result of all that, it's currently "evaluating all options, both short- and long-term." What that means is that Payday 3 may change its matchmaking service provider in the future, but the game could also be less reliant on online services.
Payday 3 requires a constant internet connection, even for players who want to enjoy the game solo with bots. This is part of why all the launch server issues have been more devastating than they could've been had an offline mode existed.
Starbreeze stopped just short of confirming an offline mode, however. That said, it is a potential option being looked into.
"We are disappointed in the issues our playerbase has faced during our launch weekend, but we are confident in our core product and the quality of Payday 3 – and all available metrics point to it," said Starbreeze CEO, Tobias Sjogren.
Those metrics include over 218,250 concurrent players across all platforms, and a peak of 1,347,510 daily active users.
"We have a lot of diligent and consistent work ahead of us to regain community trust, but we will work hard to do it," he added.