Paradox Interactive celebrates 10 year anniversary with 50% sale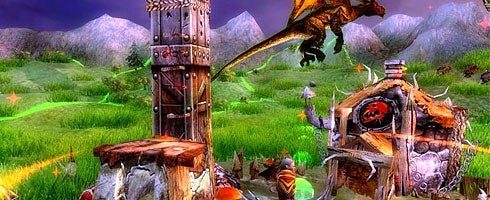 Paradox Interactive is ten years old today and to celebrate it's selling some of its back catalogue at a 50 per cent discount.
There's Elven Legacy (pictured above), Mount & Blade, and Europa Universalis 3 all ready to be downloaded on the cheap from GamersGate, Steam, Direct2Drive and Impulse.
What are you waiting for?
Full thing after the break.
Paradox Interactive celebrates its 10 year anniversary with huge sale
All Titles Available at 50% Discount on GamersGate, Steam, Direct2Drive, Impulse
NEW YORK – July 20, 2009 – To celebrate its 10th year in the business, Paradox Interactive today has announced a deal sure to please PC gamers everywhere, offering its currently released library of games at 50% off their regular retail price values.
Choose from any of Paradox Interactive's wide range of highly-acclaimed PC titles, such as Eleven Legacy, Mount & Blade, and Europa Universalis 3.
All titles (excluding pre-orders for the upcoming titles East India Company and Hearts of Iron 3) will be discounted until July 26 and are available on all major digital distribution channels.
About Paradox Interactive
Since 1999, Paradox Interactive has been a leading developer and publisher of PC-based strategy games. World-renowned for its strategy stable, the company holds a particularly strong presence in the United States and Europe. Its steadily-growing portfolio includes original titles such as the critically acclaimed Europa Universalis and Hearts of Iron franchises, as well as the published titles the Penumbra series, Supreme Ruler 2020, Mount&Blade, Elven Legacy and the greatly-anticipated Majesty 2 – The Fantasy Kingdom Sim. Read more: http://www.paradoxplaza.com .