Molyneux: PS Move "not as big a step as Natal"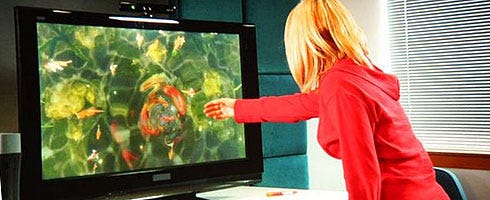 PlayStation Move isn't as great an advanced as Natal, Peter Molyneux's told Eurogamer at GDC, following the PS3 motion controller's reveal at the San Franciscan show earlier this week.
"We're not really surprised, are we?" said the Lionghead boss when asked of his opinions on the peripheral.
"I mean, at E3 last year we saw they were having a wand, and that's kind of what I expected. It looks like they've taken a step forward but it's not as big a step as something like Natal, I don't think.
"This is purely me talking personally, but I think maybe it's slightly more a device for the core than it is for the casual market, because I think it's quite precise."
Molyneux's Fable III uses Natal in an as yet undisclosed way, with both Natal and Move hitting before the end of the year.
The developer conceded he was interested in Move as a game-maker, but felt the device might "confuse" consumers.
"As a designer it's another one of those things I'd love to get my hands on and to play around with," he added.
"As a consumer, everyone's talking about motion control now - I mean, I'm starting to get confused. It's kind of like the arms race, with the Wii MotionPlus and now the Sony Move and now I'm getting kind of confused."
Hit this for everything on Move's GDC announcement. Fable III releases later this year.