Modders Have Already Put Thomas the Tank Engine in Resident Evil 3's Demo
Thomas is back, Jill has new outfits, and it isn't even April yet.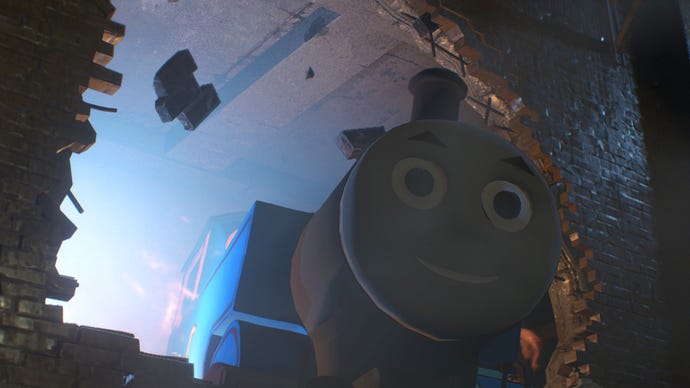 This article first appeared on USgamer, a partner publication of VG247. Some content, such as this article, has been migrated to VG247 for posterity after USgamer's closure - but it has not been edited or further vetted by the VG247 team.
One advantage of Capcom releasing a Resident Evil 3 remake on the same engine used to make last year's updated take on Resident Evil 2 is that folks on PC will be able to hit the ground running and bring over all kinds of tweaks, additions, and weird joke mods. In fact, they already have. Right now, with Resident Evil 3's demo, you can apply a variety of mods for weapons, outfits, and even Nemesis.
Naturally, a lot of the mods that have already cropped up for Resident Evil 3 over at Nexus Mods are changes for Jill's outfit. The best of those include a geared-up Spec Ops costume and two ports of Jill's attire from previous Resident Evil releases: her B.S.A.A. outfit from Resident Evil 5 and her original S.T.A.R.S. uniform (including the beret) from Resident Evil HD.
As for Nemesis, so far there's only one mod worth mentioning—and, some may argue, it's the only mod worth installing. Just as it didn't take long for modders to turn Resident Evil 2's Mr. X into Thomas the Tank Engine, everyone's favorite steam locomotive is already busting through walls in Resident Evil 3.
Just the fact that i can mod the Resident evil 3 DEMO is amazing. I thought Nemesis was scary as is but this is straight up TERRIFYING. pic.twitter.com/DKCEcNBzrM

— The Yakuza Guy COVID isolation (@VenomDeathNinja) March 23, 2020
The "Raccoon City Demo" only came out last week, and we'll surely see more mods and discoveries between now and Resident Evil 3's launch. It didn't take long at all for players to discover that Nemesis doesn't like being trolled with AI pathfinding trickery. Now imagine Thomas the Tank Engine doing the same kind of stun-lock roar move with his whistle. Absolutely terrifying.
Not all of the current Resident Evil 3 mods floating out there are cosmetic. Modder Sajjad Rahim has already uploaded a first pass at an Arabic localization for all menus, dialogue, and other text.
Resident Evil 3 will come out for the PC, PS4, and Xbox One on April 3. For more on the remake, check out Senior Editor Caty McCarthy's interview with Capcom Producer Peter Fabiano from a recent hands-on demo.
Header image: ZombieAli's "Thomas the Tank Engine Over Nemesis" mod.