Metal Gear Solid: Peace Walker dated for UK and US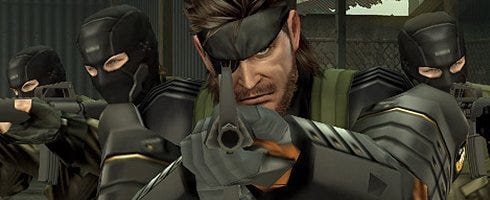 Konami has announced that Metal Gear Solid: Peace Walker will land on PSP May 25 in the US and May 28 in the UK.
The game is the next chapter in Snake's story and a direct sequel to Snake Eater.
"Metal Gear Solid fans should prepare themselves for the next chapter of Snake's story," said Hideo Kojima in the PR. "[The game] will answer many of the series' unanswered questions and showcase a different, more collaborative side to tactical espionage. May is when Snake's story continues…"
Full PR below the break.

Metal Gear Solid: Peace Walker to hit Europe on May 28th
PRESS RELEASE: Metal Gear Solid: Peace Walker dated
May 28th arrival scheduled for Hideo Kojima's Metal Gear Solid opus for PSP
Konami Digital Entertainment GmbH today announced that Hideo Kojima's next installment in the Metal Gear Solid series – Metal Gear Solid: Peace Walker – will arrive on May 28th, 2010 in the UK.
Developed specifically for the PSP™ (PlayStation®Portable) system, Metal Gear Solid: Peace Walker is the next true chapter in the story of legendary special ops expert, Snake (a.k.a. Big Boss), and acts as a direct sequel to Kojima's previously released Metal Gear Solid 3: Snake Eater. Metal Gear Solid: Peace Walker is set in 1974 at the tail end of the cold war and boasts an all-new story penned by game creator Hideo Kojima himself.
Taking full advantage of the PSP™ format, Metal Gear Solid: Peace Walker takes the series in an exciting new direction with incredible visuals, as it sheds new light on well-known adversaries and allies, along with a wealth of new characters. The famed 'stealth' gameplay that has established the Metal Gear Solid series as a modern classic has also been updated, with Kojima and his Kojima Productions team implementing all-new multi-player co-op elements that add depth to the various missions.
In true Metal Gear Solid tradition, Metal Gear Solid: Peace Walker drops the player into a series of hostile scenarios, as a terrible plan for world domination unfolds. Infiltrating a series of strategic strong-holds, the player takes on a number of increasingly varied missions, and will face some of the most incredible end-of-level adversaries the series has ever produced. Coupled with stunning visuals, incredible enemy AI, and a twisting plot that will delight and surprise as the game is played, it is no wonder Metal Gear Solid: Peace Walker is already being hailed as one of the most exciting games of 2010.
In addition to solo operations, players can now work together towards a common goal in the multi-player CO-OPS (CO-operative OPerationS) mode. Assist a companion who receives damage by administering medical help, share munitions, or sneak through stages in snake formation by covering each other's blind spots. Likewise, plans can be formulated to take on adversaries, with players acting as decoys while their friends sneak into advantageous positions.
"Metal Gear Solid fans should prepare themselves for the next chapter of Snake's story," commented Hideo Kojima, Head of Kojima Productions and creator of the Metal Gear Solid series. "Metal Gear Solid: Peace Walker will answer many of the series' unanswered questions and showcase a different, more collaborative side to tactical espionage. May 27th is when Snake's story continues…"