Mass Effect Andromeda's "full nudity" ESRB rating elicits "softcore space porn" description from studio head [UPDATE]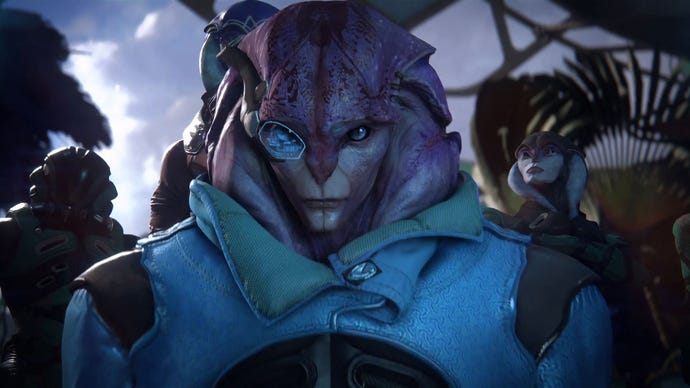 Mass Effect Andromeda is all about banging and there's no point pretending we're here for any other reason.
Mass Effect Andromeda has not been publicly rated by the ESRB, but as spotted by BioWare Social Network users earlier this month, an early assessment saw it rated M for blood, partial nudity, strong language, strong sexual content and violence.
The retail listing which showed these details has been amended, and it looks like the reason the rating hasn't gone public is because it wasn't final. In a tweet, BioWare general manager Aaryn Flynn said the RPG lost its "partial nudity" content descriptor in favour of a "full nudity" one.
For comparison's sake, Australia's classification opted for MA15+ with "strong sex scenes and violence". The European rating for Mass Effect Andromeda is not yet public, but retail listings show it at PEGI 16.
Flynn, like many BioWare staffers, seems to enjoy chatting with fans on Twitter. Later in the thread hanging off this ratings discussion comes this description of Mass Effect Andromeda:
@Lady_Alenko @N7Follower Yes it's totally softcore space porn

— Aaryn Flynn (@AarynFlynn) February 26, 2017
"Ha ha," you're thinking. "No executive would straight-faced describe a game like that, even if Mass Effect Andromeda notoriously has pretty good banging. Flynn is trolling."
@tyler_norstrom @Lady_Alenko @N7Follower Oh I'm not

— Aaryn Flynn (@AarynFlynn) February 26, 2017
Welp.
Update: Looks like some people got the wrong end of the stick here and took Flynn's comment really seriously. He has since apologised for giving the wrong impression, which is a more generous response than we deserve given we're all in this to kiss space faces.
Sorry, I gave the wrong impression. We have strong characters, great gameplay, romances, and more, all dealing with mature themes. https://t.co/GAy6ZIzIPC

— Aaryn Flynn (@AarynFlynn) February 27, 2017
Mass Effect Andromeda releases in March for PC, PS4 and Xbox One. Alex played it last week and said that he's now reassured Andromeda is a good Mass Effect game. (He had a nice big chat with one of the team regarding Mass Effect Andromeda's side content, more diverse choices and place in the franchise, too.)
I also played Mass Effect Andromeda and spoke to BioWare, but I'm still processing my feelings and working out how to avoid spoilers in reporting on my adventures, which mostly consisted of trying to work out who would bang who. Stay tuned.