Destiny 2: Forsaken: Lord of Wolves Exotic shotgun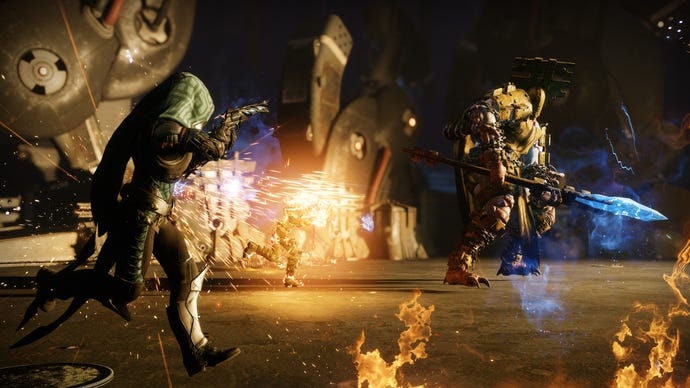 The Lord of Wolves exotic shotgun is available in Destiny 2: Forsaken, which is good news for players who love a good raid and collecting only the best of gear.
Fans of the first game will remember the fast-firing and damage-heavy weapon from PvP modes in Destiny 1 and there's only one way to get it in Forsaken.
The gun will sit in your second energy weapon slot so is much more appealing as an Exotic weapon choice. Shotguns have become more popular in PvP in Destiny 2 and this weapon is no exception. Whilst energy ammo is often more limited in availability, if used correctly this weapon will obliterate your enemies, which is what you want really.
How to increase your chances of finding the Lord of Wolves shotgun
Much like Destiny 1, this weapon is obtained through a random drop. While there's an element of RNG to it, there are a number of set activities you can complete to up your chances of finding this weapon. Spider, a Fallen vendor and quest giver, has Wanted bounties for you to complete. On completion, there is a chance that the weapon may drop. Whilst still a random chance, completing missions from Spider is a good source and starting point.
How the Lord of Wolves looks and handles
The first Exotic perk is Shrapnel Launcher which, as the name suggests, fires a short-range burst of solar damage that absolutely rips through your enemies. The fact that this is an energy weapon with rapid fire makes it an excellent choice when tackling an enemy using their super during a fight.
The other perk of this weapon is Release the Wolves which, on defeating an enemy, doubles the number of projectiles per burst for a short period of time. This is particularly useful during horde modes as you can defeat a number of enemies quite quickly while racking up some serious damage to use on a stronger enemy, which completes the other perk really well.
There are three other base perks which include a chambered compensator for increased ability, moderate recoil control but with a slight decrease in your handling speed. There's also an extended mag which gradually increases your magazine size but decreases your reload speed and a composite stock which slightly increases stability and handling speed.
All of this combined makes for a new and improved Lord of the Wolves weapon which many are keen to get their hands on, particularly if you didn't have the chance to experience it in Destiny 1 or are keen on collecting Exotic gear. With enemies using new tactics like rushing at you, this weapon is sure to come in handy, particularly ahead of The Last Wish raid on Friday.
If you're looking for more help with Destiny 2: Forsaken, check out our ultimate guide page. Bungie has released more details about its upcoming Festival of the Lost which will feature a Haunted Forest, a quest to find Master Ives and a costume party!