Latest Humble Choice bundle features Two Point Hospital, Street Fighter, Shadow of War and more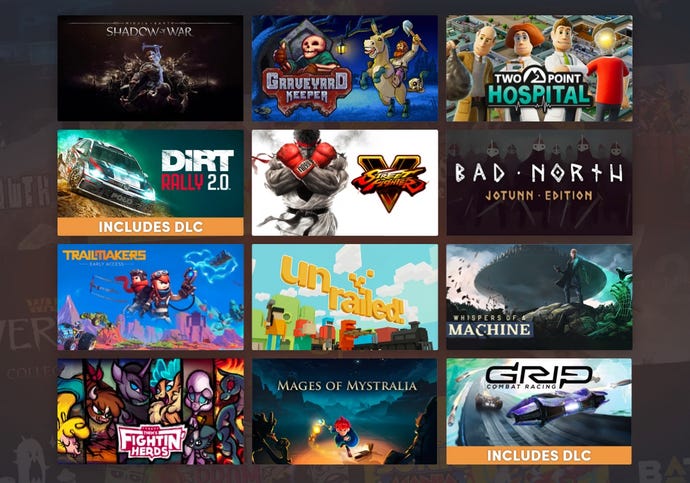 This Humble Choice bundle for January is now live, with games such as Two Point Hospital, Shadow of War and Street Fighter 5 all included.
If you've fallen out of the loop with what Humble has been up to lately, it recently changed its regular Humble Monthly bundles to this new Humble Choice format.
With Humble Choice, instead of being surprised by a selection of mystery games each month, you'll now get to choose a number of titles to add to your library from a larger group. Your subscription level dictates how many you'll be able to pick, with Basic members getting three games for $14.99 a month and Premium members getting nine games for $19.99 per month.
Here's everything that's in the January Humble Choice bundle:
Middle-earth: Shadow of War
Graveyard Keeper
Two Point Hospital
Dirt Rally 2.0 + 3 DLC
Street Fighter 5
Bad North: Jotunn Edition
Trailmakers
Unrailed!
Whispers of a Machine
Them's Fightin' Herds
Mages of Mystralia
GRIP: Combat Racing + Artifex DLC
Not a bad range of games, all said. If you pick up a few of the more recent or expensive titles you can make a pretty good saving – even on just a Basic membership. Even a game like Two Point Hospital is around $35 at full price so that's a bargain even if you're after just one game!
For even more top gaming offer be sure to give us a look over at Jelly Deals. You can find our picks for the best Nintendo Switch SD card, where to find Red Dead Redemption 2 on PC for the best price and where to get the best deal for Xbox Game Pass Ultimate.