Interview: Ted Price and David DeMartini explain the Insomniac multi-plat gigaton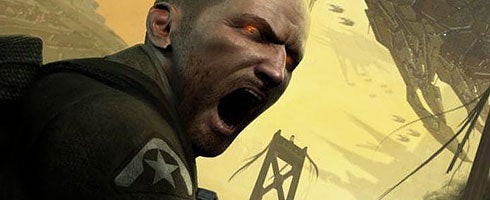 It's not every day someone says, "Insomniac's Ted Price is on the line". But then it's not every day a studio with Insomniac's sheer weight - the outfit has sold over 35 million games for PlayStation hardware - decides to move away from a superglue relationship with Sony to develop a multi-format title with EA.
"Insomniac is making a 360 game" are words few people ever thought would be true. But true they are, and EA Partners GM David DeMartini is thrilled. Price's 16 year-old studio is one of the most successful in the world, with benchmark properties such as Ratchet & Clank and Resistance a backbone of Sony's first-party offering since time immemorial. The developer has only ever released PlayStation products.
Price and DeMartini outlined their shock deal to us on the phone last night, with Price saying he can't wait to get "Xbox 360 fans excited about" his new, EA-published Insomniac "universe", and explaining why a brand so massively "PlayStation" felt the need to bat for the other side.
[Interview by Patrick Garratt]
VG247: Could you just give us a few details on the deal itself?
Ted Price: What we're announcing is a new multi-platorm game that we're developing here at Insomniac Games, and the fact that we are now working with EA Partners.
Can you tell me anything about the product yet?
Ted Price: Not yet.
When you say multi-platform, I assume it's PS3 and 360, right?
Ted Price: That's correct.
And is it going to be out this year, next year?
Ted Price: We're not talking about the timing. What we want to talk about is the fact that this is a really exciting time for us. We're hoping to reach many more players on multiple platforms for this new universe we're creating.
Ted, Insomniac's known as a PlayStation studio first and foremost right now. Can you just assure the fans that your deal with EA won't affect any work you have ongoing with Sony?
Ted Price: We still have a great relationship with Sony, and we're still very dedicated to the Ratchet and Resistance franchises, and we will continue working with Sony.
David, you told me at the Crysis 2 event in New York, that it was more important for Crytek to go multi-platform than it was for EA to have a multi-platform product in Crysis 2. Obviously, we're just seen Bungie sign a very similar deal to this with Activision. Do you think we're truly seeing the end of the platform-specific third-party studio here?
David DeMartini: Well, I believe that the best thing to create value for any great independent studio like Insomniac or Crytek is to make their game available to the widest possible audience. The best way to do that is by developing multi-platform, and making a high quality gaming experience. The good news about all of these studios, including Bungie, is that they had tremendous success on a particular platform, and they've done great by that publisher and that hardware manufacturer. But this is something that will create additional value, I believe, by making games for all the platforms. I think that exposes fantastic content to the widest possible audience.
Ted, is there pressure for independent studios to move into the multi-platform space? Is that pressure simply a reality of surviving videogame creation in the modern climate, or is this is a case of maximizing revenue and just getting as much money as you possibly can from your content?
Ted Price: For us it's probably a little different than for other developers. Everybody has their own desires in terms of how they create games and how they want to reach their audience. Our goal is to continue to make fantastic games and to reach as many players as possible. One of our other goals is to own our intellectual property, and working with EA Partners has allowed us to do that too. That's why this has been an exciting move for us.
When did you actually decide that you needed to go multi-platform? How long have you been working with David on this deal?
Ted Price: The deal evolved organically. We don't want to talk about the timing, but we've been talking for quite a while. We, as a studio, decided that it was important to go multi-platform a couple of years ago; we just haven't been able to take advantage of the timing until now.
And in very broad strokes, why is EA the best partner for you?
Ted Price: We talked to a lot of publishers that have global publishing capabilities and expertise across platforms, and we felt that EAP in particular best matched our creative style and the publishing expertise that we need. Again, they work with independent developers that own their own IP, and that was very attractive to us.
Did you speak to Activision?
Ted Price: As I said, we spoke to a lot of publishers.
David, who else are you talking to right now? Obviously, we've seen some really massive announcements in this space recently. You've had a great year, signing Respawn and now Insomniac; these are both huge deals. Are you talking to the likes of Remedy and other studios that have strong links to single hardware platforms?
David DeMartini: Well, that's a really good suggestions. I've got to pass that on to my business development people to make sure they're covering those guys. You know, it's funny: we probably talk to and look at 200-300 games and game teams per year to potentially sign less than five.
I think someone characterized it as, "You have to kiss an awful lot of frogs to find some princes." Insomniac was just the perfect partner for us. Beyond the partnership, you have to have a good feeling about working with each other, and from the beginning it just felt like a great fit with Insomniac, as it did with Respawn, as it did with some of the others. Anybody that can consistently bring the kind of quality gaming and entertainment experience that they can is someone we always aspire to work with.
As you look around the globe, and you think of the Remedy's of the world and others like them, we're always going to be trying to partner, or at least explore a partnership with people who bring that kind of quality to the table.
When are you going to be detailing the product that you've signed with Insomniac? Are we going to be seeing something at E3, do you think?
Ted Price: I can take that. We'll start revealing details when we're ready.
David, how are the Respawn guys doing with their team-building right now? Are we going to see anything from them at E3?
David DeMartini: I don't think we're going to see anything from them at E3, but everything's going great at Respawn. I think they just had a big furniture delivery at the weekend [laughs].
Everybody thinks – and Ted can attest to this – that people are just going to form a company and get going and that it's going to be easy. It's very challenging. There's a ton of skills and muscles that you need to exercise when you start up a studio, starting with all the administration, starting with all the HR activity, getting chairs, getting tables, all that other kind of stuff. The guys are doing great. They're very excited about what they're doing. They've got an office and they've got furniture.
Most importantly today, we're talking about Insomniac, and how exciting it is that we don't have to help them find furniture because they're all set up and they're rolling.
Ted Price: As I may have mentioned earlier, working with EAP is something that we wanted to do because they work well with independent developers. There aren't that many indies left that have been creating games for a while, and we, as an independent, decided that we needed to branch out again, to start looking at multiple platforms. For us there's been about 16 years of independence, and even though we continue to refine our processes, it's exciting just to take bigger steps within the industry.
What's your ambition for Insomniac? To simply be as big as you possibly can be? Or is it to keep creating the content you're proud of?
Ted Price: It's quality over quantity for us. That's been one of our core philosophies for years. We believe that if you grow too fast, if you try to take on too much, then ultimately the quality can suffer. We've controlled our growth and really focused inward to make sure we're providing gamers with the best experience possible with every game that we release.
And obviously you're going to want to stick to that ethic when you start developing for Xbox 360, right?
Ted Price: Yeah.
You'll have to change your production process, and so on. Are you already preparing for that?
Ted Price: Yeah. Our production process isn't changing much. We're developing some new technologies to support Xbox 360, but as far as are studio goes, we've had the benefit of refining our processes for 16 years. We'll just continue refining them.
You've had the luxury in many ways of being able to focus on a single platform with PlayStation 3, to get the most from the platform and get to really know it. How wary of you that the general quality of your software will suffer by taking on a new platform?
Ted Price: [Laughs] We're not worried. We'll continue to push it on both platforms. We'll make sure we're maximizing what each platform gives us.
David, do you think that it's only really EA and Activision that have the substance to support developers of the size of Bungie and Insomniac? Do you think that we might see someone else sign a deal like this? Maybe somebody like Ubisoft?
David DeMartini: Sure. There's always competition out there. Not only do you have traditional publishers, but now you also have the venture community. I mean, games are highly successful, and any time you've got investments that bring substantial results you're going to have more and more people interested in the investment. I actually think there's going to be more competition out there, and that's why we couldn't be any more delighted to find somebody like Insomniac before someone else came in and scooped them up. I'm just glad we make a great partner for them.
Ted, what do you anticipate the fan reaction being to this announcement?
Ted Price: I hope it's positive. We're looking forward to getting Xbox 360 fans excited about what's coming. Of course, as I said, we'll be revealing details further down the road.
Are you going to be announcing Resistance 3 at E3?
Ted Price: We're not talking about any of the titles we have in development at all.
Last one, then. Just how excited are you to be signing with EAP?
Ted Price: It's awesome. As David mentioned, there was great chemistry from the very beginning. I think our teams get a long extremely well. I think out teams have the same focus on quality over quantity and I think that's going to stand us in good stead for the entire process.