Interview: Just Cause 2's Christofer Sundberg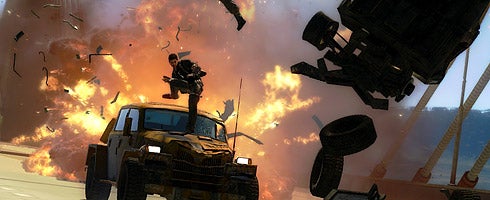 Being a mentalist in a sandbox has rarely been as much fun as it was in Just Cause, so the launch of tomorrow's sequel is well worthy of note. The sandbox actioner invites players to be pretty much as stupid as they can be with a variety of explosives and vehicles, leading to some spectacular videos in the run up to release, as well as supplying a suitably OTT espionage plot.
With a recent demo downloaded over 2 million times and a ton of high scores from the lifting of this week's review embargo, it's clear Square Enix has a hit on its hands.
Thus, we caught up with Avalanche Studio's co-founder and creative director, Christofer Sundberg, to get the latest on expanding the toybox, DLC, the current state of PC gaming and more.
Interview by Patrick Garratt.
VG247: Is Just Cause 2 a real step forward in the open world action genre? Will players find a genuinely deeper toybox experience than in the original game?
Christofer Sundberg: One of the lessons we learned from the original Just Cause is the importance of designing the game to really take advantage of a huge game-world, and work with the advantages that offers instead of against them. Apart from really packing the game full of fun stuff to do, Just Cause 2 has a completely redesigned mission structure that gives the player freedom to form his own path through the game. Regardless of where you are in the game-world, there are always fun activities all around you that contribute to the progression of the game. We've built the game-world from the ground up as a playground for you to explore and play around in.
We strongly feel that Just Cause 2 injects a well-needed dose of fun into the open-world action genre. The grappling hook and parachute combo, vertical gameplay, insane stunts, intense action, over the top Hollywood physics and a huge beautiful and dynamic environment give the game a really unique atmosphere and allow you to do things you haven't done in any other game.
The demo appears to have been a resounding success, with millions of people downloading it. Why do you think a demo was important for JC2 specifically? What are the potential pros and cons of releasing a demo?
Christofer Sundberg: A generous demo was important for Just Cause 2 to really communicate the sheer sense of freedom and fun that makes the game unique. That couldn't have been done simply by releasing a single mission. We wanted players to try the demo again and again, gradually getting better at it and starting to experiment with stunts and discovering new stuff, just like in the full game but on a smaller scale. Creating a demo for a sandbox game is difficult; many players are used to the demo holding their hands through a linear set of scripted events and trying to sell itself within a minute or two, and that's not easy with a sandbox game where much of the fun comes through emergent gameplay. So we're very happy that the demo seems to have gone down so well. It's exciting for us to see all those videos on YouTube showing off stunts that we haven't even tried ourselves.
How long do you intend to support the game after launch? Are there plans for DLC? Any chance we're going to see new landmass opened up by additional content?
Christofer Sundberg: There are plans for several different pieces of DLC. Unfortunately I can't go into any details about that yet. Sorry.
You're sticking with a PC SKU where others are either shying away or having problems with DRM, and so on. How important is PC gaming to Avalanche?
Christofer Sundberg: The choice of developing a PC SKU is always up to the publisher. We can develop anything on any platform as it's just a question of time and money. If the game is primarily a console game, we always recommend the publisher to avoid a PC SKU as PC gamers are PC gamers and console gamers are console gamers. Avoiding a platform because of piracy rather than attacking the problem is just giving in, so I'd recommend finding smart solutions to allow players the freedom needed to play our games full out and the developers and publishers getting their return of investment. All in all, Avalanche Studios is primarily a console developer and the high-end platforms are the ones we prefer.
Finally, how pleased are you with JC2's final result? Are all the signs there for a good success?
Christofer Sundberg: We couldn't be happier. The press and consumer feedback has been amazing and we are super proud as we see four years of extremely hard work through a business climate similar to a world-war paying off.