Horizon Zero Dawn's Aloy is coming to Fortnite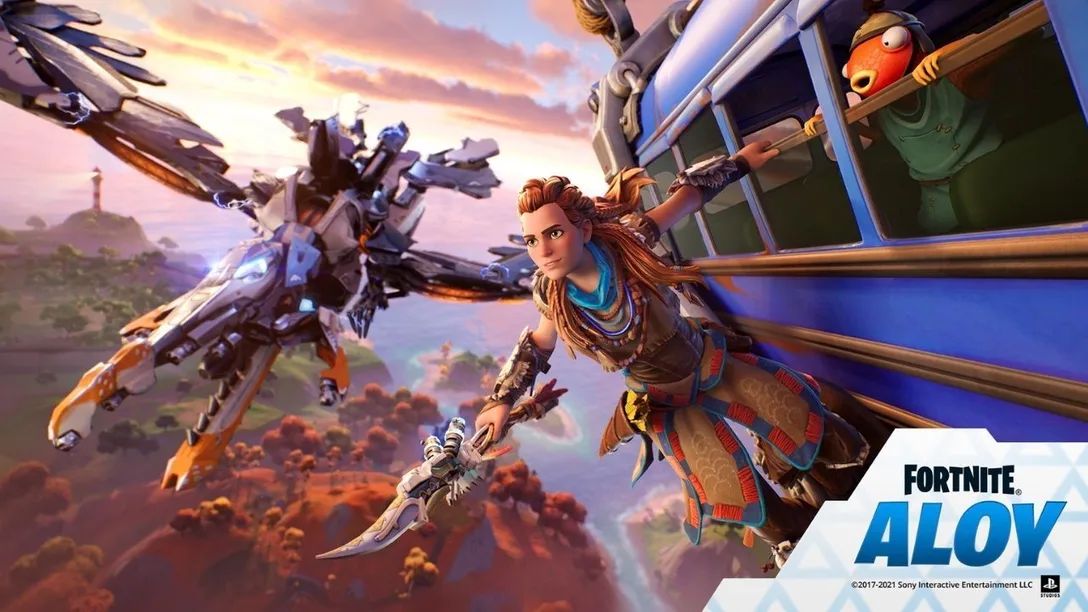 Fortnite will add Aloy from Horizon Zero Dawn as a character outfit to the game.
Fortnite players on PS4 and PS5 will soon be able to play the game as Horizon Zero Dawn's Aloy.
With the arrival of Aloy as part of the Gaming Legends series, a new tournament, and Limited Time Mode will be included.
In addition to the Aloy Outfit, character items will be available for purchase in the Item Shop starting April 15. These include the Blaze Canister Back Bling, the Glinthawk Glider, and Aloy's Spear Pickaxe.
Using the Heart-rizon Emote, you can use the Focus effect, and inspired by the Shield-Weaver armor, you will be able to spruce up your weapons and vehicles with the Shield-Weaver Wrap.
All items in the Horizon Zero Dawn Bundle will be available individually, but the Bundle includes the Aloy the Skywatcher Loading Screen as an added bonus.
Additionally, anyone who owns the Aloy Outfit and plays Fortnite on their PS5 will unlock the Ice Hunter Aloy Style, based on the Banuk Ice Hunter outfit from Horizon Zero Dawn.
One of Aloy's main weapons is the bow, and you will be able to use it in the Aloy Cup, available only on PlayStation. It is a duos tournament that kicks off on April 14. The top-performing teams in each region will unlock the Horizon Zero Dawn Bundle before it enters the Item Shop.
In the Aloy Cup, you and your duos partner will compete to be the last team standing. But there's a twist: you'll get bonus points for eliminations with a bow. You will compete in 10 matches during the three-hour time window in your region.
Lara Croft is also getting in on the action starting April 16, when the Limited-Time Mode, Team Up! Aloy & Lara goes live. In this duos mode, players will automatically be outfitted as either Aloy or Lara. The bow will be the only weapon available for Aloy and Lara will be carrying Dual Pistols. You will also be able to use your crafting skills to upgrade your weapons.
Team Up! Aloy & Lara will run from 6am PT/9am ET/2pm UK on April 16 to the same time on April 18.