Massive GTA Online Heists leak reveals outfits, contacts, vehicles, masks and prices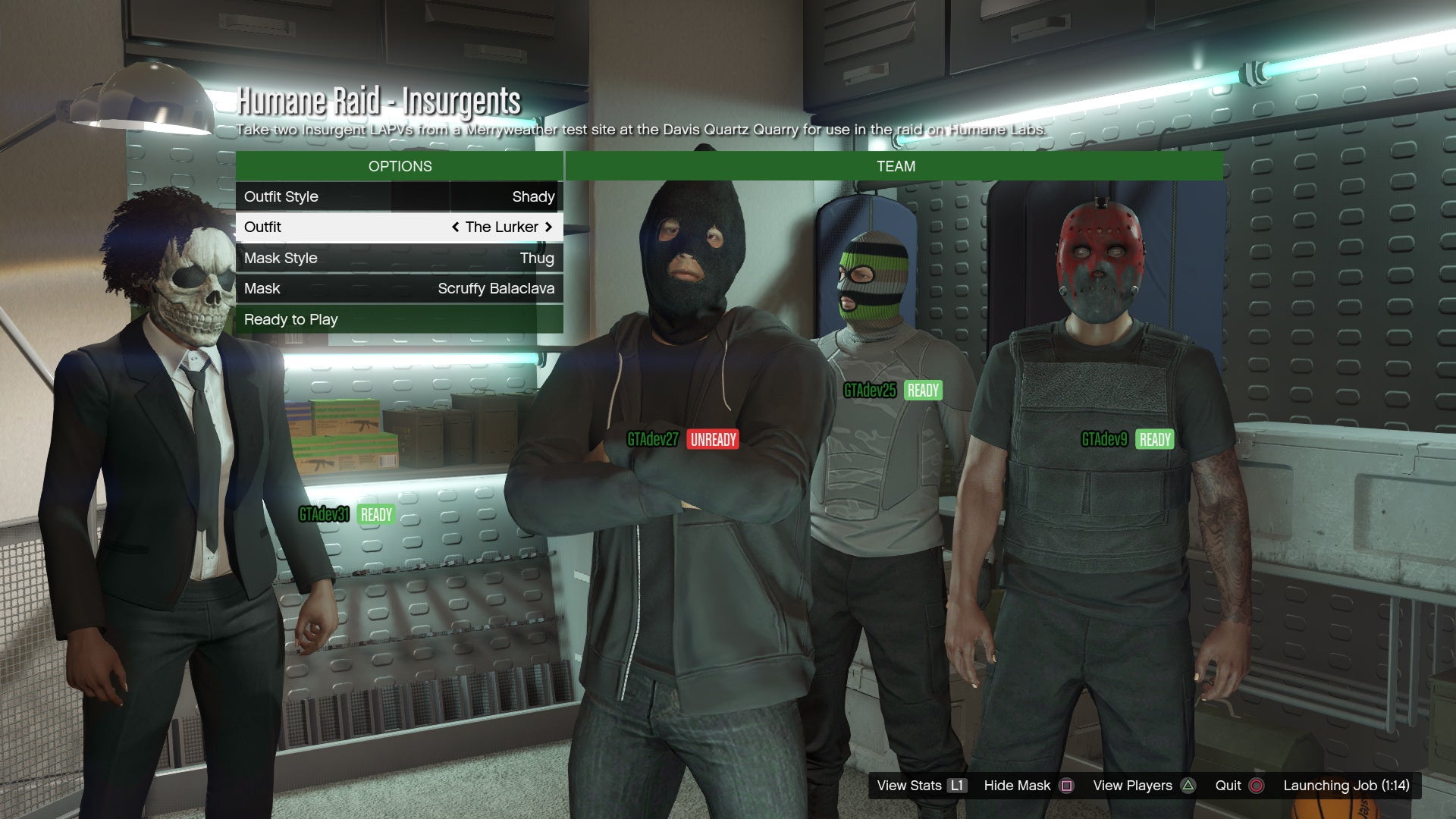 Images, details and prices for the new gear in GTA Online Heists - as well as a bunch of new contacts and audio files - have leaked ahead of the official release tomorrow.

Some of the gear has already been spotted in preview trailers and discussed in some detail by Rockstar, but the mining of in-game prices and the reveal of models for new transport shows almost all the new offerings in the 4.8GB update.
Spoilers ahead...
Here's a look at a bunch of new faces you're likely to meet during the five Heists missions.
The image below shows the new military vehicles from Warstock, the Boxville, Valkyrie chopper, Hydra VTOL jet, Heavy Insurgents 1 & 2, Mule, Hind chopper and Karin Technical.
Looking at the other vehicles, below you'll see two versions of the Karin Kuruma - an armoured and a civilian version.
Below is the model and very small image of a new sports car, the Lampadati Caso, and below that the Gang Burrito van and the Vapid Guardian SUV.
And here's a selection of masks and outfits, and below those the prices for various gear.
As well as the leaked images, some users have been able to mine the prices for new gear, including the flare gun, balaclava and ski mask.
List of the new clothes and their prices! #GTAOnlineHeists Then again, thanks to @funmw4 & Troye from GTAF. pic.twitter.com/DP3jwFENw1

— Yan22 (@Yan2295) March 8, 2015
The new masks names and their prices. #GTAOnlineHeists Thanks to @funmw4 & Troye from GTAF. pic.twitter.com/bGH94Dvmdo

— Yan22 (@Yan2295) March 8, 2015
Finally - and this is a big spoiler so listen only if you're absolutely sure - the audio files, which include briefings for Heists and more.
Thanks Se7ensins forums, Reddit, funmw4, Yann2295 and Fantasy Gamer.