Gearbox working with retailers on old pre-orders for Duke Nukem Forever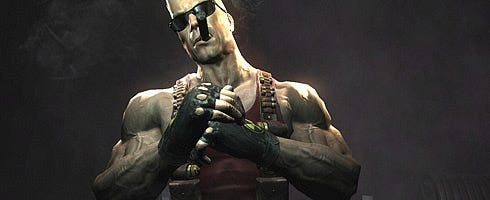 Gearbox boss Randy Pitchford has said the developer is working with retailers on honoring pre-orders taken for Duke Nukem Forever over the past decade.
Speaking with VG247 at a press event in London today, Pitchford told Keza Macdonald the studio doesn't want to let down the people who preordered Duke Nukem Forever, so Gearbox has started a dialogue with retailers on how best to sort this all out.
"There are a lot of people who pre-ordered the game," said Pitchford. "We've been starting to talk with retailers because we didn't take them directly, and 3D Realms didn't take them, it was all retailers going 'I'm going to take this guy's money.'
"We've started to engage them, saying 'Hey, you've got customers who you made a promise to, and any bad feeling they have will reflect on us, so can we work together to do something for those people?'
"I don't know what we can do yet, but something should be done for the people who pre-ordered."
It's awesome when a developer has the customers back, isn't it?
Hopefully, those who pre-ordered either saved their receipts, or traded the credit in towards another game. If not, Gearbox has you covered, providing you saved the proof of purchase, obviously.
Duke Nukem Forever is out next year on PC, PS3, and Xbox 360.