Gaming's Greatest Flops: Duke Nukem Forever
3D Realms' '90s PC superstar went into hiding for 15 years while his latest sequel turned from vaporware into garbageware. Was this Clinton-era relic worth the resurrection?

This article first appeared on USgamer, a partner publication of VG247. Some content, such as this article, has been migrated to VG247 for posterity after USgamer's closure - but it has not been edited or further vetted by the VG247 team.
Every Thursday this August (and occasionally one Saturday in September), Gaming's Greatest Flops will examine one of our industry's biggest failures in an attempt to understand what went wrong. This week: That Frankenstein's Monster of a first-person shooter, Duke Nukem Forever.
For a good decade, no punchline in gaming had more of an immediate effect than the words "Duke Nukem Forever." As the '90s slipped into the '00s and Duke's high-octane brand of machismo aged about as well as the leathery faces of our real-life action stars, Forever—clearly a nod to Batman's mid-'90s fall from grace—allowed us to distance ourselves from the character we'd fallen for so long ago.
I know because I was there. Duke Nukem 3D released just as my adolescence reached critical mass, and 3D Realms' ambitious first-person shooter provided all the unnecessary violence, sexual content, and profanity my developing brain craved. The prospect of nudity brought me to the series, though, before you judge, please remember this type of titillation didn't come easy before advances in Internet technology made the most horrific pornography immediately accessible to any child.
A friend with the game had been talking up its most salacious features, and when I went to his house to confirm what, at first, seemed like your typical playground rumors, he turned out to be telling the truth. Sure, maybe a set of pasties stood between me and True Nudity, but that two-frame "shake it, baby" animation (from a stripper who, in retrospect, looks like a Minecraft project) taught my teenage brain the wonders of Duke Nukem.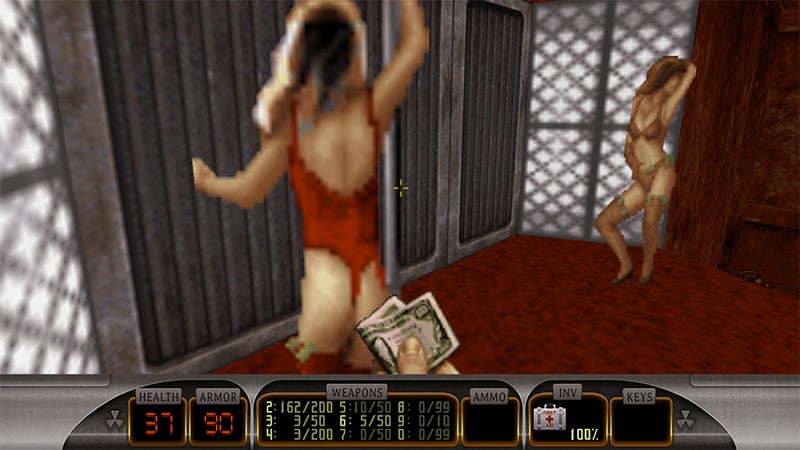 That's not to say Duke Nukem 3D didn't have a delicious cake hiding under its lurid layer of frosting. While Duke provided a nearly endless supply of references to all the movies its creators loved—similar to how Doom received more than a little inspiration from Metallica for its music—its approximation of a 3D world offered more variety and verisimilitude than its competitors. He wasn't just stomping down the same ugly corridors for hours on end: Duke visited movie theaters, strip clubs, arcades, bathrooms, bookstores, and other real-world places id Software and others never brought us. Duke 3D brought with it the same appeal Grand Theft Auto 3 did half a decade later: The chance to act out violent fantasies in a real-world setting with endless options for mayhem.
A sequel, of course, was inevitable. On April 28, 1997, Duke Nukem Forever received an official announcement, and a planned release of no later than the end of 1998. Quake (released just six months after Duke 3D) and its polygonal graphics set the new standard for first-person shooters, so George Broussard and Scott Miller—the men behind 3D Realms, Duke 3D's developer—dumped their creaky, 3D-faking BUILD engine and licensed Quake II's, which put them on par with their competition, and without having to build a time-consuming proprietary framework for their new game. It all sounded so easy.
In what would mark Forever's first bout of dishonesty with the press, 3D Realms released screenshots via PC Gamer in the Fall of 1997, though these didn't come from the game itself. Since they wouldn't have the Quake II engine until November, the developer created mock-ups of what they believed Forever would look like, using technology that powered the original Quake. Months later, their work on Forever using Quake II's engine debuted at E3 1998, and in a pre-Half-Life world, 3D Realms' ambition proved impressive. Freed from the ugly (though charming) perspective tricks of the BUILD engine, Duke's adventures now had limitless potential.
Based on that 1998 trailer, Forever's set piece-based spectacle—now a hallmark of the modern FPS—seems ahead of its time. But Broussard, unhappy with the game in its current state, eventually switched Forever's technology to the then-new Unreal Engine, which proved more capable of rendering its sprawling landscapes. If you've read previous installments in the Gaming's Greatest Flops series, this change from the Quake II to Unreal engine should definitely raise some flags. PC standards evolved at a breakneck pace in the mid-to-late-'90s, and developers used to smaller, more manageable projects found themselves serious misjudging the amount of time needed to develop a game. The switch to Unreal essentially destroyed over a year's worth of work on Forever, and served as the first of many setbacks to the game's development.
Though Broussard promised a 1999 release date, the year came and went without seeing Forever's launch—as did 2000. Much like Daikatana, Forever became the Internet's whipping boy, and Duke's relevancy quickly faded in the wake of disruptive first-person shooters like Half-Life. With no sign of Forever on the horizon, some internal changes took place. The game's framework received yet another upgrade—this time to an enhanced version of Unreal capable of multiplayer—and publishing rights for the game transferred from GT interactive to Gathering of Developers, a group made up of former members of the Daikatana team.
Even with Forever's status as a punchline, Broussard unveiled a sizzle reel at E3 2001 to prove the reports of Duke's death had been greatly exaggerated. The technology on display may seem ancient now, but in 2001, this brief look at Forever felt downright impressive. All of the tiny environmental touches still existed—Duke could even play an honest-to-god game of pinball—and Forever kept the same variety of locations that made Duke 3D so special. Despite their poor track record, 3D Realms' well-crafted trailer made an impression on the gaming press, who mistakenly assumed the game would meet its release date—though the trailer provides nothing official, its celebration of Duke's 10th anniversary seems to indicate the developer had a 2001 launch in mind.
That, of course, wouldn't happen. Gathering of Developers' financial problems caused parent company Take-Two to absorb them completely, leading to more problems for Forever than its rocky development cycle. Though 3D Realms cut themselves free from publisher pressure by financing the development of the game themselves, Take-Two grew tired of their constant tardiness. The company's CEO, Jeff Lapin, commented on 3D Realms' lack of progress on a quarterly conference call in 2003, and Broussard took his rebuttal to maybe not the best location for intracompany scuffles: The Shacknews message board.
"Take Two needs to STFU imo... All we want to do is keep quite [sic], work on the game, and emerge later and show you what we're working on. We don't want hype. We don't want drama. We don't want Take Two saying stupid ass things in public, for the sole purposes of helping their stock." Strong words from Broussard, though Forever had seen six years of development with not much to show for it.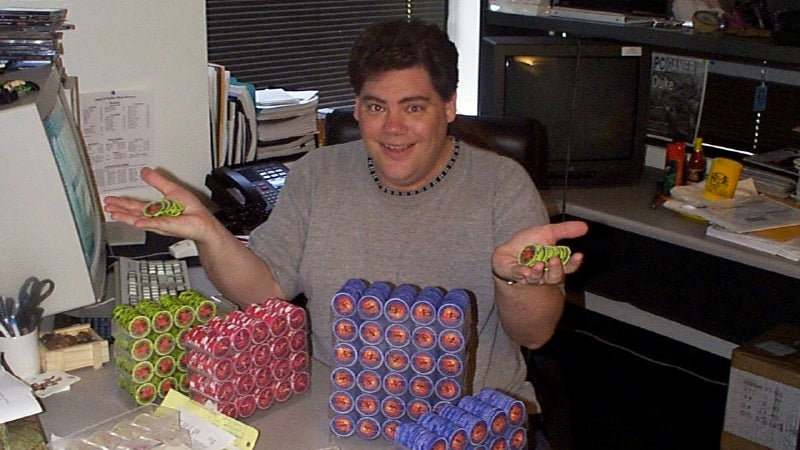 After Broussard and Lapin's dust-up, work quietly continued on Forever, and the game missed its projected release of late 2004/early 2005 as 3D Realms denied rumors they had once again switched technologies, this time to the Doom 3 engine. By early 2006, Broussard began making statements which indicated his team had made some serious progress on Duke Nukem, though he still remained adamant the game would see a release when it was ready. Not even Take-Two's promised bonus of $500,000, paid upon Forever's release before December 31, 2006, would inspire Broussard to be timely:
"Our deal is simple. We're making the game. It'll be done when it's done. We've funded 99.999% of the game (aside from a very, very small advance from GT Interactive, years ago, before Take 2 bought the game from them). It's our risk, our necks and our gamble. Under the deal we should be earning royalties from about unit 30,000 or so (that's a real small number)."
After six years without a single frame of video to its name, Forever's newest teaser hit on December 19, 2007. Despite the complete lack of game play footage, this minute-long video confirmed that, 10 years later, development of Forever hadn't stopped. The development team had doubled in size, and though they still wouldn't stick to a release date, George Broussard reassured fans after rumors of a 2008 launch began to circulate. He posted the following on 3D Realms' message board: "While we have internal targets, dates and goals, like every developer, we are not ready to share them. The release date is still 'when it's done', and will be until the appropriate moment. Platforms have not been finalized or announced."
Though Duke looked to be on track, Broussard and company couldn't rest on the success of Duke Nukem 3D—over a decade old at that point—for long. When Broussard requested $6 million from Take-Two, they responded with a counter-offer: $2.5 million up front, and $2.5 million upon completion. Unhappy with these terms, Broussard completely halted Forever's development in May of 2009. At last, it seemed the dream of Duke Nukem Forever had finally been killed.
Not quite. 3D Realms survived, but the Duke Nukem staff experienced severe layoffs, and the developer found itself the target of a lawsuit from Take-Two. The publisher wanted the $12 million they had paid for publishing rights to Forever, and saw this delay in production as a breach of contract. An official statement by Take-Two stated: "Apogee continually delayed the completion date for the Duke Nukem Forever... Apogee repeatedly assured Take-Two and the video-gaming community that it was diligently working toward competing development of the PC Version of the Duke Nukem Forever." 3D Realms' Scott Miller insisted production on Forever hadn't stopped, but, in the wake of their financial problems, the developer would be looking for another group to step in and finish the game. This assemblage of leaked footage shows just how far Forever had come since it was last seen eight years earlier at E3 2001:
But Duke couldn't die. Nine ex-employees of 3D Realms (who would become Triptych Games) continued work on Forever privately, and approached Randy Pitchford of Gearbox Software—who worked on Duke projects in the past—for help with finishing the game. He convinced 2K Games to act as the publisher, and the project soon expanded from a simple PC release to one that spanned both XBox 360 and PS3. Following Forever's official re-debut at PAX 2010, Pitchford revealed his excitement for the upcoming game in an interview with VG247: "You know, somebody once said, 'Always bet on Duke.' So I did. I put myself right in the middle there and put all the chips on it and it worked out. Our strategy was to get it there, to get it to where we know it's there, we know it's happening. We have it to the polishing stage, where we have it running on all the platforms and where we know it's ready to ship." Less than a year later, Duke Nukem Forever did the impossible and released on June 10, 2011, and without a hint of development drama.
In the 15 years between Duke Nukem 3D and Forever, Duke's audience grew up without him. Nukem was always a patently ridiculous character, but, as with 3D, the game took his excessive machismo at face value, without offering the dose of irony we've come to expect from such a blatant male power fantasy. And the lurid sexism that reared its ugly head from time-to-time in 3D grew downright uncomfortable in Forever, which evolved far beyond the shaking of pixellated pasties. IGN's review by Charles Onyett said it best with the following: "It's disappointing that during Duke Nukem Forever's preposterously protracted development, nobody took advantage of the immense opportunity to do something thematically creative. Instead of playing with the idea of Duke as an anachronism, Duke returns in classic form, and he's never felt so old, so out of place, and so embarrassing. Just wait until you find the wall boobs."
After the initial novelty wore off and the summer of 2011 came to a close, Forever's status as the "take my wife, please" of the gaming industry held the same appeal as that hoary, old joke. If Forever had been bad, it would at least be memorable. Instead, it came into being as pure mediocrity, and the humor of the situation had a tinge of tragedy when we collectively realized all of the time, hard work, and money, resulted in... this. In retrospect, the tagline "always bet on Duke" seems far less applicable than a more famous gambling metaphor: "You gotta know when to hold 'em, know when to fold 'em, know when to walk away, know when to run."
Previous entries in Gaming's Greatest Flops:
Author's Note: This series would not exist without writer Nathan Rabin, whose My Year of Flops series (and book) on the A.V. Club provided my inspiration. Currently, you can read his work at The Dissolve.