Gamescom 2019: Watch the Xbox, Google Stadia and Opening Night Live streams here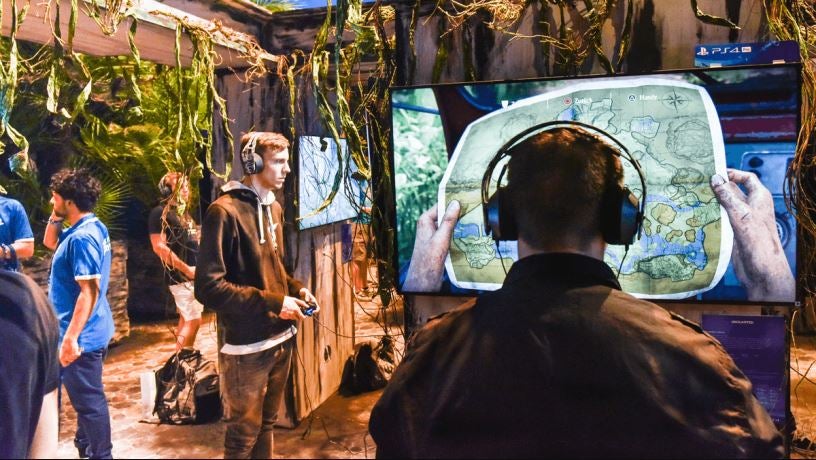 Europe's premier gaming conference - Gamescom 2019 - is close at hand, so save the date! This time however, you won't be completely left out if you're not on the show floor. As part of the Gamescom 2019 schedule, there will be news conferences from Google Stadia, Inside Xbox, and a special opening night presentation which is rumoured to include something from PlayStation as well as many other major publishers.
Unlike it's American cousin E3, Gamescom doesn't usually have big conference streams with new announcements, preferring to let the demos do the talking. But especially for Gamescom 2019, the Monday night before the show opens its doors will feature a more traditional conference, including a showcase presented by Geoff Keighley - who also presents and produces The Game Awards.
Gamescom 2019 Schedule: What date and time are the conferences being streamed?
Gamescom 2019 runs from Monday August 19 to Thursday August 22. However, you're not going to be able to tune in for new stuff every day.
The press conferences take place on Monday August 19, starting from 6PM-8PM local time (CEST). That's 5PM-7PM in the UK, 12PM-2PM Eastern, and 9AM-11AM.
Below we've drawn out a handy table of all the dates and times:
| Gamescom 2019 conference start times | Local time (CEST) | UK Time (BST) | Eastern Time (EDT) | Pacific Time (PDT) | Start date |
| --- | --- | --- | --- | --- | --- |
| Inside Xbox Conference | 6PM | 5PM | 12PM | 9AM | 08/19/19 |
| Google Stadia Connect | 7PM | 6PM | 1PM | 10AM | 08/19/19 |
| Opening Night Live | 8PM | 7PM | 2PM | 11AM | 08/19/19 |
Gamescom 2019 Schedule - Conference Times
Gamescom 2019 Schedule - Inside Xbox Start time
Local time - 5PM
UK Time - 4PM
Eastern Time - 11AM
Pacific Time - 8AM
First up on the agenda we have the Inside Xbox conference. With Gears 5 so close to release - it went Gold recently - expect to see some brand-new gameplay from one of Microsoft's biggest hitters.
In this Inside Xbox conference stream we'll get a glimpse of the Horde mode, but you'll have to wait until the Opening Night show later for story mode details.
As for what else will be shown, Microsoft could draw on its long-standing partnership with EA to drop some new details on FIFA 20, or we could hear more about games it showed off at E3 like Halo Infinite, Minecraft Dungeons, Forza Horizon 4, and Bleeding Edge.
It could also be an opportunity to show off some of Microsoft's Xbox ID stable of indie games.
The elephant in the room though is next gen. Will we see more tidbits about Project Scarlett? Only time will tell.
Gamescom 2019 Schedule - Google Stadia Connect start time
Local time - 7PM
UK Time - 6PM
Eastern Time - 1PM
Pacific Time - 10AM
https://www.youtube.com/watch?v=uVYW5KWLk0w
Although the tech looks promising, Google still has a lot of convincing to do with Stadia.
It's become a bit of a meme for companies to say "it's all about the games", but that's just what the search giant has announced ahead of their presentation.
A lot of Stadia's showings so far have featured older games that you can already play elsewhere - the lead game that Google seems to be pushing a lot is Assassin's Creed Odyssey. So we might see a shift to a newer Ubisoft title here. But by that same token we could see an original game to incentivize players to switch.
In the description of its Gamescom 2019 conference, Google says it's "revealing brand-new trailers" and "going behind-the-scenes with our partners". That can't just mean new trailers for old games, surely?
Gamescom 2019 Schedule - Opening Night Live stream featuring Geoff Keighley
Local time - 8PM
UK Time - 7PM
Eastern Time - 2PM
Pacific Time - 11AM
Watch live video from gamescom on www.twitch.tv
Last but not least, the Opening Night Live stream is supposedly the main event of the evening and promises a wide array of teases from tons of publishers.
Probably most exciting is Death Stranding which, despite being removed from PlayStation's list of exclusive games recently, remains one of the most highly anticipated releases of the year - and it's not too far off. Good ol' Geoff Keighley has a noted friendship with Hideo Kojima, so we're sure to be in for a treat.
Aside from that though, several publishers are rumoured or have explicitly said that they have totally new big-budget games to announce at Gamescom.
THQ Nordic are one of those publishers. Guessing exactly what it's hiding is difficult, since it owns just about every defunct IP going. Timesplitters and Second Sight are both mouth-watering prospects, as is Kingdoms of Amalur.
Not to be left out, Sega also have what it's describing as a triple-A project under-wraps. The Japanese publisher has years of history to mine for reboots, or we could be looking at something totally new. We haven't seen a Virtua Fighter for a long time, or could you imagine if something like Jet Set Radio came out of left field? Let's hope it goes better than the 3D Golden Axe at least.
The full list of attendees is as follows:
2K
Activision
Bandai Namco Entertainment
Bungie
Capcom
Electronic Arts
Epic Games
Google Stadia
Koch Media/Deep Silver
Private Division
Sega
Square Enix
Sony Interactive Entertainment
THQ Nordic GmbH
Ubisoft
Xbox Game Studios
That's a hefty roster. We can be pretty certain that Bungie are there to show Shadowkeep, but there are definitely going to be a few surprises in there from others. More Superstars could be confirmed by 2K for WWE 2K20, Square Enix could show off more of FF7 Remake and Avengers, and there are tons of 2020 games we could see from Ubi, EA, and Capcom.
To round things off, throughout the week THQ Nordic will be hosting days worth of streams live from their both in Cologne.
Running all the way from Tuesday to Saturday, it features the anticipated remakes like Destroy All Humans and Spongebob Squarepants: Battle for Bikini Bottom, as well as new original titles like Biomutant.
The full schedule is below: