Fortnite adds new Combat Shotgun as Pump is Vaulted, Tactical Assault Rifle coming soon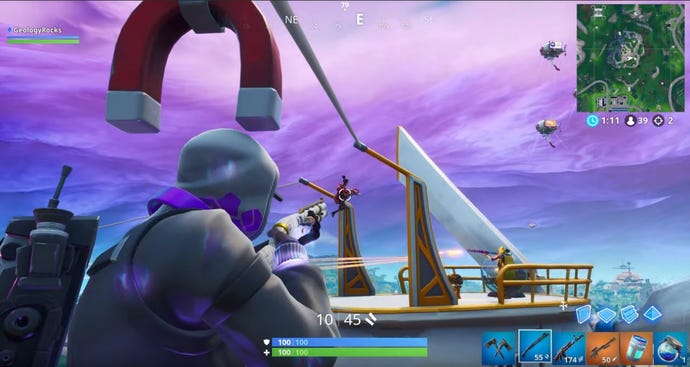 The shotguns in Fortnite are a total mixed bag, one minute you're melting guys from miles away, the next you're the one getting melted. With the start of Season 9 a new challenger emerges: the Combat Shotgun. Will it be a pea-shooter? Or will it usher in a new shotgun meta? Only time will tell.
Fortnite Combat Shotgun
The Combat Shotgun holds 10 shells, and fires 9 pellets with a meaty 73 / 77 / 81 range of base damage. Its emphasis seems to be on quick, devastating blasts to finish off enemies, owing to its "fast rate of fire", "tight spread", and the fact it reloads 2 shells at a time.
You'll be able to find it on Floor Spawns, in Chests and Supply Drops, as well as from Vending Machines. It comes in Rare, Epic, and Legendary types, so it should be reasonably easy to find, but not super common.
Joining the Combat Shotgun, the good old Tactical Shotgun is getting a damage buff. It's base damage is being increased from 66/70/74 to 71/75/79.
With the Drum Gun being reduced in availability, this should make it a much more useful up-close weapon.
This new inclusion means that we'll be waving goodbye to the venerable Pump Shotgun, which is being vaulted.
Fortnite Tactical Assault Rifle
A new patch not only means new items now, but tons of leaks of items that are in the pipeline. One of these looks to be a Tactical Assault Rifle, which was uncovered by serial leakers FNBRLeaks on Twitter.
We've just lost both the Suppressed Assault Rifle and the Thermal Assault Rifle to the Vault, so it makes sense to introduce a new one to the mix. Based on previous tactical items, this one will probably have an increased rate of fire, making it distinct from the regular Assault Rifle and the slow-firing Heavy Assault Rifle.
For more of the new stuff in Season 9, check out the full patch notes.
If you're more interested in the fashion side of Fortnite, we've rounded up the new Battle Pass skins.
Tilted Towers didn't stay destroyed for long - Season 9's map changes include a brand-new Neo Tilted, and the revamped Retail Row: Mega Mall.