Far Cry Primal Drops Guns and Vehicles For More Hunting Action
The next Far Cry is coming sooner than you think.

This article first appeared on USgamer, a partner publication of VG247. Some content, such as this article, has been migrated to VG247 for posterity after USgamer's closure - but it has not been edited or further vetted by the VG247 team.
Yesterday, I watched an image of a cave painting slowly zoom out for hours. After a 24 hour livestream teaser, Ubisoft has finally revealed Far Cry Primal, an all-new Far Cry title taking place in prehistoric times. Let me say that no game was probably worth 24 hours of cave painting, but despite that, Primal looks interesting.
Surprisingly, Far Cry Primal is a full-fledged Far Cry title, moving the series closer to annual territory like its sister series, Assassin's Creed. We've had Far Cry 3 in 2012, the digital-only Far Cry: Blood Dragon in 2013, Far Cry 4 in 2014, and now Far Cry Primal in 2016. Primal misses 2015 by only two months, coming out just prior to the popular March release window with a worldwide release for PlayStation 4 and Xbox One in February 23, 2016. Once again, the PC version sees a slight delay, coming March 2016.
Far Cry 3 added hunting and crafting to series in a major way and Far Cry Primal looks to be doubling-down on that idea. Players take control of Takkar, a hunter in the Stone Age who stands as the last surviving member of his hunting party. That means you have to explore, hunt for food, craft weapons and tools, and fend off attack from vicious predators, including other tribes.
"The interesting thing about Far Cry is that it's flexible," said Ubisoft executive producer Dan Hay. "At the end of each Far Cry we sort of think to ourselves, 'where do we want to go next?' So when a team proposed to explore the idea of a Far Cry taking place during the Stone Age, we just said 'let's hear it!' And the more we heard about it, the more we realized how much of a damn good idea it actually was."
The game is being developed by Ubisoft Montréal in collaboration with Ubisoft Toronto, Ubisoft Shanghai Studio and Ubisoft Kiev Studio, making Far Cry Primal a big undertaking, but still not to the level of Ubisoft's annual Assassin's Creeds. The thing is, if Hay's quote is to be believed, the turnaround from Far Cry 4 to Primal is a year at most? Assassin's Creed gets around annual development by having each game in development ahead of time; each Assassin's Creed gets roughly two-and-a-half years in development. Primal is getting far less, which suggests this is a evolutionary step from Far Cry 4.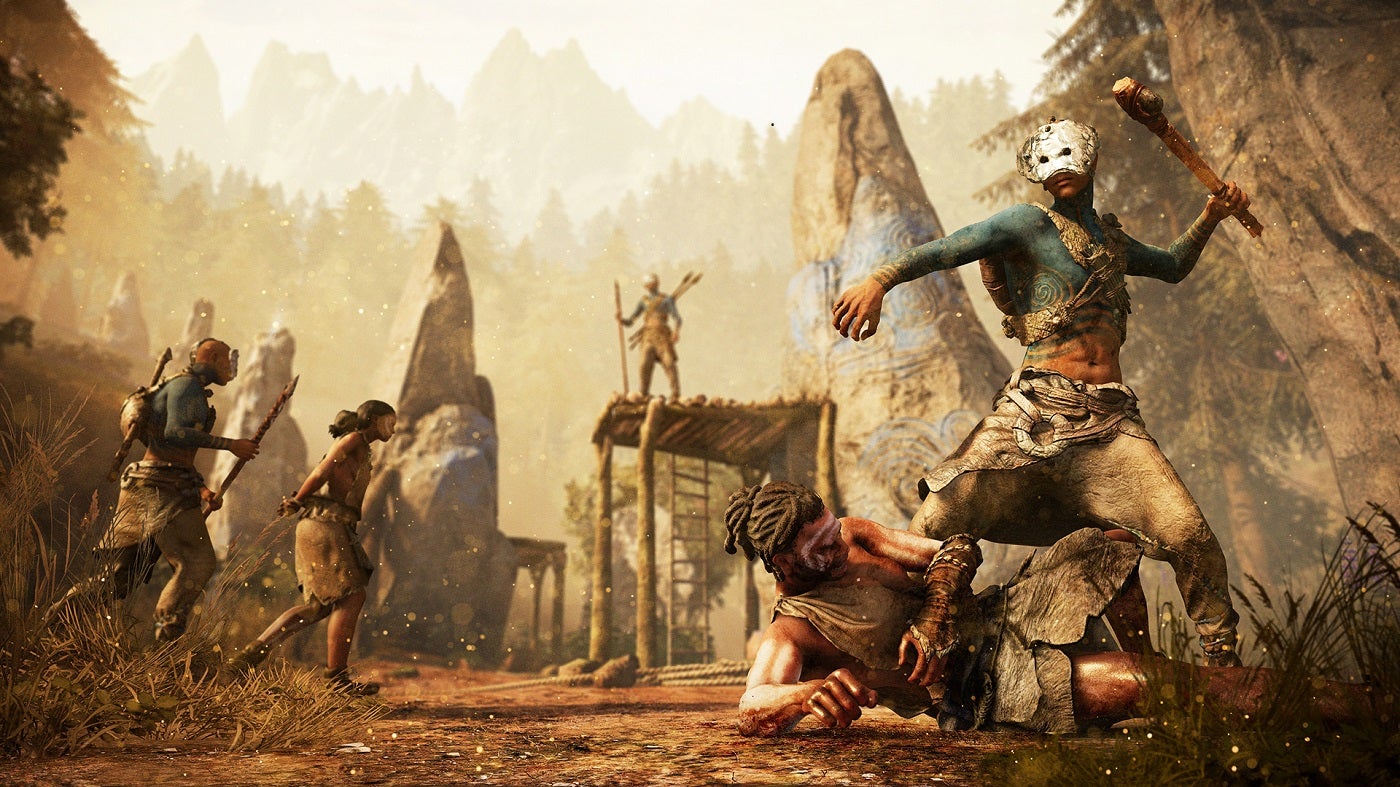 I'm intrigued by Far Cry Primal, but the key here will be the when and where the game takes place. The time period informs what can be done in the game. This is the first Far Cry without any guns whatsoever. Instead, Ubisoft has extended the crafting system. In a Behind the Scenes video, art director Mickael Labat mentioned weapons crafted from more natural materials like bone, muscle ligaments, and rock. The list of weapons includes spears, bow, blades, and clubs, but you won't be crafting a Stone Age sub-machine gun any time soon.
There's also no vehicles, another major Far Cry staple. Honestly, the lack of vehicles doesn't bother me as much as that's been my least favorite part of the franchise. Controlling a person feels good in first-person mode, but I've never been a fan of controlling vehicles from that viewpoint. I like Far Cry, but a third-person camera while in the driver's seat has been my number one desire in every title. Grand Theft Auto V allowed players to set the camera for each mode and the shift from first-person while walking to third-person while driving worked great for me.
Alas, we're still very light on overall information about the game's systems. All we have so far is the basic sketch of the game, an announcement and what we can guess based on the franchise and the time period. I'll wait for more information before buying into the idea completely, but on paper, Far Cry Primal sounds like something I'd enjoy and the release window means it won't have to compete with much else.