Far Cry New Dawn lets you visit the Grand Canyon and gives you a pet Shiba Inu - all the details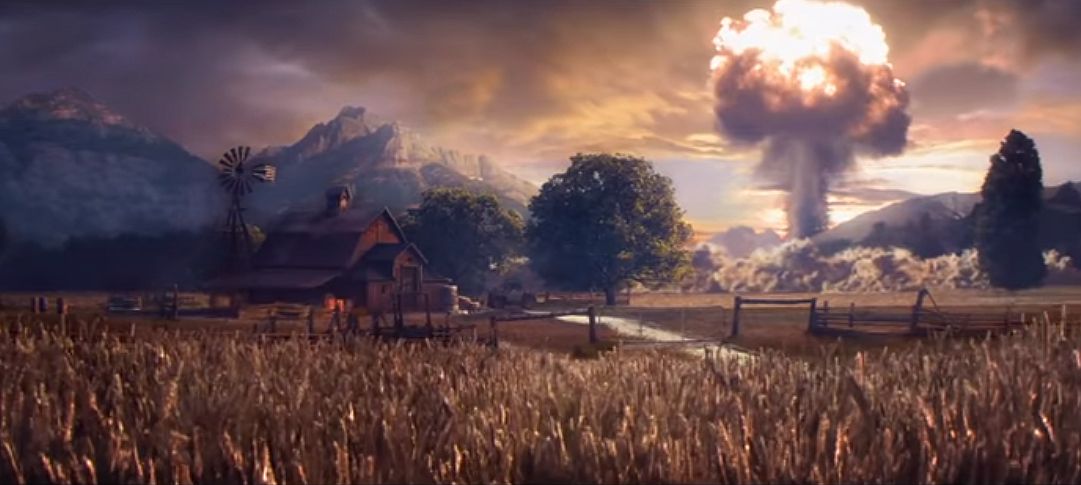 Far Cry New Dawn has been officially announced. It's a post-apocalyptic take on the series and a direct sequel to Far Cry 5, in which you play as a new character.
Developed by Ubisoft Montreal, this standalone sequel is set 17 years after the events of Far Cry 5. Not only did the nuclear bombs drop on Hope County as the religious cultists predicted, they've gone off all over the world.
After ten years of nuclear winter, storms, and aggressive weather, a new Earth emerged with the coming of a superbloom. This breathed new life into the landscape, creating pink flowers and a vibrant environment blossoming with renewed vigour.
What this means for you is that you'll be exploring a landscape with a colour palette similar to what Ubisoft put out in Watch Dogs 2 - like a hyper, intense twist on reality.
The majority of the game takes place in the same map as Far Cry 5, but the new colours and the impact of a decade of bad weather should add enough that it still feels fresh.
Far Cry New Dawn - Expeditions
To keep things interesting, Far Cry New Dawn also adds a new feature dubbed Expeditions. These let you travel to new locations across the US by helicopter, taking on missions in famous locales such as the Grand Canyon and the Florida Bayou.
Both Expeditions and Outposts also have an element of procedural generation to them, meaning you face different challenges each time you take one on.
Far Cry New Dawn - Factions
You won't be the only one exploring the new world. As always, there are people split into different factions. First up are the Survivors. These are friendly NPCs who have banded into different groups.
There's also a new threat in the form of the Highwaymen, a group of scavengers who are attempting to stockpile ethanol, the new world's most valuable resource. You need to fight these off, disrupt their operations, and take down their compounds. But this time, the enemy can launch counter assaults on compounds and re-take territory from you as well.
Far Cry New Dawn - villains
Far Cry has always been as much about the antagonists as it is about the world and the lead character. In Far Cry New Dawn, the big pantomime threat comes from the leaders of the Highwaymen, a set of twins called Mickey and Lou. These two sisters are a deadly mix of brains and brawn.
Far Cry New Dawn gameplay
While the core of the game remains similar to other entries in the series, the setting means weapons and vehicles will be more ragtag and makeshift than you're used to. Of course, there will also be new Guns for Hire, as well as new animal allies in the Fangs for Hire system.
Far Cry New Dawn - Guns and Fangs for Hire
With this being the only direct sequel in the series, some Far Cry 5 characters will return. Nick Rye's daughter is recruitable as a Gun for Hire. There's also a new Gun for Hire in Nanna, a narcoleptic grandma sniper. Yes. Boomer is dead, by the way. Soz.
Luckily, you get a Shiba Inu dog called Timber, as well as Horatio, a friendly boar. Timber can also travel in the passenger seat of vehicles with you.
Far Cry New Dawn - animals
As always, Far Cry New Dawn is filled with wildlife to hunt, kill, and use as a tool against the enemy. This time, the animals have evolved in response to exposure to both the radiation and the stockpiles of Bliss - the drug the cultists used in Far Cry 5 - being detonated by the blasts.
Far Cry New Dawn - Homebase
This time you have a base of operations to build up as you take the fight to the Highwaymen. You can recruit Specialists and Survivors to help you out around your homebase, crafting weapons and vehicles, training your Guns for Hire, and even going on Expeditions from the eight Homebase facilities.
Homebase facilities include the workbench, training camp, explosives lab, infirmary, garage, healing garden, cartography, and Expeditions.
Far Cry New Dawn release date
Far Cry New Dawn is out on February 15, 2019.