Fallout 76: this is how much Atoms cost in real money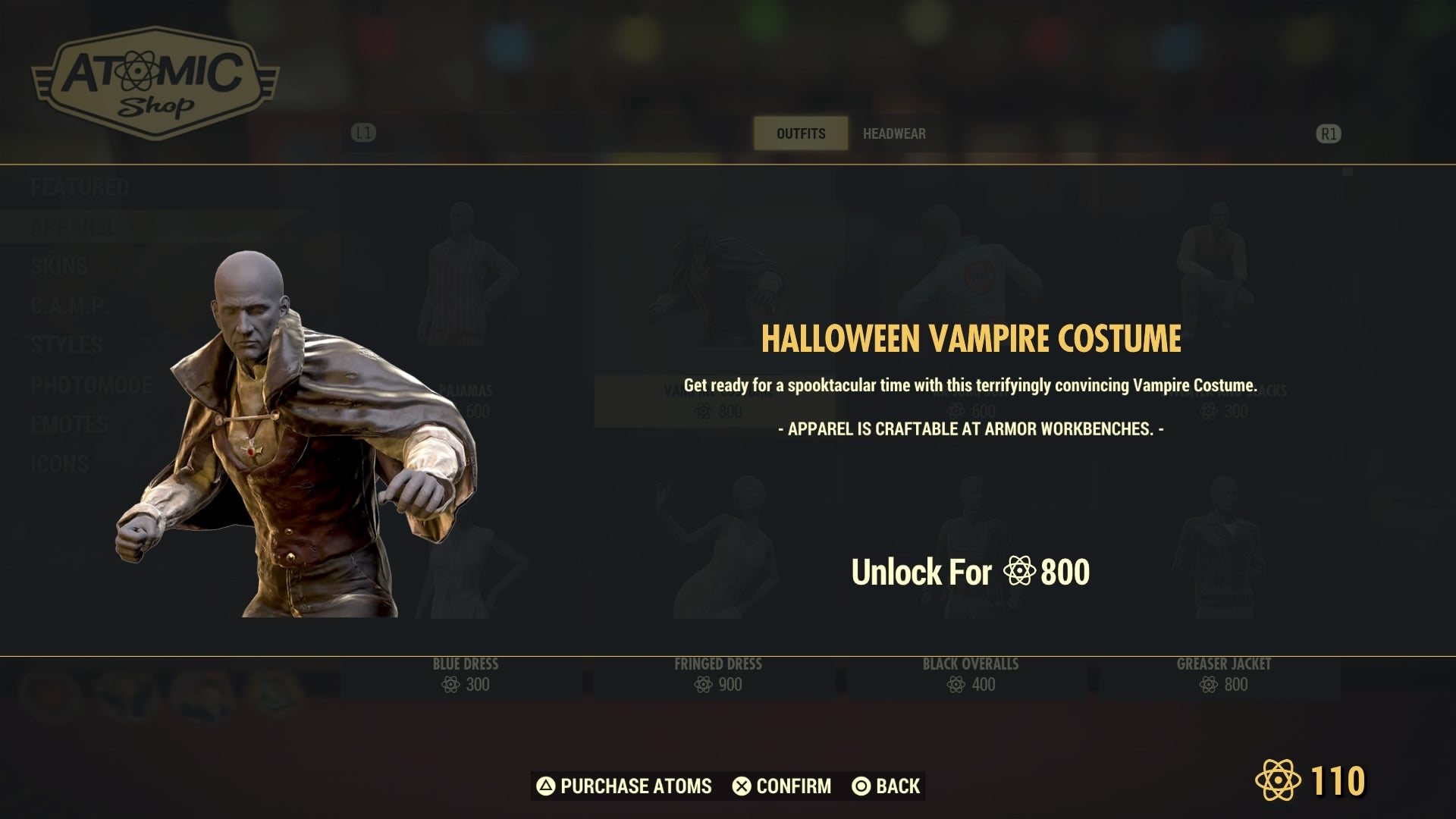 Fallout 76 uses a currency called Atoms which allows players to buy skins, emotes, face paint and tattoos, poses for photomode, items for your camp, icons and clothing.

You can earn Atoms in-game by completing various daily and weekly challenges, or you can buy Atoms from the Atomic Shop with your hard-earned real-world money.
How much do Atoms cost?
This is the price of Atoms in Fallout of 76. As is standard with most games and online stores, you're unable to buy single items with real cash - you first need to buy a bulk order of Atoms and use that to buy whatever you're after.
500 Atoms - £3.99 / $4.99
1100 Atoms - £7.99 / $9.99
2400 Atoms - £15.99
5000 Atoms - £31.99 on Xbox One / £32.99 on PS4 / $39.99
To give you an idea of how far your real-money will go, headwear alone will cost between 300 Atoms for a Sun Hat and 760 Atoms for a pair of celebratory glasses.
Outfits cost from 300 Atoms for a Blue Dress to 900 Atoms for a Fringed Dress. The Vampire skin will suck up 800 Atoms.
Paints for a Pipboy start at 200 Atoms, up to 1800 for Vault-Tec paints for Power Armor.
If you're a fan of wasting money, Laminate Flooring for your camp costs 400 Atoms - that's as much as it costs per square meter in real life. Or you can get a stash of Nuka Cola for 700 Atoms.
Styles, Tattoos and Photomode poses start off cheaper at around 150 Atoms, but the Rock Out pose will cost you 600 Atoms. Icons are the cheapest thing on offer at 50 Atoms.
It's also worth noting that at the current moment in time, the bundle of 4000 Atoms is £1 cheaper on Xbox One than it is on PS4 in the UK.
Please be careful when looking at items in the Atomic Shop to ensure you don't accidentally spend £4 on a door.
This has been a public service announcement by VG247.