ESRB outs After Burner Climax for US, SEGA finally announces it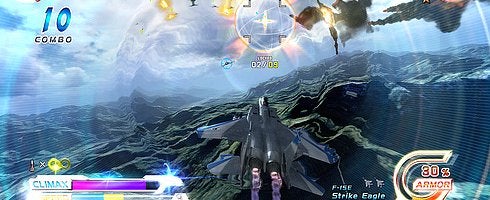 The ESRB has outed After Burner Climax for the US - like its release is a surprise or something - and SEGA has announced a release slated for XBLA and PSN later in the year.
Previously only announced for Japan, according to the ESRB listing (via Joystiq):
This is an arcade-style action game in which players pilot a fighter jet through bright photo-realistic environments. Players dodge planes, rockets, and bullets while targeting enemy aircraft. Most of the jets—even the missiles/gunfire—appear somewhat fantastical (i.e., the graphics emulate a classic arcade shooter); colorful status bars on the screen display players' speed, armor level, and score. Missile sound effects and large explosions highlight the frenetic combat, and players are awarded "combo" bonuses for shooting down multiple targets consecutively.
SEGA Europe has posted some shots with an announcement trailer over on its blog, and earlier in the month, GamesWire released 26-shots of the arcade title.
It's expected to include the F-14, F-15 and F-18 flying machines.
Last November, the Australian ratings board gave it a PG and listed it as a multiplatform title.