Report claims Dying Light 2 doesn't "have a vertical slice" yet, but Techland says the game is playable from start to finish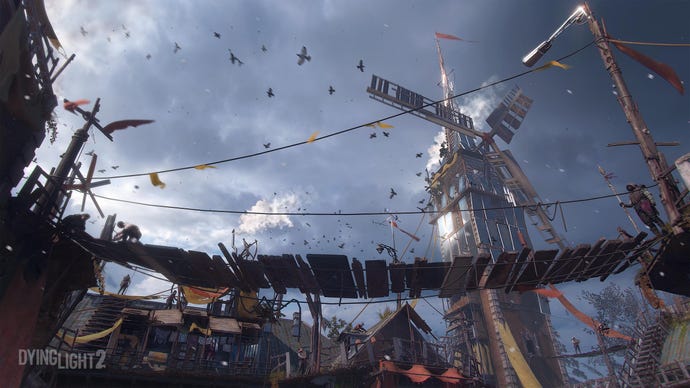 A recently published report claims Dying Light 2 is "a total fucking mess".
The Polski Gamedev report, which cites anonymous sources, paints a picture of a game with troubled development and bad management, though Techland disputes these claims.
Translations have been widely shared across social media, but some of the points in the translations are apparently inaccurate. Here's what senior PR manager Ola Sondej had to say about it:
On that note, the translation of the Techland article floating around is totally inaccurate.

— Ola Sondej (@olasondej) May 6, 2020
Sondej went on to say, "While I have your attention, development of Dying Light 2 is moving forward, the game's in good shape (and in good hands), so worry not. It IS coming."
We reached out to our friends at Eurogamer Poland to see if they could help translate some of the key details.
Here's what the anonymous source claims:
"It's a total fucking mess. Story direction, gameplay direction, constantly changing gameplay fundamentals. Morale is down because they [the management] have absolutely no idea what they're doing.
"Disorganization on the highest levels is quite pathetic, it's still unclear what the game is supposed to be. A year before the release other teams are worried about fixing bugs. We don't even have a vertical slice!"
A vertical slice is a playable portion of the game that showcases every aspect of the title. It's an important milestone to hit. Social media lead Krzysztof Sazon says the game does have a vertical slice, however. In fact, Dying Light 2 is apparently playable from start to finish.
"It's not true. The game is playable from start to finish, a month ago we completed our alpha milestone mentioned in the article, an important one for the project. I've been playing it and I'm excited!
"The main design pillars of Dying Light 2 have not changed since the start of production. It's natural to evolve the various aspects of any game during the development process. There are several reasons for that, such as optimization or improving and expanding the most promising elements.
"Game development is not a straightforward, simple process. It requires a lot of iteration, testing various concepts and tweaking them. The DL2 development process hasn't been completely smooth - like it pretty much never is, for any game - and we've had challenges to solve in order to deliver on the ambitious vision we set out to create. We're hard at work on getting the game ready for you."
The translation that's been shared across social media also claims that writer Chris Avellone is a factor in these issues, though we couldn't identify any criticism of Avellone. There is a quote from the man himself, however:
"I like working on Dying Light 2 and I like working with Techland. Of course we have discussions about each element of the project and of course it changed with each iteration... But that's a normal part of the creation process. Story is a key element of Dying Light 2. It's important it turns out good, for me and the team."
PR manager Sondej sent the following statement to VG247:
"At Techland we work as a team and we grow as a team. We are proud that many of our employees have chosen to be with us for years. The mentioned article contains various opinions – from both our employees, and anonymous sources.
"Each opinion matters to us, so we are now carefully analyzing all the topics raised. When it comes to Dying Light 2 - development is moving forward according to our internal schedule we revised at the beginning of the year."
Sondej also addressed the rumours that Techland had been acquired by Microsoft:
In case you guys wondered, Techland was not acquired by another publisher. We're still an independent studio, and will deliver Dying Light 2 on PC, Xbox One and PlayStation 4.

— Ola Sondej (@olasondej) May 6, 2020
Dying Light 2 was delayed indefinitely at the start of this year and is planned to be a cross-gen title.