Destiny: Rise of Iron holiday update brings back Icebreaker, adds two Exotic quests, makes SRL permanently accessible and more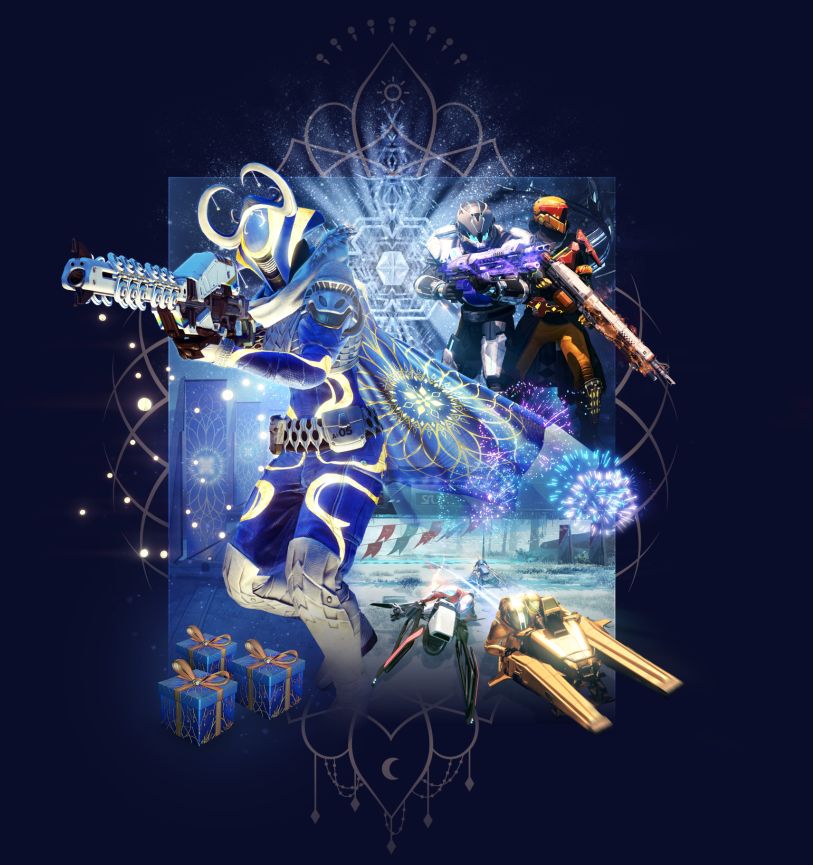 Destiny: Rise of Iron delivers the goods in this year's hefty and totally free holiday update.
Destiny: Rise of Iron gets festive this month with a free holiday update and a new event called The Dawning.
Described as a celebration of a Guardian's Light, The Dawning runs from December 13 to January 3, during which time the Tower will be freshly decorated.
Destiny: Rise of Iron players will receive a free gift at reset during each of the three weeks of The Dawning - check in with the Postmaster to collect these minor goodies.
The Dawning is celebrated through the Last City, and players who enjoy exploring the lore will find in-fiction explanations waiting for them. But now let's talk about what else is happening in Destiny: Rise of Iron when the holiday update drops.
New Exotic quests and the return of Icebreaker
It's true - Destiny: Rise of Iron's holiday update brings Icebreaker back into rotation.
To collect the Year 3 Icebreaker players will need to complete a quest chain culminating in a unique mission, just like Destiny: Rise of Iron's Year 3 Gjallarhorn.
The Year 3 version of Icebreaker has been tweaked slightly to fit into Destiny: Rise of Iron's balance, but it has all the perks you know and love. It's really back.
Bungie's Scott Taylor, a member of the Live Team responsible for ongoing free updates and an executive producer on Destiny: Rise of Iron, said Icebreaker was a good thematic fit for the holiday update: The Dawning is a winter festival, after all.
The Dawning delivers a second new Exotic quest to Destiny: Rise of Iron, too, and this one's for all those Guardians looking for a Thunderlord-style machine gun with the element of their choice.
As well as the two new Exotics you can expect a stack of other new gear to be added to Destiny: Rise of Iron with The Dawning - including new ornaments. Thankfully, Bungie is adding a new Eververse kiosk where players can choose which ornament they want when making purchases, so you won't have to rely on RNG if you take the microtransaction route chasing a new weapon or armour skin.
Sparrow Racing League returns
Sparrow Racing League returns during the Dawning. In addition to the tracks seen last year, this year's event delivers two new tracks - one on Mercury and one on Earth.
Once again, Amanda Holliday will serve as the player's primary questgiver for Sparrow Racing League. Check in with her for bounties, and if you still have last year's Sparrow Racing League book hanging around unfulfilled, good news - you can complete it during The Dawning.
A new record book for 2016 will be issued, too, and completing its challenges will grant Destiny: Rise of Iron players the right to unwrap The Dawning gifts - with more substantial rewards than those found in the free packages.
Don't worry about getting the record book completely filled out during The Dawning if you're busy over the holiday break; even after the event ends, you'll be able to enjoy Sparrow Racing League in private matches.
Players who do not yet own Destiny: Rise of Iron will only have access to the original tracks, though - just as they cannot access new multiplayer maps added with Destiny: Rise of Iron.
Strike scoring and reprised Strikes
The holiday update also delivers a permanent new feature to Destiny: Rise of Iron - Strike scoring.
Functioning similarly to Prison of Elders scoring, Strike scoring gives you a chance to earn rewards, challenge leaderboards and earn reputation in a new Strike scoring Vanguard faction headed up by Zavala, who will also offer bounties.
To keep things fresh in the SIVA Crisis Strike playlist, there are three new reprised Strikes coming to Destiny: Rise of Iron. Look for new, SIVA-themed versions of The Shadow Thief, the Will of Crota and The Nexus.
The update also delivers a Strike scoring record book, and there's an all-new gear set only available through Strike scoring challenges.