Cyberpunk: Edgerunners studio is bringing back some key staff for upcoming anime revival
Still no word on when we can expect Panty & Stocking season two though.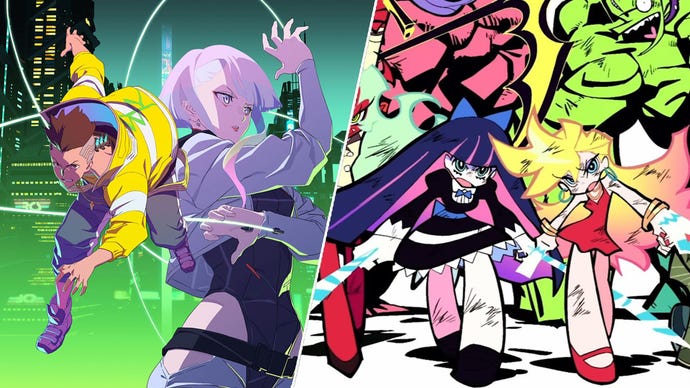 The new season of Panty & Stocking, from Cyberpunk Edgerunner's Studio Trigger, is bringing back some big names for the upcoming anime.
Back in 2022, Studio Trigger announced that after more than a decade, Panty & Stocking was coming back. It was a big deal, as the rights to the series had been held by Gainax, the original studio that animated the project, but the staff behind it were the same that founded Studio Trigger. Now, Trigger has the rights to the series, and at Anime NYC last week, Trigger confirmed that a couple of key staff members would be returning for the second season, as reported by Anime News Network. At a panel at Anime NYC, attended by Trigger staff members Hiromi Wakabayashi, Hiroyuki Imaishi, and Shigeto Koyama, it was announced that both Sushio and Mai Yoneyama would be working as animators on the show.
Yoneyama, who made an appearance at the end of the panel, made her debut as a key animator on the original Panty & Stocking, and is returning to do the same. Sushio is possibly best known for his character design work on Kill la Kill, and is a key animator on a number of Trigger projects; he'll also be returning as a key animator on the second season of Panty & Stocking.
We still haven't really seen anything of the new Panty & Stocking. Trigger did show off a trailer for it back in July, but it didn't have any new animation, just clips from the original show and some updated character art.
Elsewhere in the world of former Gainax animators, it's also been announced at Anime NYC that the film compilations of Gurren Lagann are getting a limited release in the US this coming January. The first film, Gurren Lagann the Movie - Childhood's End -, will be in cinemas January 16 and 17, and the second film, Gurren Lagann the Movie - The Lights in the Sky Are Stars -, will be screened on January 23 and 24.