Child of Light European pre-orders upgraded to Deluxe Edition on PC and PlayStation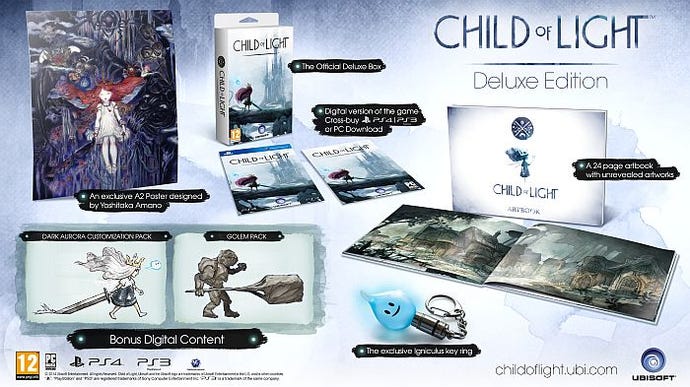 Child of Light, the turn-based RPG from Ubisoft Montreal, is now available for pre-order and those in European territories who drop the cash early with be upgraded to Deluxe Edition on PC, PS3 and PS4.
Releasing digitally and at retail, the Deluxe Edition will contain exclusive content, including a poster designed by renowned Japanese artist Yoshitaka Amano, a 24 page art book and an Igniculus key ring.
The boxed edition will also include additional game content, with a bonus quest, a new character and a pack of collectibles.
Ubisoft has said the retail and digital PlayStation 3 and PS4 versions of the game will also contain Cross-Buy integration; therefore, players buying Child of Light on either will be able to play the game on both platforms.
Child of Light will be available for download on PC, PSN, the eShop for Wii U and via Xbox Live for Xbox 360 and Xbox One for £11.99.
It will be released on April 30 and you can watch the new co-op trailer below.