Borderlands 2 Legendary weapon guide: how to get the Overcompensator, Hector's Paradise and Amigo Sincero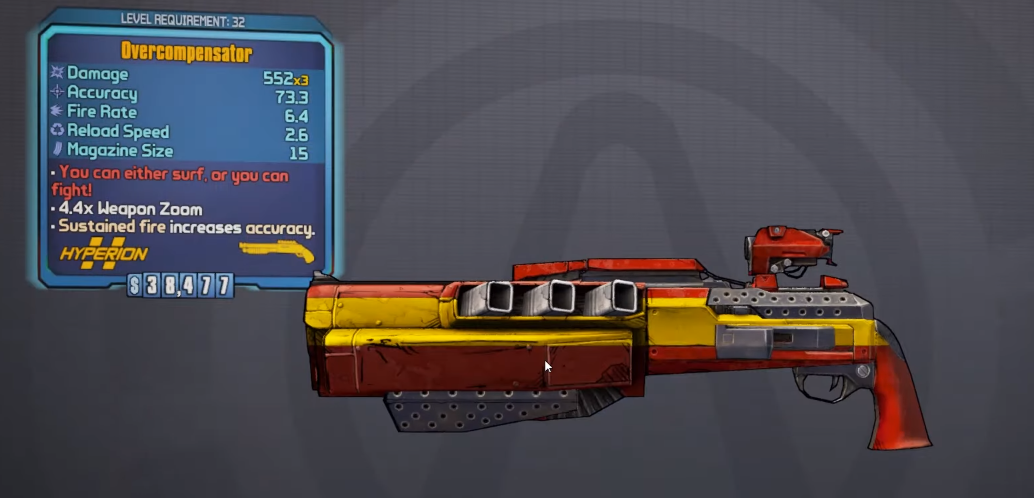 There are a bunch of new Legendary weapons to find in the latest Borderlands 2 DLC, so let's take a look at how to get your hands on all this new loot.
Borderlands 2 is known for having an insane amount of loot and the latest DLC, Commander Lilith & the Fight for Sanctuary, is no different. There are new Effervescent items to be found as well as new bosses to defeat, like Haderax the Invincible.
If you're looking to jump straight into the DLC without first playing through Borderlands 2, then check out our guide on how to get started and get the Level 30 Boost.
Commander Lilith & the Fight for Sanctuary is free to download on all platforms until July 8, 2019.
Borderlands 2 Legendary weapons
The majority of Legendary weapons drops are attached to a specific quest or boss fights, so there's a bit of grinding involved. For some of these weapons, you'll need to have completed Chapter 6 and will find most of them from characters in The Backburner.
As many of these quests are available near the end of the DLC, this is your one and only spoiler warning.
Amigo Sincero - BFFFs quest
Head to The Backburner and look for Brick, who'll give you a quest titled BFFFs. He'll ask you to collect Sniper Rifle parts so he can build a present for Mordecai. You'll need to take down four Lieutenants in different locations and loot their bodies for parts. You're looking for:
Tetra
Hoffman
Angvar
Bolson
Once you've collected all the parts, return to Brick and he'll ask you to deliver the present to Mordecai. Once you've done that, pay Brick a final visit to get the Amigo Sincero Legendary Sniper Rifle.
It has pretty high damage and accuracy, 50% melee damage because of the bayonet and +250% weapon damage.
Hector's Paradise - Echoes of the Past quest
To get the Hector's Paradise Legendary Pistol, you'll need to complete the Echoes of the Past quest. You'll be able to access it after reaching Chapter 5, so keep plodding along through the Dahl Mine until you reach the Mt. Scarab Research Center.
As you make your way inside and down the stairs to your left, a quest marker should appear. You're looking for a corpse and an Echo you can interact with which will let you begin the quest.
There are three more Echoes to find within the Research Center. You should find them as you progress with the main mission, so here are the exact locations:
Clear the enemies in the test Candidate Detention room and the door to a cell will open, revealing an Echo.
In the Experimentation Room, there is a corpse with an Echo above the meat grinder.
On the Observation Deck, you'll be able to see a walkway through the windows. Go up the stairs until you come across a ladder, which you can use to access the walkway and get the Echo.
Once you have the three Echoes, you'll get a prompt telling you to go to a room via the stairs leading to the Observation Room. You'll see a safe inside the room, so give it a melee bash to turn in the mission. In return, you'll receive the Hector's Paradise Legendary Pistol.
It has high damage, pretty decent accuracy, a very fast reload speed. It also has a 15% Electrocute chance and deals substantial Shock Damage per second. It's highly effective against shields and when zoomed, will fire in bursts.
Like the Amigo Sincero, it also has a bayonet attached for melee attacks.
Overcompensator - Cheif Executive Overlord quest
The Overcompensator Legendary Shotgun is a talking weapon from the Tales from the Borderlands game which shouts out some serious encouragement to players, as well as constantly interjecting into conversations when equipped. It has a surfer dude voice which will either make you cringe or laugh a lot, depending on your outlook on life.
You'll be able to get it by completing the Chief Executive Overlord quest from Vaughn after the final mission of the DLC. If it doesn't appear at first, keep completing his quests until it spawns.
In order for Vaughn to become the best bandit, he's tasked you with gathering some specialised advice to help him.
First, you'll need to talk to Moxxi, then Ellie, Brick, Marcus and Claptrap. After that, pay Vaughn another visit and he'll ask you to find his Artifact of Power, so head over to Helios Fallen. Go to the waypoint and you'll find a washing machine with the Artifact of Power inside, which turns out to be a pair of boxers.
Head back to The Backburner to see Vaughn, hand over the pants and the Overcompensator is yours. It comes with a multiplier for damage, 4.4x weapon zoom and being under sustained fire will improve your accuracy.
Borderlands 3 comes to PC, Xbox One and PS4 on September 13, 2019.