Batman bought: Warner acquires Rocksteady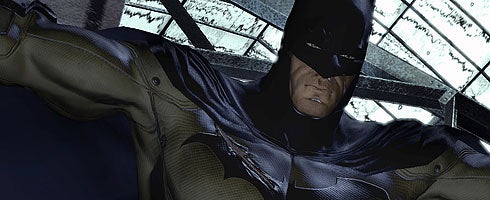 Warner just announced it's acquired a majority shareholding in Batman: Arkham Asylum developer Rocksteady.
Rocksteady, currently working on an Arkham Asylum sequel for Warner, is understandably happy about the whole affair.
"We are proud to strengthen our association with WBIE, a world class publisher that we have enjoyed working with since we began developing Batman: Arkham Asylum," said Jamie Walker, Rocksteady studio director.
Sefton Hill, games director, added: "The Rocksteady team is very much looking forward to creating more great games based on widely recognized Warner Bros. brands like Batman."
Square Enix is to retain a 25 percent share in the developer.
The move is merely the latest in a string of acquisitions by Warner, which include TT Games in 2007 and Snowblind in 2009.
Warner has also bought the rights to Mortal Kombat from Midway.
Full PR below.
WARNER BROS. HOME ENTERTAINMENT GROUP ACQUIRES MAJORITY STAKE IN ROCKSTEADY STUDIOS

Warner Bros. Home Entertainment Group announced today the acquisition of a majority stake in Rocksteady Studios, a privately held developer of interactive entertainment targeted at teens and adults, continuing Warner Bros.' pattern as one of the industry's fastest growing games publishers.

"Rocksteady demonstrated its professionalism and extraordinary development abilities with Batman: Arkham Asylum," said Kevin Tsujihara, president, Warner Bros. Home Entertainment Group. "This arrangement is a great strategic fit and we are very pleased to solidify our relationship with this talented development team."

Founded in 2004 in London, England, Rocksteady specializes in developing action-adventure video games, including Batman: Arkham Asylum, one of the most critically acclaimed games of 2009. The title has enjoyed robust sales, shipping over three million units worldwide, and has garnered numerous industry awards.

"We are proud to strengthen our association with WBIE, a world class publisher that we have enjoyed working with since we began developing Batman: Arkham Asylum," said Jamie Walker, studio director, Rocksteady Studios. Sefton Hill, games director, added, "The Rocksteady team is very much looking forward to creating more great games based on widely recognized Warner Bros. brands like Batman."

Warner Bros. continues to grow its games business through key acquisitions, building internal development capabilities, leveraging its global video distribution infrastructure, and focusing on developing major games franchises such as Batman, Mortal Kombat, The Lord of the Rings and LEGO.

"With the successful release of Batman: Arkham Asylum, a franchise that is a key focus for Warner Bros., Rocksteady has proven that they have the expertise to create hit games with mass appeal," said Martin Tremblay, president, Warner Bros. Interactive Entertainment. "We are currently working with Rocksteady on the sequel to Batman: Arkham Asylum and look forward to bringing the continuation of the franchise to fans worldwide."

"We are delighted to be deepening our relationship with London-based Rocksteady Studios, one of the UK's most respected games developers and 2009 recipient of the VGA's coveted 'studio of the year' award," said Josh Berger, president and managing director, Warner Bros. UK. "Rocksteady clearly has the talent, expertise and technology to make great games and we are fortunate to continue working closely with them as we further expand our games portfolio."

In 2007, Warner Bros. acquired TT Games, developer of the hit LEGO-based game franchises, including LEGO Star Wars, LEGO Indiana Jones and LEGO Batman, which have wide appeal with players of all ages. In early 2009, Warner Bros. acquired Snowblind Studios to develop its The Lord of the Rings games franchise, with the first title expected to be released in 2011. Most recently, Warner Bros. purchased the primary assets of Midway Games. Midway published the Mortal Kombat franchise, which has sold over 26 million units worldwide, and owned a robust IP catalog and broadly applicable game engine technology. As part of the transaction, Warner Bros. acquired two talented development studios to focus on the Mortal Kombat franchise as well as other key properties.blockquote>