Assassin's Creed Valhalla Legendary Animals | How to beat the Elk of Bloody Peaks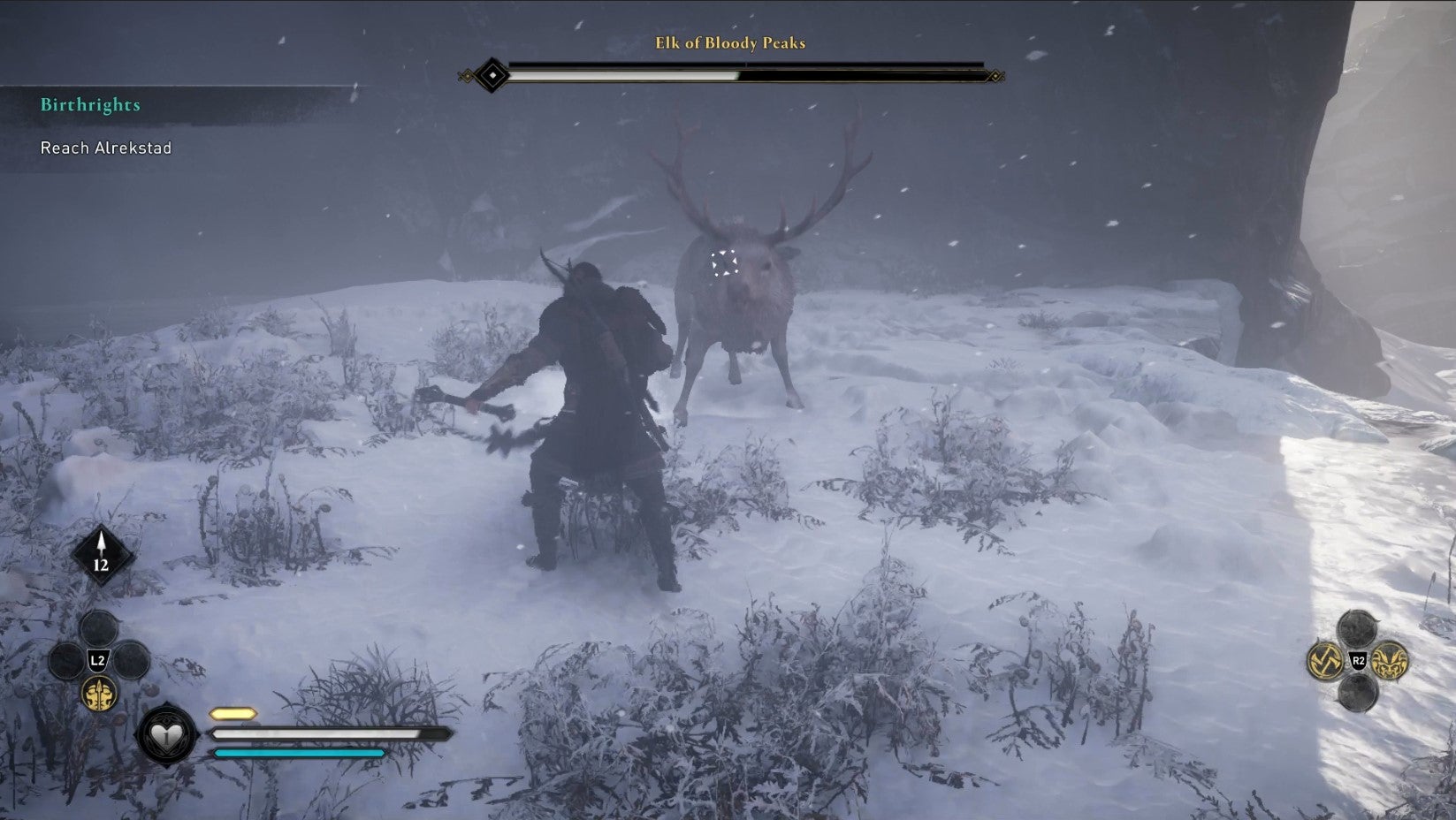 The medieval wilderness is full of wild people and wilder animals. Throughout your journey in Assassin's Creed Valhalla you'll have the chance to participate in many celebrated hunts, taking on beautiful Legendary Animals across Norway and England.
These Legendary Animals are no push-overs. Take them lightly and you'll be skewered before long, however with the right strategy you can beat them.
To avoid early spoilers, we'll add more Legendary Animals to the list as we find them.
Assassin's Creed Valhalla Legendary Animals - How to beat the Elk of Bloody Peaks
To the west of Eivor's home of Fornburg, you'll find the Elk of Bloody Peaks high in the mountains.
As you approach its idyllic pond, the Elk will attack with its deadly antlers.
This fight is almost a carbon copy of the Hind of Keryneia from Assassin's Creed Odyssey, but much earlier in the game.
Below is an embedded video of me demonstrating the boss strategy, with the basic Varin's axe, an off-hand weapon, and a hunter bow:
The beast has four main attacks, as well as a charge across the boss arena:
A basic antler slam
A heavy antler charge
A buck of its back legs
And a runic attack
Your best strategy against the Elk of Bloody Peaks is to wear down its stamina and health by parrying it's basic antler attack, before finishing it off with arrows.
You can recognise the basic attack when the Elk stands on its back two legs and throws its head down towards the ground.
It's best to face the beast head-on. Otherwise, it'll buck its back legs unpredictably. Most of the time, if you're out in front you'll be able to work out what's coming.
The heavy antler charge can be blocked by a shield, but is best avoided altogether. You can recognize by the Elk's head flashing red as it draws back. Hold dodge to roll out of the way.
The Elk's runic attack must be avoided with a dodge. You can see this is about to happen when a symbol appears in the air next to the Elk and it draws its head back - all you need to do is dodge backwards out of the way.
Once you've drained the Elk of Bloody Peak's stamina with parries and pulled off a stun attack, you can go on the offensive.
Put some distance between you and the beast, then aim fully charged arrows with a hunter bow at its head. These do significantly more damage than chipping away with your primary weapon.
The Elk will probably try and charge at you, but all you need to do is be brave, get a couple of shots to its head while it's open, then dodge-roll sideways out of the way.
After that, it should be down in no time!
For more boss guides, here's how to beat the Lost Drengr Erik Loyalskull.
Or for character-building help, we also have a run-down of the best skills in Assassin's Creed Valhalla.