Assassin's Creed Origins: side quests and looting sounds fun, but not as rewarding as taming cats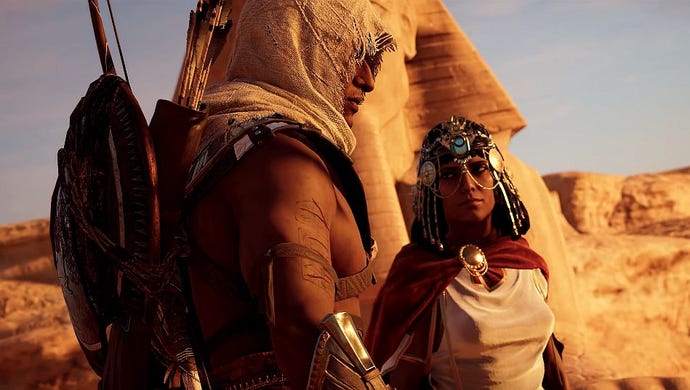 There are quite a few things to do while running around the world in Assassin's Creed Origins. Let's familiarize you with a few.
When not following the main story quests, there will still be plenty of things to do in the expansive world of Assassin's Creed Origins.
In the video below, Arekkz shows off five things you can do in Assassin's Creed Origins when not trying to take down the Order of the Ancients and war elephants.
These include side quests, which have been completely revamped in Origins. Each contains its own narrative and gameplay elements. There will still be fetch quests, but some are more involved than just going to grab an item for a non-playable character. Also, as previously reported, NPCs in the game have their own timetable, so players will need to pay close attention to NPC availability and how this relates to quests. Competing these quests will also hand out rewards such as gear or weapons.
The loot system is also rather in-depth, so expect some nice items to drop when killing enemies along with vendor trash. Some will come in handy as the player levels. There are also chests to loot, and rare ones with super nice items which can be unlocked using in-game currency. These are sold by special, roaming vendors.
Weapons and armor can also be purchased from vendors and there are hundreds of options available, and some items will feature special bonuses.
Gear and weapons can also be upgraded, some of which require special materials in order to receive an upgrade. These are acquired by hunting and from vendors.
Another interesting thing to do while out gallivanting is to check out mysterious stones circles. Granted, finding all the stone circles in the game is basically part of a side quest, but Arekkz thought it was a cool enough activity to bring to your attention.
There are 12 stone circles in all, each dedicated to ancient gods and their constellations. Discovering each one provides a bit of meat to Bayek's story, and the quest is picked up when the player reaches level 5. As he discovers the circles, his pilgrimage opens the door to a "long hidden secret."
Contracts are another activity in Assassin's Creed Origins which can be completed. These contracts are roving bosses which are indicated on the game map by a red icon. These bosses are much harder than normal enemies, and upon besting one, some really nice loot is handed over and in some cases, new quests are added.
The coolest thing shown in the video though? Taming cats. Oh, how fun does that sound? To do this, just squat down and remain idle near a cat. If it wants attention, it will come up to you and Bayek will automatically pet the cutie. Some couldn't care less about you, just like normal cats, but as you will see in the video, eventually you can have your own clowder following you around. Just don't take them into battle or they will get hurt. Unless you're a sicko and which to do such a horrid thing.
Cats are the only animal which can be pet in Assassin's Creed Origins, so don't bother trying it with chickens, dogs, or anything else. Granted, you can tame animals if you choose it on the skill tree, but that's something different altogether.
Assassin's Creed Origins is out October 27.