Alan Wake at 10: How Remedy's cult classic spawned a connected universe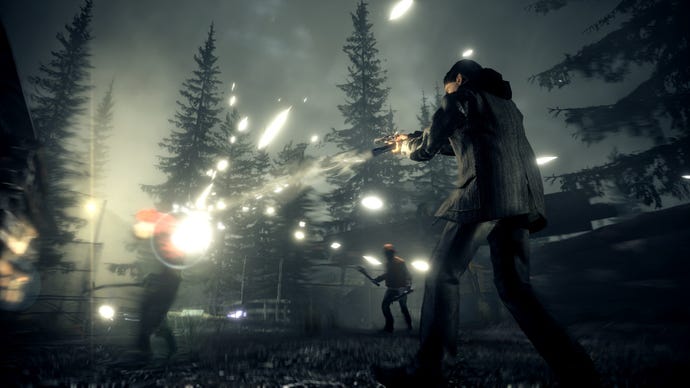 Sam Lake can't escape Alan Wake. Unlike the titular character trying to break free of the Dark Presence's clutches in Remedy's psychological thriller, though, he doesn't want to either.
A decade has passed since Alan Wake launched on Xbox 360, but Lake is still as passionate about the character as the fans who bombard his Twitter account asking for an overdue sequel.
It's that unbridled enthusiasm that helped to spark wild fan speculation about how Alan Wake and Control may be linked. Alan Wake Easter eggs found in Control's Panopticon section teased such a possibility but, as much as their inclusion were a form of fanservice, those secrets provided some catharsis to Lake for a property he's constantly revisited.
"I very much wanted to include them," Lake says. "As I've said before, we've explored the possibility of an Alan Wake sequel a couple of times, but the timing hasn't been right and things haven't clicked into place. Having thought a lot about Alan Wake-related ideas through the years, it felt wonderful to put some of that in there."
Following Max Payne 2's release in October 2003, Lake and Petri Jarvilehto - Remedy's ex-creative director - spent a year brainstorming ideas for new IPs. A Stephen King-inspired setting was eventually decided upon, but elements from other concepts - zombie apocalypse road trip and humorous fantasy ideas to name but two - became vital components of Alan Wake's final product.
"Even though we didn't end up doing the others, bits and pieces of these different concepts stayed," Lake says. "In that fantasy game, there was an idea of light and darkness being an element. At that point, work had started on the tech, engine, and tools side for an open world, and for dynamic day and night cycles. They stayed in all of the concepts, but the ideas evolved."
While some elements evolved during that creative process, others remained untouched. The Twin Peaks-inspired, Pacific North-West town, Alan Wake's protagonist, and its episodic format acted as anchors to build the game around. With the setting and structure established, a mysterious plot and eclectic cast of characters were the next requirements. A horror film screenplay - written by Lake during his Theatre Academy of Finland studies between Max Payne 1 and 2 - and his own childhood provided the inspiration for both.
"In the screenplay there's a witch-type character that was based on the Baba Yaga folktale, which influenced Barbara Jagger. There were these Swedish characters - the Anderson brothers - as neighbours in that, so that's where they came from. And then there was this important component - a light switch called the Clicker - which was a toy of mine. I spent our summer vacations on a big apple farm and there was a lot of junk lying around. I used to love junk, so I had all these things that I didn't know quite what they were, but loved imagining all kinds of purposes for them."
Music also played an influential role in designing Alan Wake's characters and narrative. The game's licensed tracks, such as David Bowie's Space Oddity, helped develop key individuals and themes - such as the battle between light and dark - that played important roles in the plot.
"I had the idea of getting these songs very early on in the project," Lake explains. "Thomas Zane - the diver who floats around - his name comes from Bowie's alter-ego Aladdin Sane. Having Space Oddity be about an astronaut, and us having that character, I think there are echoes between them. Another example is Poe's song Haunted, which is like a soundtrack for Mark Danielewski's House of Leaves. Poe is his sister and, being a big fan of his book, I discovered the album and liked it a lot, so thematic ideas came from that as well."
Light and darkness featured prominently during combat phases too. The Taken - people possessed by the Dark Presence - are enemies shrouded by shields of darkness that need removing before conventional weapons can be used. The idea to use a flashlight as a dual-wielded weapon was another feature from Alan Wake's original concept. Determining how this would work practically, though, took time to get right.
"The flashlight was a key element from early on," Lake says. "But one big question we struggled with for a long time was figuring out the enemies. How does this darkness take you? What shape does it take? How does that come about in the gameplay? The flashlight's exact functionality, and the idea of boosting the light to make it drain faster, but remove shields quicker, took a lot of testing and lots of iteration."
Combat mechanics weren't the only issues that Remedy faced. The marriage of an episodically structured game, an open world setting, and a dynamic day and night cycle proved problematic. Difficulties with programming NPCs to react effectively to day and night cycles emerged, while the contrast in tones - between funny larger-than-life characters, RPG-style missions, and terrifying night time events - affected plot linearity and cohesion.
"I firmly believe that the story and writing needs to click with the game design for it to be meaningful," Lake says. "For example, we had one version where the darkness had already invaded and taken over. We had survivors who had boarded themselves up in houses - where they had generators and lights set up - and they gave you missions, but it was losing this base and foundation of a real world. We also tried it where the gameplay was about driving around, trying to find gasoline, having a mobile generator that you can fuel and lights that move around to set up traps and defend doorways, but that didn't quite click into place."
With Remedy struggling to combine Alan Wake's different ideas into one package, the difficult decision to discard the open-world element, and reinvent Alan Wake as a linear experience, was taken in early 2008. Instead of scraping three years of environmental work, however, Remedy decided to repurpose its existing map, and dynamic day and night cycle, into its reworked project.
"Though the game became a linear experience, that whole map is still there," Lake revealed. "Even though we're controlling what time of day it is, the day and night cycle is there in the background. The sun is always in the right direction and the map makes sense. I think that these add, in a weird way, to the believability and that this is a real place."
Alan Wake's release ended its extensive five-year development cycle but, despite the problems Remedy ran into, the studio wasn't ready to walk away from its new franchise. The game's cliffhanger ending left the door open for a sequel and, while the team had plans to continue Alan's story in future titles, discussions with then-partner Microsoft resulted in a change of direction. What followed was The Signal and The Writer expansions - two additional episodes that explored the darker, more psychotic side of Alan's psyche.
"It was quite late when we started talking about DLC," Lake admits. "One of our ideas back then was that the DLC would be a Night Springs set up called Alan Wake's American Nightmare. We had discussions with Microsoft about the idea and they weren't really keen. They felt that the DLC should continue from where the story left off. We felt that the DLC couldn't go forward with where we ended. So, instead of going forward, we went inward into Alan's mind."
Alan Wake's American Nightmare was released in February 2012, but served as a spin-off rather than a mainline series entry. Hopes for Alan Wake 2 haven't diminished among its fanbase but, despite Remedy revisiting the franchise between other major projects, concrete ideas haven't materialised.
Control's Easter eggs have changed that. Those Alan Wake secrets, coupled with artwork for Control's upcoming AWE expansion, have heavily suggested a connection between the games. With Quantum Break also teasing the possibility of Alan Wake existing in a similar realm, the idea of a connected Remedy universe is one that's been speculated about until now.
"We didn't want to talk about it beforehand, but we've had the idea for a connected Remedy universe," Lake exclusively reveals. "Now that Control is out, it's obvious that what happened to Alan Wake - in the game - and Control share the same world. It felt interesting from a narrative perspective that - if we think about Alan Wake as a subjective story - it's Alan stuck in this situation trying to understand it. Now, with Control, we have this government agency who are looking into these things. They have a scientific approach of calling them "Altered World Events", analysing them, and trying to understand them."
How Alan Wake and Control are inextricably linked remains a mystery. The AWE expansion isn't released until later this year but, while naturally steering clear of spoilers, Lake did tease what fans can expect from Control's next DLC.
"Through AWE you'll learn more about the Bureau's involvement, research, and interest in Alan Wake and the events that took place 10 years ago," Lake said. "We're really happy to give fans of the original game a bit more of Alan Wake-related content."
Alan Wake is ingrained in Remedy's DNA. Quantum Break and Control owe their development to discarded sequel concepts. Remedy's Northlight game engine was born out of its dynamic day and night cycle and in-engine weather conditions. Fans continue to discover the game after finding Control's secrets, and it's helped to spawn an interconnected game universe.
Alan Wake may not have sold as well, or received as many gaming gongs, as other Remedy titles, but its legacy impacts work on Remedy's new projects. Lake's work on CrossFireX's story campaign, and unannounced Epic Games Publishing projects, have been aided by what he learned when writing Alan Wake's plot. It's unsurprising, then, that Lake continues to look back on it with a particular fondness ten years on from its original release.
"Because of this upcoming anniversary I've been going through some old documents," Lake says. "It's one of those things where it was a relatively difficult project to find its final shape, and the fact that we managed to do it – I personally feel that the finished product was great. As far as I can see, there are more Alan Wake fans – eager and active ones – than there were early on. There's definitely some staying power. I'm really proud of all the games that we've made, but Alan Wake has a special place in my heart."