Activision's Apache: Air Assault confirmed for November 9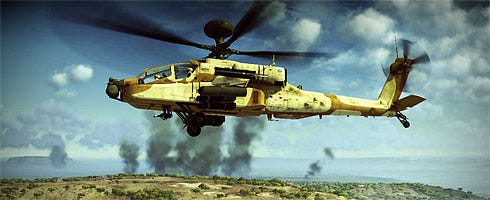 Little-publicised flight sim Apache: Air Assault will release on November 9 for 360 and PS3, Activision said overnight. Who knew?
Gaijin Entertainment, developer of IL-2 Sturmovik Birds of Prey, is doing this. It's the firm's first "helicopter combat simulator," apparently.
The game features air-to-air and air-to-ground action, in locales "from the jungles of Central America to the mountains of Central Asia".
You can either pilot solo or co-pilot with a friend over 16 multi-stage missions, real-world satellite photography included.
For the record, Birds of Prey was pretty much amazing, and the inclusion of co-op here should definitely put Apache on your radar.