The best bit of The Witcher 3: Blood and Wine is a hilarious, throwaway side quest
CD Projekt Red hates bureaucracy as much as the rest of us, and made sure to include that in Blood and Wine by honoring a side-splitting animated film.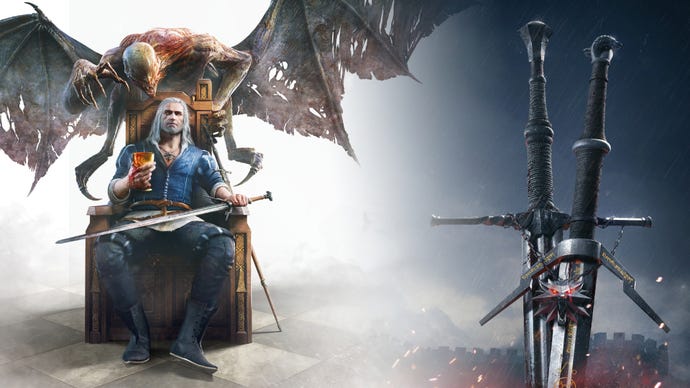 A new Witcher game is coming! But it'll take a while even if the switch to Unreal Engine 5 is the right move for CDPR. Meanwhile, we're all thinking of replaying the modern classic that is The Witcher 3: Wild Hunt – if you disagree with this statement, just bear with me (and know that you're wrong).
After two installments that were quite focused on the monster hunting and human drama, The Witcher 3's massive scope allowed for a wider range of, among other things, zany side quests and obscure homages. While the first game was designed to be a detective story, the threequel largely plays – and reads – like the most competent but tired professional in the world has been thrown into the biggest goose chase ever.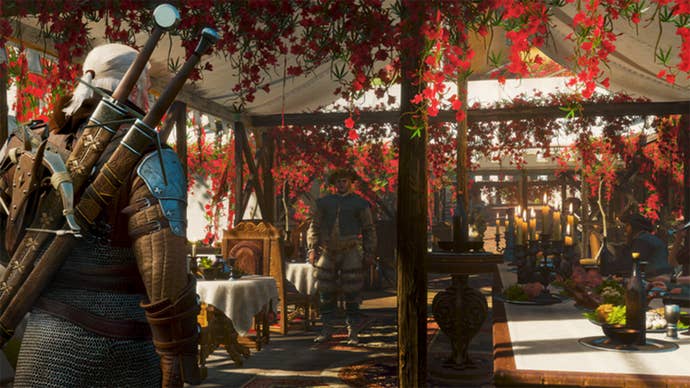 Even after finding Cirilla and gaining a clear sense of the world-ending threat which looms near, the two (excellent) expansion packs have Geralt bumbling his way through confusing situations and the exact kind of messes he tries his damn best to avoid. In a way, I think we all love Geralt because he's a badass warrior who's virtually unable to escape the worst – and stupidest – of society despite trying his hardest to act like a lone wolf all the time. And The Witcher 3 nailed that feeling.
Anyway, Blood and Wine – the expansion pack so good that it won several RPG of the year 2016 awards – takes Geralt to the land of wine and shining knights, Toussaint. It all feels aptly Mediterranean, and augments the parts of civilization that Geralt hates the most. Chief among them is bureaucracy. Relatable.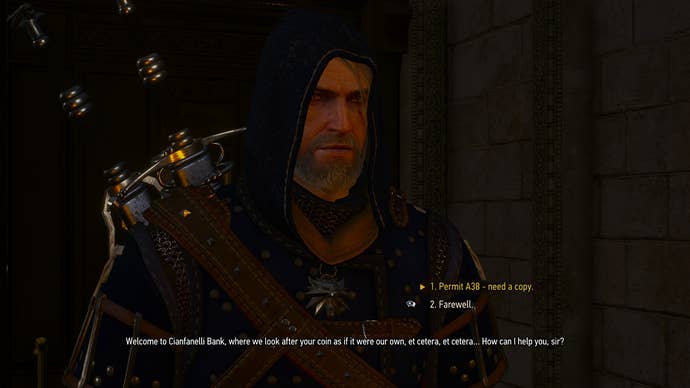 One the expansion's silliest quests is Paperchase. It's quite popular by now, as this "mission" is hilarious on its own, but it becomes even funnier once you learn about its origin, and why CDPR might have included it in the first place. Now, let me talk about French animation for a bit…
The legendary Asterix and Obelix comics and animated films follow the highly comical adventures of a village of Gauls as they resist Roman occupation around the year 50 BC. One of the franchise's most famous flicks is The Twelve Tasks of Asterix, which wasn't based on any comic book story, and has Julius Caesar telling the stubborn group of Gauls he'll hand over the Roman Empire to them if they can successfully carry out twelve tasks inspired by the Twelve Labours of Hercules.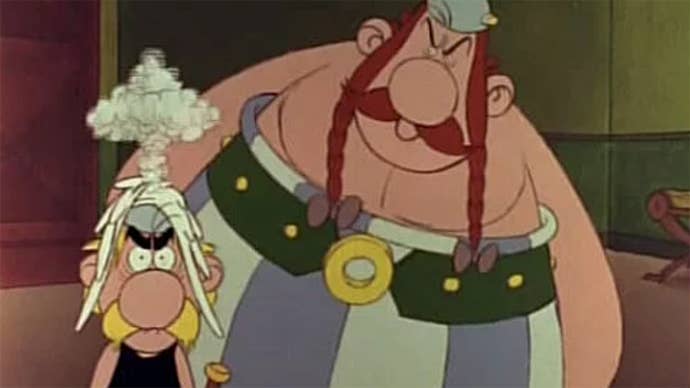 The most memorable task in the list might be the one in which Asterix and Obelix must visit "The Place That Sends You Mad" in order to grab the permit, A38. What sounds like the simplest thing in the world soon turns into bureaucratic hell, as the multistory Roman building is full of unhelpful public workers and tons of administrative nonsense. And yes, it quite literally sends people mad. You can watch the whole thing here – it's well worth your time.
We all abhor filling out paperwork and running from one office to the next, and Geralt obviously is – or rather… tries to be – above all that mundane stuff, so awkward humor takes the stage when he comes across a fellow that wanted to repay him for a job he did years ago. The catch? He opened an account in Geralt's name at the Cianfanelli Bank for whenever the famous witcher re-appeared.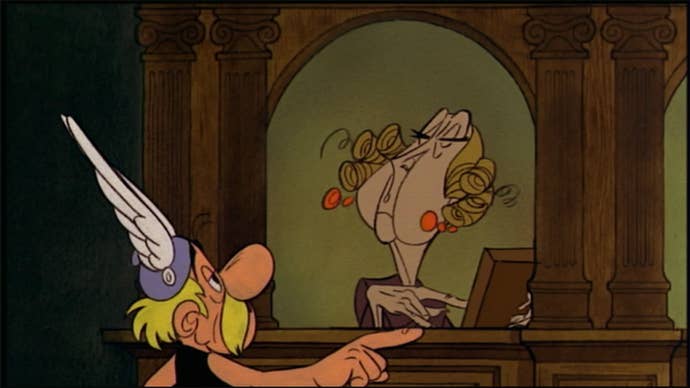 Much like in the aforementioned cartoon, the working man strolls in hoping to quicky fill out some papers and walk away with his reward. After all, the account is his, what could go wrong? Well, for starters, the bank says he's dead. And to roll back the mistake and get his money, he needs the permit A38 – no, the developer wasn't exactly subtle, was it?
What follows is a meaningless –yet oddly fun – mix of walking between offices, grabbing forms, waiting alongside customers as annoyed as you, and finally, even waiting for an entire in-game week. Things never get as hectic as in the Asterix film, but the essence and sharp satire are all the same. Geralt's stern, constantly fatigued vibes are the cherry on top of this retelling of a story every adult knows too well.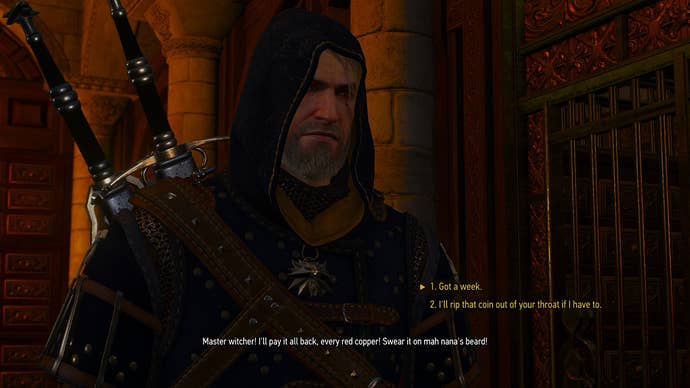 Of course, the quest eventually leads to a critical point where players can bruteforce a solution or keep playing nice (again, by waiting an entire week). The latter is the best choice, as you get both the entire sum of money Geralt was owed, along with a pretty sweet sword.
For the most part, Paperchase plays life a cheeky riff on fetch quests, something that every avid RPG player should appreciate, but it's those additional layers of both external references and sincere exhaustion with IRL issues that make it stand out. It's hard not to relate to Geralt's dullest struggle so far, especially when he's already feeling like a fish out of water in the uppity streets of Beauclair, the capital city of Toussaint.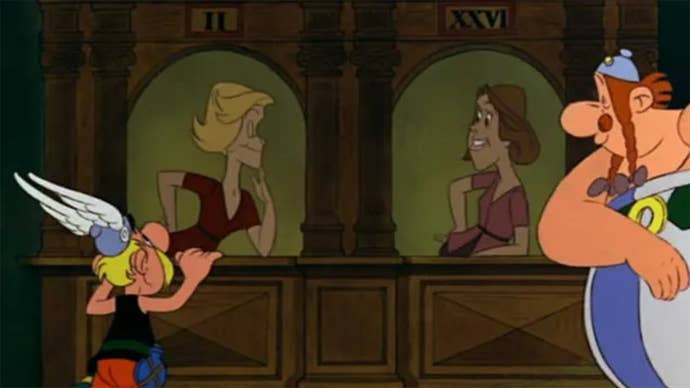 If we do some additional digging, we can also learn about how tired Polish citizens are of dealing with slow administrative processes and overcomplicated bureaucracy – some players from the country call it "the most realistic mission I've seen in a fantasy game", and haven't stopped raving about it since 2016. It might sound familiar, but we often hear about some European countries being especially bad when it comes to these matters, so we'll assume this quest holds an even larger charge of caricature when looked at through certain lenses.
It wouldn't be wrong to compare Asterix and Obelix's comic books and animated flicks to The Witcher 3 – not only Blood and Wine – and discuss how their understanding of the civilized world and its downfalls is pretty much the same. The main characters in these stories traverse unfamiliar – or simply uncomfortable – places all the time, but it's always the "modern man" that has come up with "a better system" who gives Geralt, and the Gauls, the biggest headaches.