Xbox One exclusives can be streamed to any Windows 10 PC, tablet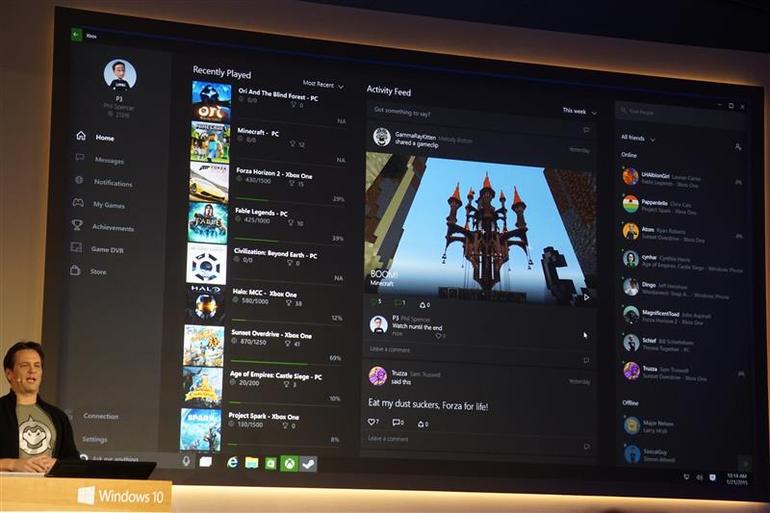 During Microsoft's Windows 10 event it was announced an Xbox One app would be available on all PC and tablets running the OS. The firm also showed off Project Hololens, its augmented reality tech in the works.
Xbox One and Windows 10 integration
In December, Xbox boss Phil Spencer said the Windows 10 event would discuss not only the new OS, but the company's plans for PC gaming. Part of the plan was at least touched upon today.
During the event, the firm's head of Windows Terry Myerson said Universal Windows apps will be coming to Xbox One with Windows 10 and Spencer expanded upon the announcement a bit more when he took the stage to discuss the Xbox One app.
The app brings in your friends list showing their Gamertags, allows you to comment on the activity feed, and allows for voice chat and texting across the applicable devices.
It will list Xbox games alongside Steam games. This was demoed when Civilization: Beyond Earth was launched through Steam. Users will also be able to use DVR functionality to capture gameplay - this was demoed using Beyond Earth as well.
These video clips from streamed Xbox games or on PC can then be shared.
Those with an Xbox Live account will note on signing in that games available on the Xbox One will be listed and these can be streamed across a local network.
Lauran Carter from Lionhead took the stage to show a demo of cross-platform play between PC and Xbox One in Fable Legends, which she announced will be released on PC. Forza was also shown being played on a Surface Pro 3 tablet.
Xbox One exclusives can also be streamed to any Windows 10 PC or tablet, Spencer announced, adding that the firm plans to "treat Xbox gaming on Windows 10 with a passion and energy" equal to that of gaming on Xbox One.
A DirectX 12 benchmark was present in the demo, and it is said to run much "smoother" than DX11 and the power consumption is half that of DX11.
More PC and Xbox One gaming news from Microsoft will be announced during GDC in March and throughout 2015.
Bringing augmented reality to Windows
Microsoft also announced during the Windows 10 event it is working on augmented reality.
HoloLens, according to Microsoft is the "first" holographic computing platform which comes with a a set of APIs enabling a developer to create holographic experiences in the real world.
Project Hololens basically inserts holograms into one's field of vision. How this works, is interactive holograms are overlaid onto real world images, and Minecraft was used as one example of how Hololens works.
Instead of going the virtual reality route of Oculus and Project Morpheus, Windows Holographic will be supported on all Windows 10 devices using what the firm is calling the HoloLens which looks like a pair of Oakley sunglasses.
A concept video shown noted how augmented reality could be used in design, entertainment, and everything else under the sun, much like how folks have used Kinect.
This will be made possible using what is basically a head-mounted computer with built-in sensors and processors and it's wireless and can be used without phones or connection to a PC.
Holograms can bee seen in high definition and heard in surround sound and the device can "see" what the user is looking at and understand what is being communicated with the user's hands and voice.
It's all proof of concept for now, and Microsoft didn't reveal when it will released to the public, but those attending the windows 10 event will be able to try the tech out.
The firm did say it would be a large part Windows' future and that holograms are Windows universal apps and and that Windows universal apps can also work as holograms.
And in other news
It was also revealed at the event that a replacement for Internet Explorer, currently running under the codename Project Spartan, was in the works.
The browser will replace IE and comes with a new interface similar to that of Chrome.
Windows 10 will allow PC users to take advantage of Cortana, Windows Phone's version of Siri, and the personal assistant can be used with Spartan.
It was also announced the OS will also be "familiar to Windows 7 users," with more personalization options such as the taskbar and the start menu.
The new OS will be a free upgrade for Windows 7, 8.1 and Windows Phone 8.1 users for one year.
The new OS was announced in September 2014, and is scheduled for release sometime this year, possibly in the fall.
Next week, a new build of Windows 10 will be released for PC through the MS Insider's program, and in February, the first build of Windows 10 on phones will be released. Spartan will not be included in the earlier previews.
Videos
Below are videos from Microsoft discussing Windows 10, today's Xbox One news, and video for Fable Legends showcasing cross-platform play between the console and PC.