Paradox could be teasing a new Vampire: The Masquerade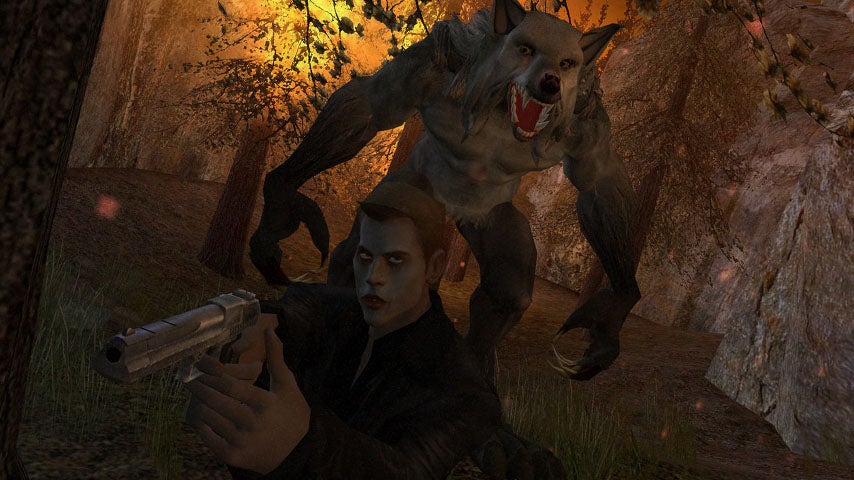 Paradox has ramped up what people are pretty confident is a teaser campaign for a new Vampire: The Masquerade of some sort.
This all started with Tender, a dating app with a "soulmate algorithm". Not to be confused with Tinder, Tender was created by publisher Paradox, as a first step in what turned out to be an elaborate ARG leading to what could be a new Vampire: The Masquerade game, remake, or some new project in the World of Darkness universe.
It's hard to miss all the references to blood in the app, but things didn't get interesting until a New York event that was livestreamed on Twitch over the weekend. Most of the stream consisted of a looping video of security camera feeds at the event, which appears to be an escape room.
Later, the stream displayed a message that reads "Project Chimera" along with a file ID code. Finally, the show ended with another looping video, this time of a pier, which some say is the Santa Monica Pier from Bloodlines, the last Vampire: The Masquerade game.
During the stream, we got to see an internal memo between two executives referencing the the New York event, calling it a "control group." It's all very ominous, and just to add a bit more fuel to the fire, the same message was later tweeted out by the official Paradox Twitter account.
What could be next? I guess March 21st is the date to watch? #TenderBeta pic.twitter.com/2n1LyBnqzM

— Paradox Interactive (@PdxInteractive) February 23, 2019
Paradox, of course, became the rights holder to the World of Darkness franchise when it acquired White Wolf in 2015.
As you can see, the memo promises something big is going to happen on March 21 at San Francisco, which as luck would have it, is during GDC 2019. It's very possible at this stage that a reveal of some sort is happening then, unless this is just another step in the ARG.
Vampire: The Masquerade is amongst the best RPGs ever in our ranking, and is largely considered a classic. The news of a new game, or even a remaster/remake would make a lot of people very happy.