UK charts: World Cup 2010 maintains top spot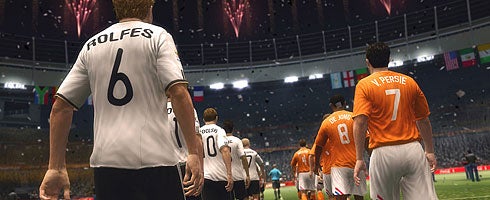 EA's FIFA World Cup 2010 keepy uppys its number one spot in the latest UK charts. Bit too much?
It held off Just Dance into second, with Modern Warfare 2 moving up six spots from last week to three.
Bar them, there's not much else to see here this week other than movers and shakers, Ringo.
The full top ten is below. Last week's data is here.
1 - 2010 FIFA World Cup South Africa (EA Sports, EA)
2 - Just Dance (Ubisoft, Ubisoft)
3 - Call of Duty: Modern Warfare 2 (Infinity Ward, Activision)
4 - Wii Fit Plus (Nintendo, Nintendo)
5 - Battlefield: Bad Company 2 (DICE, EA)
6 - Super Street Fighter IV (Capcom, Capcom)
7 - Wii Sports Resort (Nintendo, Nintendo)
8 - Tom Clancy's Splinter Cell: Conviction (Ubisoft Montreal, Ubisoft)
9 - Grand Theft Auto: Episodes from Liberty City (Rockstar North, Rockstar)
10 - Just Cause 2 (Avalanche Studio, Square Enix)