The Haunting of Verdansk brings Leatherface, SAW and more to Modern Warfare and Warzone tomorrow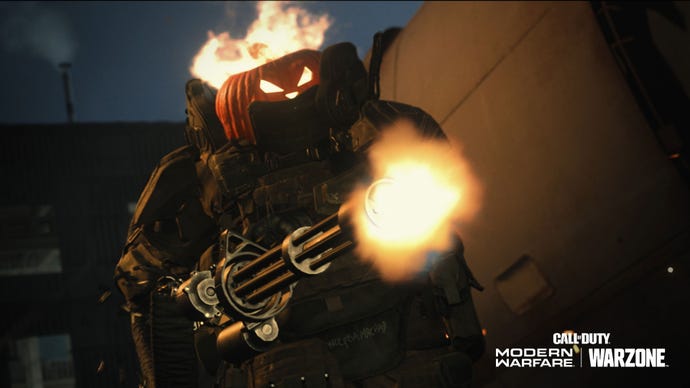 Call of Duty: Warzone's very first Halloween event – The Haunting of Verdansk – is about to kick off, Activision and Infinity Ward have confirmed.
more
According to a press release from the publisher, the SAW and The Texas Chainsaw Massacre universes collide to become part of The Haunting of Verdansk, a limited-time community event which runs from October 20 to November 3.
The Haunting of Verdansk will introduce a new "Trick or Treat" reward system to the game for the duration of the event, which contains "frights" or "frighteningly good blueprints and personalization items". These boxes full of loot will be found in specific areas in the Verdansk map, and will contain items such as the Epic "Return to Dust" Assault Rifle blueprint, "The Cleaver" Legendary Melee blueprint, a holographic watch, charms, stickers, sprays, calling cards and emblems.
You can check out the first trailer for the upcoming event embedded below.
If you've ever wanted to drop into the game and play as characters from SAW or The Texas Chainsaw Massacre, you're in luck. From the start of the event, you can buy a SAW pack that'll let you equip a Billy the Puppet skin for Morte via the SAW bundle, or a Texas Chainsaw Massacre pack that'll let you equip a Leatherface skin on Velikan. Each pack comes with other bonuses in keeping with their franchises, too – and you can read all about those here.
New skins and new blueprints will be available for other Operators in the game when the event starts, too.
The new event will also introduce a nighttime variant of the Verdansk map that includes some as-yet-undisclosed "Halloween frights". Thermal Optics and Cold-Blooded will be a boon in this mode, for sure.
Additionally, a new mode called Zombie Royale will be added to the game until November 3. The mode is Infinity Ward's spooky take on the usual Battle Royale setup, where dead Operators can employ the use of "unnatural powers" on living players in order to return to the land of the living.
If you're more into your traditional Call of Duty multiplayer than you are the Battle Royale side of things, Infinity Ward also has you covered. Limited-time modes – Juggernauts and Sniper Rifles – and an Operator's head turning into a pumpkin when you get three kills (yes, really) are all part of the offering here.
Activision has not specified a time that the event will begin.