Supreme Commander 2 dated for Europe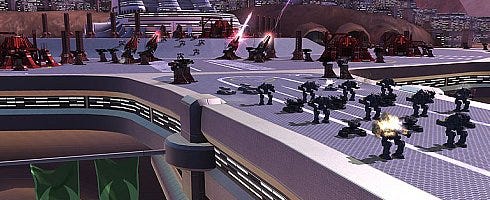 Square Enix has dated Supreme Comander 2 for Europe.
It'll release on March 5 for PC, with a March 19 release for Xbox 360.
"We're thrilled to be working with Gas Powered Games to release a game that really pushes the genre's gameplay and storyline expectations to a new level," said Square VP of Brands in PAL, Larry Sparks.
It was previously confirmed for the US on March 16 for 360, with PC version also getting an earlier release there on March 2.
PR is below.
SUPREME COMMANDER 2 PAL RELEASE DATES CONFIRMED
Tuesday 26th January/...Square Enix Ltd., the publisher of Square Enix® interactive entertainment products in Europe and other PAL territories, today announces SUPREME COMMANDER® 2, created by critically-acclaimed developer Gas Powered Games, will be available on PC-DVD from 5th March 2010 and on the Xbox 360® video game and entertainment system from Microsoft on 19th March 2010.
SUPREME COMMANDER 2 is the next installment in the award-winning SUPREME COMMANDER franchise, set 25 years further into the future. Featuring numerous game enhancements, an in-depth campaign mode, online multiplayer and a unique storyline, the game represents a new dimension in RTS gaming.
Boasting intense battles on a massive scale, players will wage war, creating enormous customizable armies and experimental war machines that can change the balance of power at any given moment. Assume the role of one of the three enigmatic commanders, each representing a unique faction with a rich story that brings a new level of emotional connection to the RTS genre.
"The partnership with Square Enix has been a highlight of my career," said Chris Taylor, Founder and Creative Director of Gas Powered Games. "I couldn't be more proud of what the team has accomplished, as the game has continually exceeded all of my expectations throughout its development."
Larry Sparks, Vice President Brands PAL Region of Square Enix Ltd. comments, "SUPREME COMMANDER 2 has already achieved fantastic recognition across media and the RTS community winning E3 Best Strategy Game 2009 from IGN, 1UP and GameSpot. We're thrilled to be working with Gas Powered Games to release a game that really pushes the genre's gameplay and storyline expectations to a new level."
For more information about SUPREME COMMANDER 2 please visit the official website at www.supremecommander2.com