Proof of death: Valve removes the Steam Machines section from Steam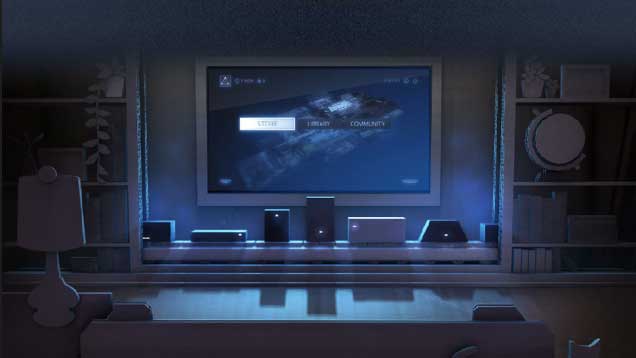 Valve has unceremoniously removed references to the ill-fated Steam Machine project from Steam.
Previously, the Hardware tab on the Steam store featured Steam Machines as one of the options, right next to the Steam Controller, HTC Vive, and Steam Link.
The big Steam Machines page that listed several models from big manufacturers is now gone. The only mention of Steam Machines in Valve's hardware section can be found in two remaining Steam Machines, which likely will be removed soon.
You no longer can choose different hardware configurations or check prices. For the two remaining units (the Scan 3XS ST, and the Materiel.net Steam Machine) you'll have to follow links to the manufacturer's website to learn more.
The sudden removal was first noticed by GamingOnLinux. It's not clear exactly when they were removed, but the site notes it likely was sometime in March.
If you've completely forgotten Steam Machines were a thing, we don't blame you. Valve first announced its intention to make a living room device back in 2013 alongside the reveal of SteamOS.
Steam Machines are PCs designed to sit under your TV, and SteamOS was supposed to power all of them. SteamOS is Valve's Linux-based operating system, which was itself designed to make it easier for developers to port Windows games to Linux.
The ultimate goal was building an ecosystem away from Microsoft's Windows. Unfortunately, Valve's typical hands-off approach effectively killed it the moment it was announced.
The numerous delays, and obscene prices from boutique PC builders were one thing, but the lack of flagship SteamOS games was Steam Machine's biggest problem. Users were asked to pay thousands of dollars for what was sold as a competitor to Xbox One and PS4, when in fact it lacked many PC games already available on Windows.
Eventually, manufacturers started offering Windows-based Steam Machines, or ones with dual-boot. But it was too late at that point.
It didn't help that Valve's own Steam Link essentially made Steam Machines obsolete, since anyone with a capable PC could just stream their games to the TV in the living room. Those with no PC were not incentivised to leave the ecosystems of Xbox Live and PlayStation Network behind in favour of Steam Machine's "open" approach.
This venture did benefit PC players in one way at least, and that's the controller-friendly Big Picture mode which many still use to this day.
You can still reach the Steam Machines page on Steam directly, but you won't find many of them listed, or see any links to the page on Steam's homepage.