State of Decay 2's free Zedhunter update drops next week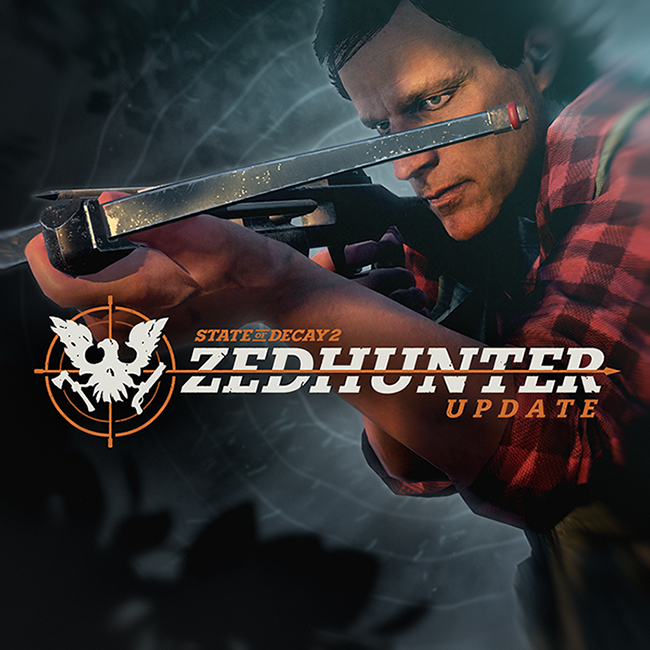 State of Decay 2 is getting its first free content update with new weapons, gear, and the option to re-spec your character.
State of Decay 2 is getting a bunch of new weapons, gear, skills, and more in its first free content update dropping on November 16. The update was announced at X018 while Undead Labs' blog post filled us in on the finer details of what's in store.
Front-and-centre is the addition of crossbows; with eight to choose from, including scoped variants, players' chances of finding a plague sample when bumping off zombies with the weapon are "significantly higher," and what's more, you can retrieve the bolts to eke out that ammo - although by the sounds of it, this isn't guaranteed every time.
Bolts can be crafted at baseline workshops, while higher-end workshops will let you craft your own crossbow.
Here's a rundown of all the free stuff heading your way next week:
Eight new crossbows
Three new melee weapons (aka SWORDS!) – the Wraith, Mamba, and Masterwork Bokken (which is a blunt training sword)
Three new close combat weapons (aka knives)
Five brand new blood plague consumables – the Zedbait (attracts zombies), Zedeye (allows you to see in the dark), Zedrenaline (gives a temporary boost to health and stamina), Scentblock (makes you invisible to zeds), and bloater gas grenades + launcher
A facility mod to craft additional blood plague consumables
The ability to craft crossbows + bolts in your home base
A new re-spec option (to reset a survivors core skill specializations)
The re-spec option can be used if your survivor has reached 7 stars in a core skill. The downside is that the XP gained for your newly selected skill will accumulate at a slower rate than normal.
Five new Quirk skills are also on the way, granting buffs to survivors and communities:
Hygiene increases the amount of plague infection needed to push this survivor into full-blown blood plague.
Recycling gives your community a regular income of parts and materials.
Shopping accelerates this survivor's search speed, letting them find useful items more quickly while scavenging.
Sleep Psychology effectively increases the number of beds available to your community.
Soundproofing reduces the noise-driven threat of zombie attack on your base.
To get players up to speed with the new content, new missions are being added while existing missions are being updated. New missions will be labelled Mysterious Broadcast.
Looking ahead, there's a new difficulty setting on the way, as well as a new map, Return to Trumbull Valley, which brings the setting from the first game to the sequel. Both updates are slated for 2019.