Stardew Valley Villager Locations - Introduction Quest, Meet Everyone Explained
The first quest you are given is a tough one, but well worth doing. Here's how to meet everyone in Stardew Valley.

Stardew Valley presents you with a rundown farm and limitless possibilities from its dreary outset. It can all seem a bit overwhelming at first, but focusing on the myriad quests the game gives you is a great way to learn the ropes. One of the first you are given is 'Introduction' and is as simple as meeting every NPC in Pelican Town. This is pretty easy if you know where to look, which is where this Stardew Valley Villager Location Guide comes in! We'll list all of the NPCs you'll need to meet, alongside where and when you can find them. We'll give you all of the info you need to know about the Introductions quest in Stardew Valley.
For more on Stardew Valley, be sure to check out our Stardew Valley Guides Hub. There are links to all of our Stardew Valley Guides Content. From fishing, to control tips, we've got you covered.
Stardew Valley Introductions Quest
You'll be given the Introductions quest at the start of Stardew Valley. It tasks you with speaking to 28 of the residents of Pelican Town and can be a tricky affair if you don't know where to look. We recommend making a note of everyone you meet as you go, so you can work through the list below. You'll need to interact with everyone, and start up a conversation.
Stardew Valley Character Locations - Meet Everyone
One of the first tasks you'll be given in Stardew Valley is to head out and meet everyone in Town. This is easier said than done, as there are 28 to meet in total, and some are found in some seriously weird places. We've listed all 28 townsfolk below, alongside details of where you can find them.
Abigail - Can be found in Pierre's General Store
Alex - Alex pretty much always hangs out at his house, which can be found near Pierre's store
Caroline - Caroline works in Pierre's
Clint - Clint can be found at his workshop in the middle right of the map, below JoJo Mart
Demetrius - this clever chap can be found in is carpenter's shop, joined to Robins to the North
Elliot - Elliot lives in a cabin on the beach
Emily - head to the southwest part of the village, she lives with Haley
Evelyn - Evelyn lives with George in her home to the middle-eastern side of town
George - lives with Evelyn
Gus - Saloon owner in the center of town
Haley - can be found tanning on the beach, or in her home with Emily
Harvey - owns the clinic joined to Pierre's
Jas - is a child often being taught at the museum
Jodi - Jodi has a house at the southwestern part of town
Leah - Leah is best found at the bar on most nights
Lewis - the mayor of Stardew Valley, lives at the center of the village, you'll find his truck parked outside his house.
Linus - in the tent to the North of the village, west of the mines
Marnie - has a ranch to the south west of the village, south of your Farmland
Maru - with Demetrius
Pam - trailer to the east of town, or in the saloon at night
Penny - often found in the library reading to the children
Pierre - at the General Store
Robin - Carpenter found to the North
Sam - works at JoJo Mart
Sebastian - tricky to find, but can be found some nights in the saloon hanging with Abigail
Shane - At the Saloon most nights
Vincent - Museum reading books
Willy - fishing to the south
Wizard - at the castle to the West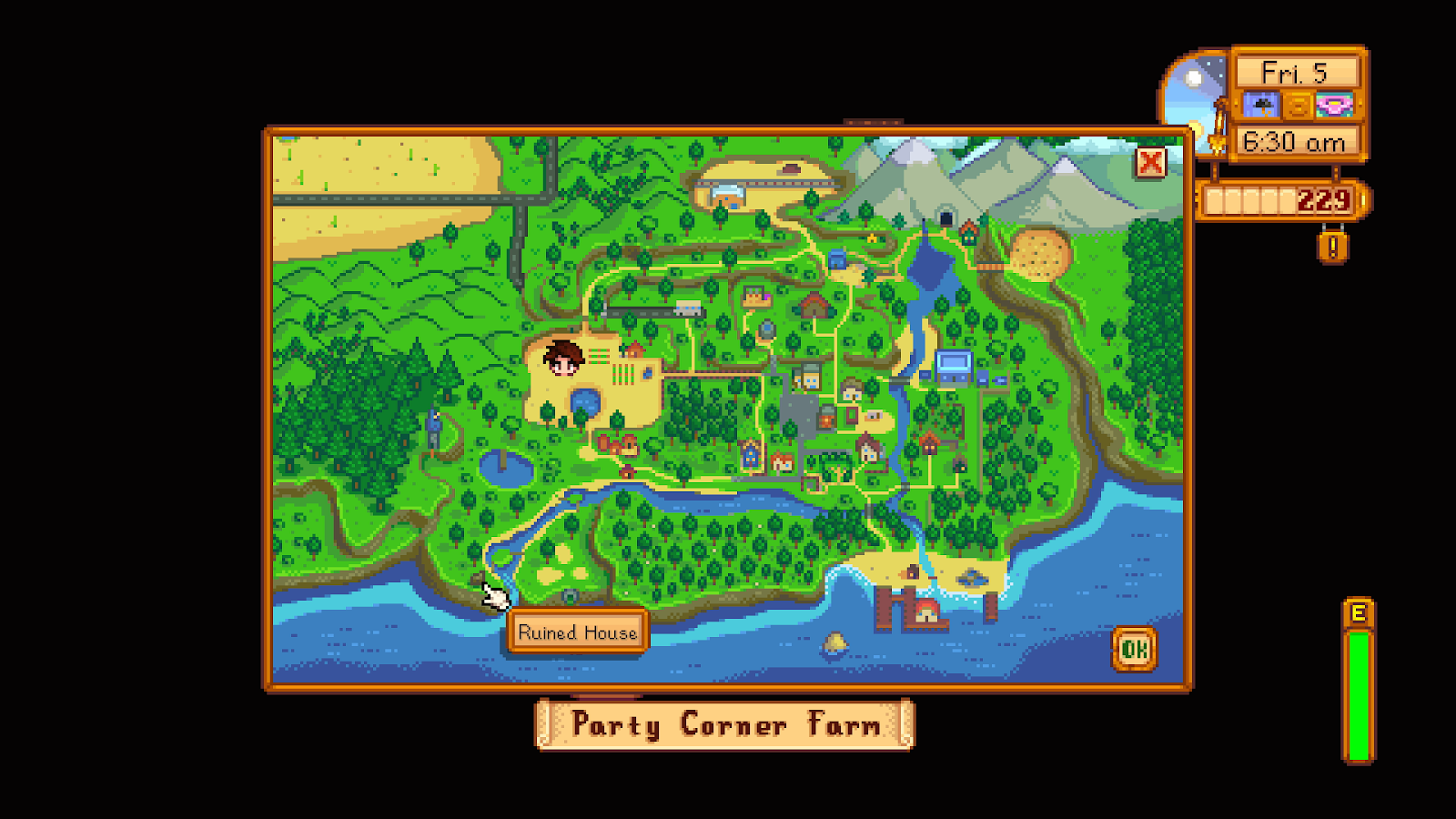 Stardew Valley Introductions Quest Reward
So what do you get for all your hard work traipsing around Stardew Valley, well it's actually a pretty valuable reward. For completing the Stardew Valley Introductions quest, you'll get 100 friendship points with everyone in town. This will really come in handy later, and if you're trying to romance anyone.
For more on Stardew Valley, be sure to visit our Stardew Valley Marriage Guide. For everything related to fishing, head to our Stardew Valley Fishing Guide.