Prepare for a post-apocalyptic battle in John Carpenter's Toxic Commando
Unleash your commando skills and survive the toxic wasteland.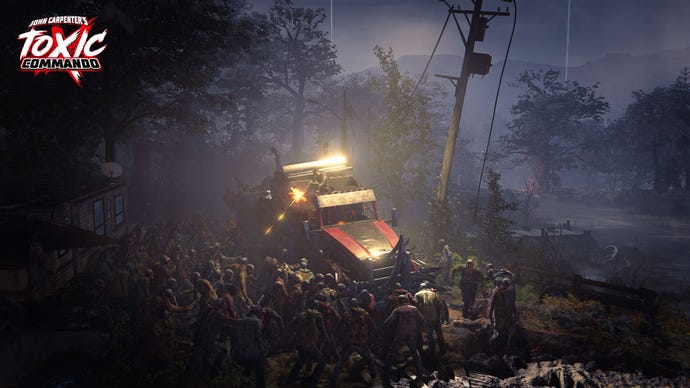 Publisher Focus Entertainment and developer Saber Interactive have revealed John Carpenter's Toxic Commando, slated for 2024.
Coming to PS5, Xbox Series X/S and PC via the Epic Games Store, the game finds you teaming with up to four players the first-person shooter. As a group, you will battle large hordes of mutated monstrosities and try to eradicate the supernatural outbreak before it's too late.
"We're happy to team up once again with Saber," said John Bert, managing director at Focus Entertainment. "Toxic Commando is a new entry into the successful long-term relationship between Focus and Saber, [and] we cannot wait to unveil more about this new amazing IP." "We're thrilled to collaborate with the legendary John Carpenter on this project," said Tim Willits, chief creative officer at Saber Interactive. "His unique vision, unparalleled expertise in storytelling, and ability to create immersive atmospheres have helped us to elevate this all-new, 80s-inspired experience to the next level.
"His works have been an inspiration for years, and it's an honor to work alongside him to deliver a truly unforgettable adventure."
"It's exciting to be collaborating on a new video game with Focus and Saber," said John Carpenter. "Look, I really like shooting zombies. They keep telling me that they're called the infected. Please. They're ghouls, dude. They blow up real good and there are a ton of them. People are going to love this game."
Toxic Commando takes place in the near future, where an experimental attempt to harness the power of the Earth's core ends in a terrifying disaster: the release of the Sludge God.
This abomination begins terraforming the area, turning soil to scum and the living to undead monsters. Luckily, the genius behind the experiment has a plan to make things right. All he needs is a team of competent, highly trained mercenaries to get the job done. Unfortunately, they were too expensive, so he hired The Toxic Commandos.
T
In the game, you will take control of one of the commandos, team up with your friends and send the Sludge God and its horde back to the underworld. Choose the class that matches your playstyle, pile into your vehicle, and use gunfire, grenades, special abilities, and katanas to save the planet.
John Carpenter's Toxic Commando wil hae a closed beta test, ans you can sign-up for it here.