Pokemon Sword and Shield Axes the Global Trade System, but Fear Not, There's a Replacement
GTS is gone, but vendor trash Pokemon will still clog the digital realm.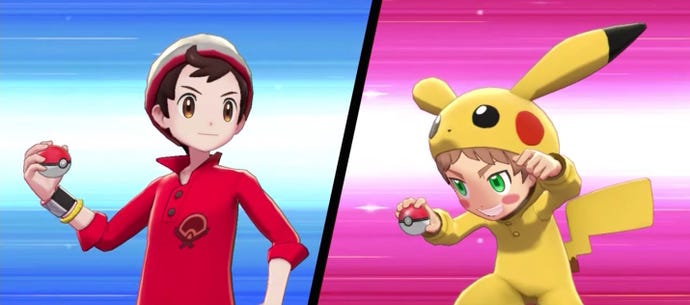 This article first appeared on USgamer, a partner publication of VG247. Some content, such as this article, has been migrated to VG247 for posterity after USgamer's closure - but it has not been edited or further vetted by the VG247 team.
Pokemon's Global Trade System is dead. Long live Y-Comm. Pokemon Sword and Shield for the Switch lets you trade Pokemon wirelessly, but the Global Trade System (GTS) that's been in place since Pokemon Diamond and Pearl for the Nintendo 3DS is gone. Fortunately a new service, Y-Comm, is present to fill in the void.
Leaks ahead of Pokemon Sword and Shield's November 15 release date suggested the GTS is no more. It's true; I've played through the entirety of Sword and Shield and didn't come across a peep of information about the GTS. It feels strange to say goodbye to the online service that's been letting us trade our Pokemon with each other since the DS's Wi-Fi rendered link cables obsolete.
Fear not; a new service is in place to make sure you can foist Wooloo on friends or strangers. Pokemon Sword and Shield lets you access its "Y-Comm" almost immediately, which you can bring up any time by pressing the Y button. The Y-Comm serves as your hub for all kinds of online communications. You can submit a request for a Link Trade, put out a call to battle with another trainer, and swap your personal trading cards with anyone who wants to get to know you. Said requests run in the background while you continue to quest through the Galar Region.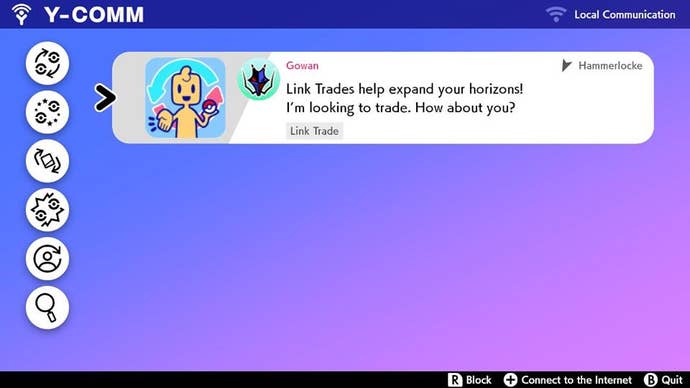 There's also a Y-Comm option called "Surprise Trade," which lets you throw a Pokemon into the digital ether. The game then "handles the rest." Surprise Trade is assumedly a replacement for Wonder Trade, but I can't verify as much until Pokemon Sword and Shield's servers come online.
Indeed, at the time of this writing, Sword and Shield's servers aren't active. We're holding off on writing a review until the servers go up and we get a good feel for the game's online components. In the meantime, we have in-depth impressions of Sword and Shield's single-player experience. We also have aSword and Shield Pokedex guide.