PlayStation Plus catalog for November includes Teardown, Dragon's Dogma: Dark Arisen, Superliminal, more
Teardown out today, all other titles available from November 21.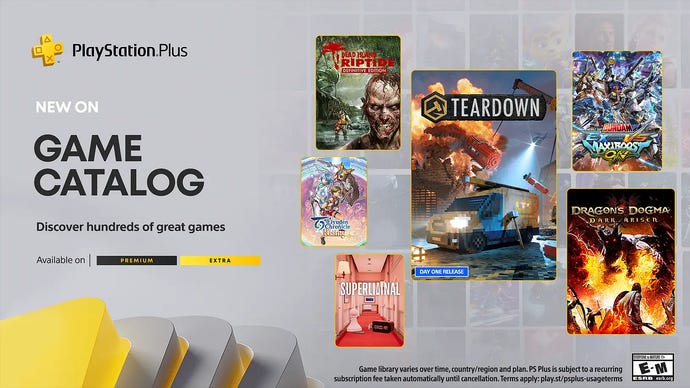 PlaySation Plus games for November have been announced for Extra and Premium members, and there are nine main entries and five classics to be had.
One of the main entries is Teardown for PS5, and in it, you are tasked with pulling off a heist uing creative problem solving, brute force, the destructible and interactive environment, and everything else that will allow you to create an efficient path through each level. Then, just execute your heist and make your escape.
For PS4, there's Dragon's Dogma: Dark Arisen, which needs no introduction, and neither do Mobile Suit Gundam: Extreme vs. Maxi Boost On or Dead Island Riptide.
If you are unfamilair with PS4 and PS5 title Superliminal, you're in for a treat. This first-person puzzle game is based on perspective and optical illusions, and to solve them, you will need to think outside the box. It all starts after your character falls asleep to Dr. Pierce's dream therapy program, only to find yourself stuck in a dream in an unfamiliar environment where perception is reality.
Eiyuden Chronicle: Rising is also available for PS4 and PS5. The action RPG is set in the same world as Eiyuden Chronicle: Hundred Heroes and features plenty of fast-paced combat and fun town-upgrading mechanics. It starts out with our heroes helping out a town struggling to rebuild after an earthquake. While lending a hand, they will resolve disputes regarding the Runebarrows, and learn about each other's reasons for seeking treasure.
For PS4 there's Nobunaga's Ambition, the fifteenth entry in the historical simulation series. It finds you governing a clan and working to improve your country 0through civil administration, diplomacy, your military, and more.
Another PS4 title is Alternate Jake Hunter: Daedalus The Awakening of Golden Jazz. This NYC-set crime thriller visual novel blends detective with storytelling elements. Solve a thrilling murder mystery as Saburo Jinguji to uncover the truth behind the death of his grandfather.
There's also River City Melee Mach for PS4. It features 30 teams, 180 characters and more than 250 different special moves. Four players can play at the same time, the controls are simple, and pals can hop in and play, or you can hop online and with other players.
November's PlayStation Premium Classics are Grandia, Jet Moto, Up, and Klonoa Phantasy Reverie Series for for PS4 and PS5. You can also nab PS2-classic PaRappa the Rapper 2 for PS4.