NPD: Switch was the best-selling console in December and 2020
Nintendo Switch was the best-selling console in the US for December and 2020, and the newly released PS5 console followed in sales.
The NPD December 2020 report has been released, and it finds total industry spending up 25% year-over-year, and up 27% for the entire year. In December, the market pulled in $7.7 billion, and $56.9 billion for the year.
Hardware dollar sales reached $1.35 billion during December, up 38% year-over-year (yoy), making it the highest total December month since 2013 when $1.37 billion was pulled in.
Annual hardware dollar sales totaled $5.3 billion, 35% higher yoy, and the most since $5.6 billion was reached in 2011.
Nintendo Switch was the best-selling hardware platform in units and dollars for the month and the year, with annual dollar sales the second-highest for a platform in US history. Only the 2008 dollar sales of Wii were higher.
PlayStation 5 was the second best-selling console in dollar sales, while PlayStation 4 ranked second in units sold.
In software, half of the top 20 best-selling games of December 2020 were published by Nintendo.
That said, Call of Duty: Black Ops: Cold War was the best-selling game of both December as well as 2020, while Call of Duty: Modern Warfare was the second best-seller of 2020. The series is the best-selling gaming franchise in the US market for the twelfth consecutive year.
Animal Crossing: New Horizons was 2020's third best-selling title, and was the highest in dollar sales for a Nintendo published game during a calendar year since Wii Fit Plus was released in 2010.
Cyberpunk 2077 was the second best-selling game of December and the nineteenth best selling retail game of 2020.
The Last of Us: Part 2 finished 2020 as the year's sixth best-selling title overall.
A look at the best-selling games for December can be found below. The best-selling games for individual consoles for December and in 2020 can be found in the galleries.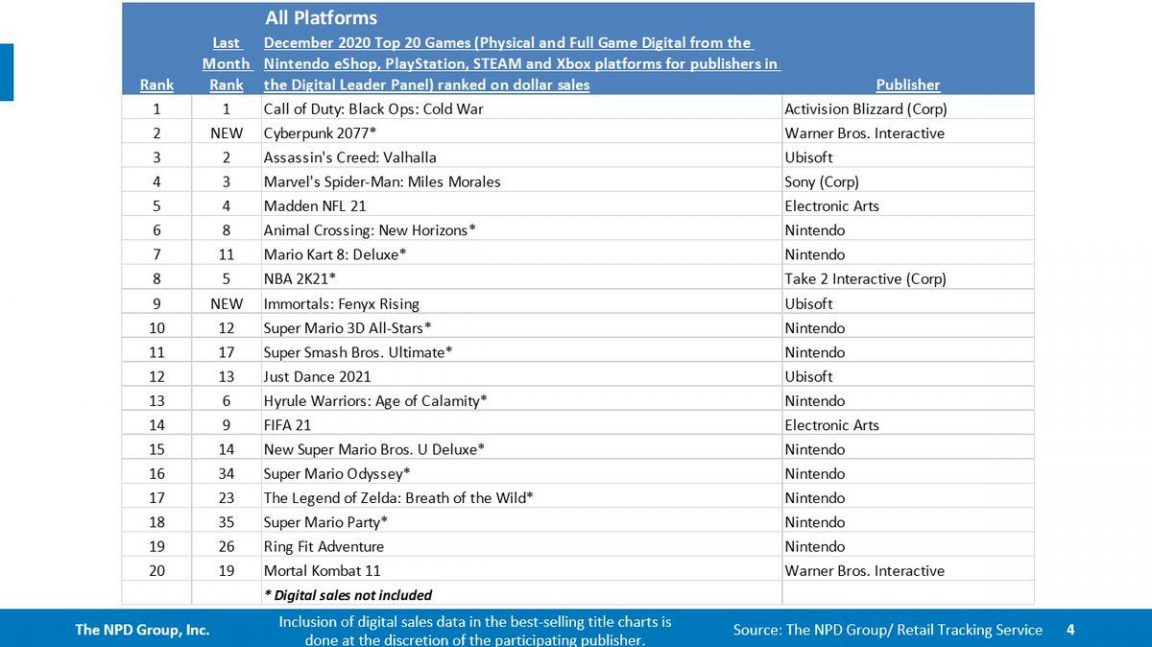 Spending on video game accessories hit $54 million in December, up 15% yoy. Spending in 2020 was up 21% to $2.6 billion.
Sony's DualSense controller was the best-selling Gamepad of both December and 2020 in units sold.
Spending on the Headset/Headphone segment saw the Turtle Beach Ear Force Recon 70 Gaming Headset Black for Xbox as the year's best-selling Headset in both dollar and unit sales.