Nintendo is packing its suitcase and heading to San Diego Comic-Con next week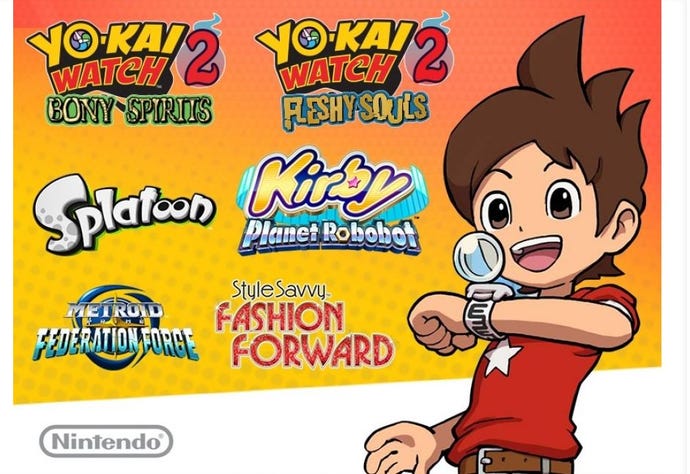 Nintendo is heading to San Diego Comic-Con later this month and it's packing quite a few games in its carry on.
While nothing Pokemon Go was mentioned in the press release, you know there will be PokeStops at the convention center. And Pokemon will be all over the place, roaming the grounds and hiding in bushes. Or something.
The Play Nintendo Family Lounge is where all the Nintendo Comic-Con action will take place. Not only will there be games to play, but chances to participate in tournaments and take selfies with Nintendo characters will also be available. We assume Nintendo "characters" means either figures or people in costume because Donkey Kong and Kirby aren't real.
Attendees with a show badge can also visit Nintendo's Booth at the Convention Center to participate in various Splatoon gameplay activities and competitions.
Here's a list of those activities:
Splatoon Multiplayer Battles (July 21-24): Fans of the kid or squid variety can show off their Splatoon skills in 4v4 multiplayer matches throughout the day.
Splatoon Splatfest (July 22-23): On Friday and Saturday, come enjoy the last Splatfest competition by battling for Callie or Marie in Splatoon.
Splatoon amiibo Challenges (July 21-24): Get an up-close view of the latest amiibo lineup for Splatoon and experience the challenges and bonus content that they unlock.
Integrated with the activities is the Play Nintendo Tour, which has been traveling the country all summer. This means attendees will be able to climb into a Yoshi egg to play Yoshi's New Island, sit in a giant banana while playing Donkey Kong Country Returns 3D or kick back in a pink beanbag chair to play Kirby: Planet Robobot.
The Play Nintendo Family Lounge will be open to the public July 21-23 from 10am to 7pm PT and July 24 from 10am to 5pm PT.
The current schedule of events includes the following:
Super Smash Bros. for Wii U 12 & Under Tournament (July 23): Nintendo fans that are 12 years old or younger and have parental consent can participate in a Super Smash Bros. for Wii U tournament at 2 p.m. on July 23. The tournament will be live-streamed on the Nintendo Twitch channel, so even people that can't be there have a chance to keep an eye on the action. Tournament slots are limited for the one-day event, and fans will be able to sign up the day of the event on a first-come, first-served basis. The Grand and First Prize winners will each receive a prize pack filled with Nintendo products and merchandise.
The Play Nintendo Challenge (July 21-22, July 24): Play through three elimination rounds composed of three different Wii U games (Splatoon, Mario Kart 8 and Pokkén Tournament) in a group to see if you can emerge victorious! Participation will be on a first-come, first-served basis. The Play Nintendo Challenge runs all day and takes less than 30 minutes to complete. Winners will receive an exclusive champion Nintendo T-shirt. Players who participate may receive other giveaways while supplies last based on how far they make it in the challenge.
YO-KAI WATCH Voice Actor Event (July 22): Actors Alicyn Packard, J.W. Terry and Melissa Hutchison, who provide the voices for Jibanyan, Whisper and Komasan, respectively, in the YO-KAI WATCH video game and animated TV series, will be conducting a Q&A session, doing live voice demos and a table read of a scene from Season 2 of the animated TV series from 3 p.m. to 4 p.m. PT. Select attendees will also have an opportunity to receive an autograph or take photos with the actors.
Pokemon Fan Gathering Area (July 21-24): Meet up with fellow Pokemon fans to trade Pokemon, pick up some cool swag (while supplies last) and relax in a Pokemon gaming zone. The gathering area will be open during show hours.
Photo Opportunities (July 21-24): At various times during all four days, popular characters like Mario, Luigi, Pikachu, Kirby and Jibanyan from the YO-KAI WATCH series will make surprise appearances to take photos with fans.
Here are some of the Nintendo 3DS and Wii U games which will be playable at Comic-Con:
Nintendo 3DS
Monster Hunter Generations from Capcom – Launching July 15
Metroid Prime: Federation Force – Launching Aug. 19
Style Savvy: Fashion Forward – Launching Aug. 19
Sonic Boom: Fire & Ice from SEGA – Launching Sept. 27
YO-KAI WATCH 2 – Launching Sept. 30
YO-KAI WATCH
Yoshi's New Island
Donkey Kong Country Returns 3D
Kirby: Planet Robobot
Mario Kart 7
Pokemon Omega Ruby and Alpha Sapphire
New Super Mario Bros. 2
Wii U
Splatoon
Mario Kart 8
Pokken Tournament
The Play Nintendo Family Lounge will be located on the first floor of the Marriott Marquis San Diego Marina hotel just off the main lobby.
San Diego Comic-Con takes place next week July 21-24.