Need for Speed Payback customisation options let you turn a scrap car into a supercar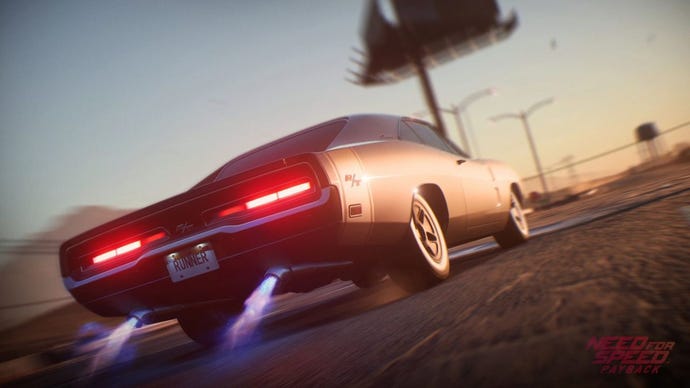 Car customisation was one of the more interesting features in the 2015 Need for Speed reboot, and Payback looks like it'll bring it back in a big way.
Some of this was slightly shown off in the game's E3 presentation, but today, we get to take a deeper look at what the system has to offer.
Today's trailer also talks more about the 'derelict' cars. These are old, abandoned cars Payback allows you to customise and turn into supercars when you find them.
The feature sounds a bit like Forza Horizon's Barn Finds, though the potential for crazier pairings is much stronger here.
Players will find derelict parts scattered throughout the game world and once all the parts are found, the hunk of junk can be turned into stock. The player can that the customisation even further and turn the car into a "super build."
Those who wish for something new with less sweat involved, can purchase a new vehicle from one of the dealerships located in Fortune Valley. Dealerships will specialise in Exotics, Classic, Muscle, Rally, Sports and Sports Compact vehicles.
Part Shops will be set up in multiple locations as an alternative to earning parts through winning events. These shops are a good bet when it comes to finding something specific and available stock will rotate out. Performance parts and more visual items such as bonnets, spoilers, and fenders are examples of the merchandise and can be equipped on the spot.
The garage is where storing cars and various automotive parts comes into play. Here, players can switch rides, sell their cars, change out parts, use the paint and wrap editor, and fix up the aforementioned derelict cars.
Additional garages can be purchased and once all five garages are acquired, players will be granted access to the "unlimited virtual warehouse space," which allows them to own unlimited vehicles.
Of course, gas stations have returned in Need for Speed Payback. Just drive through and the car's nitrous tank will be filled and damage will be fixed.
Finally, cars can be fine-tuned on the fly and plenty of vanity items, such as blue tire smoke, will be available to spruce things up.
EA also confirmed today that one more bonus has been added to the Platinum Car Pack pre-order bonus. Now, on top of the five previously announced customised cars and Platinum tire smoke you also get the Platinum Blue underglow.
Need for Speed Payback is out November 10 on PC, PS4, and Xbox One.